a weekly digest from the staff and contributors of brainwashed
V08I01 - 01092005
Click here for other issues
SITE
no jive in '05
Welcome to another year of The Brain. We're now in our eighth volume and couldn't be happier. Thanks again to everybody who participated in the 2004 Readers Poll and we wish everybody a safe, happy, healthy, and prosperous 2005. Here's a list of things to anticipate this year on The Brain:
Heavier metal
Snarkier weekly polls
A new video series of rednecks slapping their kids in Wal-Mart parking lots set to DAF music
Issue reissues in a fold-out digipack with remixes, outtakes, and a bonus DVD
Top 100 countdowns whenever we have nothing worthwhile to say.
the eye: eye-ur-land
What better way to launch a new year with a new DVD? After much demand, The Eye Volume 32: Eye-ur-Land is finally available. This features the highly demanded features on Nurse With Wound, Aranos, and Z'ev, all captured by The Eye in Ireland in 2004. The segments have been slightly enhanced from the versions that appeared here on The Brain. The videos can be watched onine at The Eye page and full-screen full-fidelity DVD-Rs can be purchased at the Brainwashed Shop (www.brainwashed.com/commerce.html).
get drunk with the nurse again
Drunk with the Old Man of the Mountains is being issued on CD for the very first time. Although all tracks have been previously available on other CDs, they're all out of print for the time being. Pre-orders (at the very affordable rate of $14.99 USD) can be made the Durtro/Jnana operation based in Toronto, Canada here.
diamanda live
Diamanda Galás has three live dates scheduled for Italy this month. For more information regarding the new programs, please see www.diamandagalas.com.
durtro closes shop to move
David Michael (artist formerly known as Tibet) has announced that Durtro is relocating to Glasgow. A new address has been posted on the website for correspondence.
new releases from important
2005 is off and running with three new releases from Important Records. Opencast Heart EP is new from Piano Magic and is packaged with a deluxe semi-transparent skeletal/muscular diagram cover; The Bodyshop is a full-length release from Beequeen: it is described as "their most instrumental album" and comes with a cover of Nick Drake's "Black Dog;" and Play is the latest full-length release from Italian-cult-collective-urban-folk-ritual-experimental soundscape-wall of love band Larsen. They're all available now.
coil discography updated
Greg Clow has announced that a major update of the Coil discography has been completed. Once again, this is a work-in-progress, so any and all feedback should be directed to him regarding the discography, website, and synchronization of the text-based discography and the interactive one with the pretty pictures and sound samples!
OFFSITE
anomalous ceases trading
It seems like only yesterday when Brainwashed announced Anomalous Records in Seattle would discontinue store and distributor operations. Now, we are sad to say that Eric Lanzillotta has discontinued the Anomalous Records label and all operations. Thank you for your years of hard work and dedication to difficult music. We wish you all the best in your future endeavors and hope the torch is carried on by others.
THE EYE

the dead texan


What better way to start off the year by giving people what they want? After numerous demands for a Stars of the Lid Eye feature, we finally have an interview and video to present from Adam Wiltzie. Together with Greek visual artist Christina Vantzos, they are The Dead Texan. We were fortunate to catch a rare US appearance of the duo and a rare video interview with Wiltzie on the back porch of Brainwashed HQ in the cold! (But he liked it!) The video captures show mainly the visuals set to the music and the room was quite dark, so there's not a lot of band shots, but there are a couple. Enjoy!
21 Minutes, Quicktime Streaming Video
TECH SPECS
Necessary:
A current web browser
A modern computer
The latest quicktime plugin for streaming media (hint: use the latest Mozilla if other browsers aren't working)
Recommended:
A fast connection
A willingness to learn
Unnecessary:
If you see a blank window without anything streaming, don't complain to us. You don't have the latest version of Quicktime for streaming media. Go download it. It's free.
MUSIC IN REVIEW
"DO YOU WANT NEW WAVE OR DO YOU WANT" THE SOFT PINK TRUTH?
Tigerbeat 6


On his latest collection as The Soft Pink Truth, Drew Daniel attempts to answer the famous question posed by The Minutemen while negotiating a postmodern marriage of heaven and hell. A record comprised of ten cover songs, nine of which revisit some of Daniel's favorite moments in the annals of English punk rock and American hardcore, transforming two-minute angry screeds into sleazy, hedonistic electro-disco. While it's fairly obvious that Daniel has retained much of his affection for this music from his youth spent in the Louisville, Kentucky hardcore punk scene, it's equally obvious that Daniel is aware that he is essentially negating the substance of punk and hardcore protest by grafting the lyrics onto hyper-sexualized, druggy dance music. Minor Threat's "Out Of Step" remains a classically explicit statement of purpose for the straight edge DC hardcore movement, but SPT's version completely castrates the original's ascetic stance, adding layers of sampled sex moans and laughable snippets from a "Stop Smoking in 30 Days" LP. The central question posed by Do You Want New Wave appears to be this: Can these fiercely political songs be taken seriously when they can be so easily stripped of meaning? Anti-capitalism and anarchism abound on the album, with People Like Us' Vicki Bennett providing vocals for a version of Crass' "Do They Us a Living?" from the epochal Feeding of the 5000 that sounds like its being covered by The Normal. But the famously confrontational jeremiad, juxtaposed with digitized whipcracks and squelching synths, ends up in the realm of the absurd, a series of hopelessly radicalized left-wing rants that seem downright quaint in the age of prosperity and Tony Blair. It seems clear that Drew Daniel's intention is to have the listener question the political substance of these songs, as he slyly disarms them of their power by transforming them into slick dance club fodder for a generation that can't be bothered to think. In fact, it may have been SPT's plan all along to force us to think about these decades-old blasts of political aggression, and by removing the loud, primitive noise guitar and chaotic pummeling, the listener receives no assistance and must take the lyrics on their own terms. This is especially effective on more obscure cuts like the mashup of Rudimentary Peni's "Media Person" (which Daniel mistakenly renames "Media Friend") and "V.S.B.," transforming RP's savagely desolate goth-punk into a relentlessly hypnotic MDMA groove that matches Jeremy Scott's vocal delivery perfectly. The deliciously blasphemous "Poet's Confession" from electro-punks Nervous Gender ("Jesus was a cocksucking Jew from Galilee/Jesus was just like me/A homosexual nymphomaniac") is turned into a dark, queasy acid rave-up worthy of LSD-era Coil, serving only to intensify the song's already terrifying nihilism. Daniel has a good time turning The Angry Samoans' miniature homophobic diatribe "Homo-sexual" into a high-velocity rip-roaring sing-along for rivetheads, making it even more difficult to figure whether or not the original's intolerant hate-mongering was meant to be satire. Like any good punk album, SPT's Do You Want New Wave clocks in at a slim 35 minutes, but it doesn't waste a second, turning what should have been a patently ridiculous concept into an incredibly, infectiously entertaining album. - Jonathan Dean
samples:
Sun City Girls, "Carnival Folklore Resurrection Radio-98.6 is Death"
Abduction


Sun City Girls are heroes of the Attention Defecit Disorder generation. This 57 minute collage, prepared for broadcast on WFPK in Louisville, Kentucky, presents everything from found dialogue to snippets of familiar songs to live playing to absurd skits in rapid-fire succession. With 37 short tracks, this 13th installment in the ongoing Carnival Folklore Resurrection series has a much more cut-up feel than the two disc set, also created for radio, which preceded it. As a critique of the onslaught of quickly changing imagery that defines America 2004, this program succeeds in pointing out the depths of absurdity to which said culture has sunk. This is best exemplified by "Only In America inc.," which consists of a hilarious answering machine message left by a young entrepreneur for "Mr. Rockefeller." The young go-getter asks if Rockefeller will provide half a million dollars to help him start up a company whose sole function is to send phony bills to corporations, on the assumption that some of them will pay these "bills" without researching their validity. Alan Bishop's charming/fearsome "Uncle Jim" character makes several appearances during this set. His free associated ranting is highly enjoyable, as his interjections are transmitted in several short bursts. This is an improvement on the previous volume, which devoted three ten minute tracks to his verbal antics. Here his demeanor is like that of a radio announcer, except he interrupts the program to present facts about cannibalism and make wise-crackin' boasts that oddly often reference baseball ("I'll crack yer skull with a greazy spitter/walk the pitcher/strike out the lead-off hitter"). There is also much worthwhile music hidden among the skits, radio collages and monologues. "Very Middle East" sees the group in pseudo-ethnic mode, their guitar-bass-drums lineup appropriating melodies discovered while travelling in Far East Asia. "Anvils Keep Fallin'" is exactly the parody of the BJ Thomas classic that one would hope it is upon reading the title. "Bangalore Porch Lights" sounds like a recording of a banjo player searching for a melody he heard in a dream. "Evasive Prescription" and "Dark Eyes" are fine examples of the kind of mangled jazz/rock hybrid Sun City Girls are known for delivering live. During "Evasive Prescription" in particular they astound with their talent for collectively stopping on a dime during sections of free improvisation. Although it has been suggested that they release too much material that never should have left the practice room, Sun City Girls should be applauded for the sheer range of material they produce. I'd rather hear the failed experiments among their gems than the perfected output of countless less daring outfits. - Jim Siegel
samples:
Tom Waits, "Real Gone"
Anti


While maintaining the typical uncompromising method to creating music, which is after all much of what makes Waits what he is, he perhaps goes a bit too far. For the first time in his career, he abandons keyboard instruments. Instead, he is accompanied by a drove of weird noises, from bells, whistles, hisses and what sounds like banging on pots and pans to industrial clanging and leaky pipes hizzing, to human beatboxing, which Waits performed and recorded on a cheap tape deck in his bathroom. Turntablism courtesy of his son Casey is also incorporated, and while far short of anything DJ Shadow would put his name on, it is the final nudge that pushes Real Gone's sound from the eccentric to the borderline insane. Such tomfoolery at times threatens to derail the album, but Waits and his trademark gravel throat keeps Real Gone if not grounded at least focused. Sometimes a mere croak, Waits's war-weary pipes conjure up images of late nights, hard drink and one carton of Marlboro Reds too many, while subtly revealing the true star of Real Gone, and indeed the key to Waits's longevity: his skill as a songwriter. When mated to the yarns Waits is able to spin in the span of three to five minutes, the manic music becomes sublime. Waits matches tribal drumming and primitive chanting to make an anti-jingoism anthem: "The sun is up the world is flat/ Damn good address for a rat/ The smell of blood/ The Drone of flies/ You know what to do if/ The baby cries/ HOIST THAT RAG!" Waits's longstanding to downtrodden has not wavered at all, from the unlucky lover with "Green Grass" ("Lay your head where my heart used to be/ Hold the earth above me/ Lay down in the green grass/ Remember when you loved me") to the unfortunate accessory on "Don't Go into that Barn." His ability to create characters and tell compelling stories has not lost any of its uncanny power, as is evident on "How's It Gonna End": "There's a killer and he's coming/ Thru the rye/ But maybe he's the Father/ Of that lost little girl/ It's hard to tell in this light." Waits does overdo things at times:- "Sins of the Father" is an egregious overindulgence, boring, preachy and tortuously long at nearly eleven minutes. The opening track, "Top of the Hill," is little more than a vehicle for Waits's newfound instrumentation choices, as the lyrics are nothing more than a string of non sequitirs, made tolerable only by the fun Waits has with the turntables and beatboxing. On "Clang Boom Steam," Waits felt the need to imitate orally what could be either a steel foundry or a busy railway yard, with, just as the title suggests, clangs, booms, and hisses from his mouth, a pointless meandering that is wildly out of step with the rest of the album. But it doesn't matter, as Waits does as he pleases, and whether it's through luck, ability or something more sinister ("I'm not able, I'm just Cain") he releases one of 2004's most compelling albums. - Chris Roberts
samples:
Brpobr
aRtonal


If Bernhard Breuer, Fabian Pollack, and Michael Bruckner (get it?) sound like strangers to the Viennese school of improvisation it's because, in many ways, they are. While groups like Trapist and Radian released incredibly assured records last year, combining heady, paranoid atmospheres of electro-ambient or concrète origin with the lush tonal brushes of feather-light jazzist improv, Brpobr works in a more immediate and intensely "live" setting. Theirs is music both more tangible than many of their contemporaries, via its 2xguitar + drums reduction, but also more challenging, without the safety-blanketing, the filler of electronic or synthetically-outsourced sounds. Much of what makes recent works by Trapist, Radian, and artists like Franz Hautzinger and Martin Siewert so unique is the continuously probing dynamic within the music, between raw acoustics, projected spatial sounds, and blank, bodiless noise, markers within an already confused listening space. Brpobr's remarkable live recordings create a similarly dense, uncertain atmosphere all within the two guitars and drum kit's stretched means. Brpobr is surprisingly frantic from the first second, sheets of rolling drums piled quickly together and bounced from wall to wall as the two guitarists twist out mechanical clicks and humming frequencies that would make Haino proud. There are enough effects and wacky appendages available to today's guitarist to make these sounds less than groundbreaking, but Breuer's drumming is something else, manic and precise, a blur of intersecting plains that seems impossibly human, separating him from the quieter, more suggestive drummers dominating the scene. Rhythm does not always dominate, though. The majority of the record mixes a thick combination of microtonal guitar skree, blanketing feedback and static tones, and the occasional flirtation with melody, always narcotic and often courtesy of a slide placed on the instrument. Only the incessant high-hatting and surface-brushing of the drums make Brpobr sound anything like a jazz unit. Without a sound field backing them, Bruckner and Pollack manage to avoid filling in a random smattering of lonely, insubstantial wank, always threatening in music with this much attention to detail. Their playing focuses on texture but in the same disjointed way their contemporaries handle space, as if each part is a puzzle piece forced together, forming patterns that should not be, but somehow come to life. The result bears all of the control and attention to nuance that I've come to expect from favorites in this vibrant scene, more impressive still with its premium on live performance. - Andrew Culler
samples:
TUSSLE, "KLING KLANG"
Troubleman Unlimited


And then there was Tussle, the latest in a succession of bands honing in on the resurgence of interest in bands like Liquid Liquid, Pigbag and 23 Skidoo. This San Francisco group released a pretty nifty EP last year called Don't Stop, which not only introduced their particular brand of dub-influenced postpunk instrumentalism, but also featured an ace remix by The Soft Pink Truth. "Don't Stop" became a minor underground sensation because of its rubbery, melodic basslines and dense layers of digitally processed percussion. They came on sort of like a low-rent PiL with less noise and more dub. It was nothing earth shattering, to be sure, but it was eminently listenable, and seemed to suggest that the band might be capable of some grand things in the future. Their debut full-length Kling Klang, shows that there was a lot more where "Don't Stop" came from. And that's the problem, really. They repeat the formula of "Don't Stop" with almost zero variation across 11 tracks. Though the album is only about 40 minutes long, it feels four hours long. Kling Klang achieves a kind of bland uniformity of sound that evidences a band unwilling to take risks or experiment with the formula that has garnered them critical praise. In the end, it comes down to four white guys making passable instrumental dub with DFA-style dance rhythms and the odd echoplexed shout. Tussle obviously want critics to think they are influenced by krautrock, by creating interminably repetitive grooves and naming their album in tribute to Kraftwerk. However, their connection to krautrock is all style and no substance, and other reviewers would be advised to steer clear of such lazy associations. I have a feeling their live show might come off a little better, as it reportedly features trippy video projections, but this album is tedious. It's hard to even pick one song and talk about its relative merits, because all the tracks seem to meld into one another and form one giant, shapeless mass. Perhaps I'm being unfair, as Tussle are certainly a talented group of guys, and they are quite good at doing what they do. The problem is that they aim a little too low. If you turned this album on at a party, it would quickly fade into a non-threatening white noise background, which could either be a good thing or a bad thing, depending on your tastes. For myself, I prefer music that engages me a bit more intensely. - Jonathan Dean
samples:
PHIILIIP, "DIVIDED BY LIGHTNING"
Phiiliip


Divided By Lightning is what happens when a willowy, sexually indeterminate trust fund baby and club kid named Philip (who, like all club kids, lists his occupation variously as model, fashion designer and entertainer) decides to record an album. He spells his name Phiiliip so that Google searches return more accurate results, and gets invited to open for Momus on his 2001 American Patchwork tour. I was at the show, and though I found Phiiliip's fried electropop to be excruciating at best, I found the man himself to be strikingly attractive, in that post-Danceteria-Berliniamsburg-by-way-of-West-Hollywood kind of way (which probably says more about my bizarre predilection for that emaciated junkie hustler hipster look than it does about Phiiliip's beauty), and I was seduced into buying his debut album Pet Cancer. When I finally got up the courage to actually listen to the CD, I was quite bemused by the artist's combination of Beck vocals, Gary Numan posturing and Larry Tee electrotrash bedroom electronics. I was also bemused by the constant drug references ("U Did 2 Much K") and the persistently nihilistic lyrics. Though I still wasn't convinced that Phiiliip had any real value musically, his album was at least funny and endearingly odd. Not that I listened to it very often, the cheaply lopsided beat programming and annoying vocal processing making it a pretty trying listen. Now comes the follow-up, complete with an arsenal of guest appearances from The Soft Pink Truth, The Streets, Avenue D, Excepter and Khan. While Phiiliip seems to be attempting to move away from the schizoid bedroom pop thing and a little more into music that could be deemed danceable (maybe), Divided By Lightning is unmistakably still the work of that cute but untalented aesthete I first laid eyes on four years ago. More stunningly annoying beat programming covered up by layers of digital sediment and bafflingly overdone vocal mutations. More lyrics about sex, drugs, exclusive loft parties, nouns, zombies, drugs, clothes, drugs, celebrities, self-pity and drugs. Hell, I'd be the last person to criticize an artist because of his obsession with drugs or drug music, but Phiiliip's drug obsession seems particularly lazy. He explicitly references Ketamine and Adderall in the liner notes, both of which I am familiar with from personal abuse, and I'm not at all surprised that Phiiliip is too deranged to be able to tell good from bad. The best moments on the album come from the collaborations, with the clean-edged throbbing sassiness of "4 the 2nd (Soft Pink Truth Remix)" and "Off the Leash (Khan Remix)" coming the closest to Phiiliip's experimental artfag dance music aspirations. Other tracks attempt to piggyback the NYC noise movement, most notably "Blue Moon (Excepter Remix)," which subjects the Henry Mancini classic to the Black Dice treatment. Just to enforce the painful eclecticism of the album, Phiiliip ends with a sustained power electronics attack ("Fuck Music") and a low-fi version of the Boyz II Men ballad "It's So Hard to Say Goodbye to Yesterday." It's all so incredibly fucking weird that I really wish I could recommend it, but I can't. - Jonathan Dean
samples:
We know that our music picks may be somewhat challenging to find, which is why we have a community section which can be used to obtain nearly everything available on this site.
NEW RELEASES

WEEK OF JANUARY 9 - JANUARY 15
Accelera Deck - Ski CDR3" (Scarcelight, US)
Beequeen - The Bodyshop CD (Important, US)
Jeremy P. Caulfield - Cavalcade 12" (Dumb Unit, Germany)
Client - Pornography 7"/two CDEPs (Toast Hawaii/Mute, UK)
connect_icut - Moss CD (Dehausset, Canada)
Kurt D'Haeseleer - S*ckmyp DVD ((K-RAA-K)3, The Netherlands)
Bill Fay Group - Tomorrow, Tomorrow and Tomorrow CD (Durtro Jnana, UK/Canada)
Sage Francis - Sea Lion 12" (Lex/Warp, UK)
Frozen Rabbit [Phil Western] - 26,000 CD (Dehausset, Canada)
Hood - The Lost You CDEP (Domino, US)
Larsen - Play CD (Important, US)
Piano Magic - Opencast Heart CDEP (Important, US)
Pink Grease - Strip 7"/CDEP (Mute, UK)
Red Panda - Ferrimagnetic CDR (Scarcelight, US)
Seven Ark - Noise of the New CD/LP (Neo Ouija, UK)
Sol Invictus - The Devil`s Steed CD (Tursa, UK)
Sunslugg - Night Heron Amplifier CDR (Scarcelight, US)
Your Favorite Horse - Cavalo Blues CDR3" (Scarcelight, US)

This is simply this week's highlights from the NEW RELEASES provided by Greg and Feedback Monitor. For a more detailed schedule stretching into the future, please check out the page, since release dates can and will often change.
HOME THEATER
"Jandek on Corwood"
Unicorn Stencil


If ever a primer existed for the music and mystery of Jandek, this film is it. While the film itself can be drawn out and repetitive at times, the music and information discussed throughout the course of the film is an outstanding guide to the last 27 years of mystery that is the Jandek's career. For those that saw the film in the theatre, there are a ton of extras here that make owning the DVD worthwhile; for those who have not heard Jandek's music and have never seen the film, this DVD is absolutely remarkable. Jandek's music is difficult to say the least, but even my friends, whom have no experience with anything even remotely as strange as Jandek's music, enjoyed this film and walked away anxious to hear more. The home release of this film comes packed with extras, almost all of which are worth taking a look at. Aside from the usual trailers and audio commentary, the DVD includes a music-only track that removes all of the dialogue and audio effects from the film, commentary on Jandek's album covers, a host of interviews (including those conducted by The Brain's Joshua David Mann and Andrew Warren for WHRB's "Jandek Orgy"), essays, articles, and reviews, and a "Corwood Update." The update features excerpts from the five Jandek releases that were released after the film was completed in May of 2003. John Trubee's 1985 phone interview with Jandek is also included on the DVD and it covers a whole lot more ground than what was included in the duration of the film (it's roughly fifty minutes in length). Repeated watches of the movie proves that, despite the repetition mentioned above, it holds up very well as a movie and that it deserves to be seen by anyone genuinely interested and in love with music itself. The director, producer, and all those involved in this project make this movie excellent despite the lack of visual material available for use. This movie is the best opportunity to hear and learn about Jandek without diving into his enormous catalogue blindly. - Lucas Schleicher
CONCERT REPORT
Colin Potter
Sunday, December 26, 2004, New York City, NY
This rare live performance was worth a four hour bus ride to New York City and a six hour car ride home to Boston via Amherst, Massachusetts in a snowstorm. Potter's soundscapes were breathtaking heard properly in a live context. He was able to use volume as well as subtleties to create a set that was truly enthralling from start to finish. He made excellent use of the stereo field, and the sounds whirring back and forth made the music sound alive. Even though Potter was using some borrowed equipment, he seemed at ease and altered the piece live through the use of many different effects. Although there were no stops in the nearly 50 minute piece, several subtle movements could be detected within the whole. Much of the piece was taken up by Potter's trademark layered drones, but other sections introduced whispering voices and even beats into the mix. Potter's excellent sense of composition allowed these other elements to sound unobtrusive to the overall feel of the piece, which was at turns ominous and beautiful. The simple, repetitive rhythms he used during a short section about two thirds of the way through would have sounded pedestrian in any other setting. By placing these looped beats in the context of a swarm of arrhythmic sound he achieved a truly remarkable Surrealist juxtaposition. Though much of his set relied on interplay between elements on the the left and right channels of the sound system, he didn't use this panning effect simply for its own sake. The sounds themselves were captivating and effects such as these only enhanced an already strong composition. It's a shame that this performance was not part of a larger tour, as exposure to Potter's sound world in a live setting would surely gain him a well deserved larger audience in the states. - Jim Siegel
POLL
Results from last poll: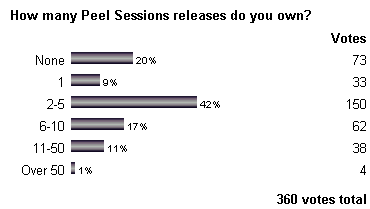 LINK OF THE WEEK
hobbit intepretive dance
This music video for "The Ballad of Bilbo Baggins" by Leonard Nimoy would be nothing without the interpretive dance. While the last question posed in the video in the form of an oversized button is "Who is Leonard Nimoy?," a more appropriate question would be "Where the hell did this come from?"
FEEDBACK
relief

Subject: artists support asia
Hi guys. I'm just spreading the word about 'Artists Support Asia' throughout all the decent independant music supporters (of which you are obviously one).
No idea if you'll want to cover it in The Brain in any way, but I just thought I'd get the name about, anyway. Information is here:
Hopefully we can make this successful.
Tell you what, we'll put the link in The Brain and if other Brainwashed Artists want to do something with it, it will be up to them to decide. We will be happy to post links to artist endorsed/supported funds. In fact, one brainwashed-band member was affected: Danny Hyde and his family were vacationing in Thailand, but made it out safely and unharmed.

Subject: Holidays
Hope everyone at the Brian had a Happy Kwanzyulekkahmas.
We actually celebrate Newtonmas (Sir Isaac Newton: Born December 25, 1642).

Subject: 2004/2005
Thanks for making 2004 a little more worthwhile. I hope the new year brings you the best. And assuredly more amazing music for all of us.
Thanks for the note. Thanks for making our efforts more worthwhile (ie: the feedback) and we wish YOU the best for 2005. The latest round of corporate layoffs and cutbacks unfortunately prevented us from sending holiday cards this year but with a little luck this year should be more prosperous.

Subject: radio waves
Hello brainwashed ones!
I 'd like to ask something about Shirley Collins. I had listed to "All Flowers In Bloom" from your radio and I wanna know which is the album containing that track.
Shirley Collins, "Harking Back: Live in Dublin" - released on Durtro (unfortunately now deleted).

Subject: thanks
you guys fucking rock keep up the good work, it's super cool to be able to see the guys i listen to performing, it's amazing the technology today all the niffty gadgets and toys.
Thanks
We rock so you can rock.

Subject: Pushers
Hey Jon and co,
Do you have any idea what is up with one of the sites you have on your "Pushers" list. I tried to order some things from Bent Crayon on 11/1/04 and got a auto reply response saying it was processing.
Since then I haven't heard anything and have sent several emails and tried calling but can't get in touch. It's no big deal if they can't fill my order but It would be nice to get a reply back saying so. Have you heard anything about them from anyone else. I can see they regularly update the website.
Thought others might like to know as well. I haven't had any problems from any other "Pusher" you have listed before.
Welp, they're removed. Thanks for the tip. We've been removing people who've done nothing for us lately and/or have irritated people.

Subject: thanks
Well.. i entered my web (deVelvet) statistics page and i notice that there is a links form the brainwashed community (The extended family). And i am very ver very happy with that link you put... thanks.. thanks a lot.. really... De velvet is inspired by braiwnashed... so.. it´s the brains little little argentinian sister... true.
Just one thing that it might be a bit annoying:
Could you put just in the same link deVelvet (arg) ? Just because there might be a lot of people from south america and it will be cool to let them now that there is a page there in spanish...
just that´.. i hope you can... Just Thanks thansk thanks a lot for you time!!!!
i hope you have a terrific 2005!!!!
plus... the danuel padden eyes, volcano the bear, múm, devendra banhart, animal collective eyes are the best ever!!!! thanks for that tooooo!!!!
Thanks again!!!!
Thanks for your excitement. See how much traffic people get from simply being on our good list? (Hint to stores and labels: don't piss us off.)

Subject: poll
I understand your concerns with the way the polls always turn out. Instead of having to go through the stress, frustration, and explaining each year, there are some solutions. Consider keeping the polls as you have them now (I think this years solution is the best so far), and presenting them AS a popularity contest. I mean, there is something to be said for albums that the most people can agree on liking (honesty assumed). Then, alongside the polls, instead of comments/complaints, you guys could callaborate and come up with your own companion lists as the Brainwashed team. Those would mean a lot to us readers as well. I can say, I myself at least, can appreciate both types of lists, and comparing the two. I hope a solution like this could help alleviate some of the annoyance.
We have our own page of picks - it's on the contributors page.

Subject: poll q
How is "kompakt" a misspelling of anything?
"Compact" perhaps.

Subject: poll comments
Most of Jonathan Dean's comments on your poll results (except the ones on Warp and A. Russell I guess) irritated me**, but what he has to say about Joanna Newsom is just disgusting and unworthy of any self-respecting critic. If some nonsense about "fetal alcohol syndrome" is all the learnèd comment you have to add, Mr Dean, maybe you'd better stfu because this is just pathetic. A well-deserved n°1 spot for Joanna, who amazed many of us with her beautiful songs, heartfelt delivery and fabulous lyrics.
The Newsom comment was a little too mean, you're right, and was removed.
Jonathan Dean responds: The funny thing is that I actually kind of like Joanna Newsom, but I do think she's essentially a novelty act. And the novelty is that helium voice of hers. My comment was not meant to offend, but rather to celebrate her most obvious characteristic.

Subject: poll comments strike back
Hey
I was surprised by the comments posted beneath the various poll results. The brainwashed staff so frequently make comments along the lines of: I'd bet these people have never even owned a 7"/heard this record etc.
Maybe you guys think we were all stumped when there was no Radiohead to vote for?? Seriously though, the people who read your site regularly do so beacuse they are enthused about the very music you feature, so you should not doubt us so much.
Reality dictates that a 7" only release wouldn't make #1 if people were voting on things they actually own. Plain and simple.

Subject: return of the comments
I must say I was dissapointed with your years end-poll this year. I always read your page with much pleasure, but the poll in this way seemed quite pointless. I know it must be a lot of work to process the answers, but just clicking a big list of names, most of which never heard of, and then saying they´re shit or not doesn´t get me anywhere. I hope you come up with a new format next year.
cheerios, medewerker #1
Don't be so disappointed. It's just a place to see what everybody's liking. As for the comments, a lot of them have been removed, re-evaluated, or tamed. The knee-jerk reactions were posted because there was so little time between the close of the polls and posting of results, and we regretfully published some things in haste. While certain things might have appeared at the "bottom of the barrel" (making number 49 of 50), imagine all the hundreds of other releases which were even less popular. Once again, it's no judge of merit or talent, just a simple popularity contest.

Subject: kranky q
Hi
Just got the following cds :
Low - Secret Name
Low - Things we lost in fire
Aix Em Klemm
Have these cds been relesed in digipack or hard cover or have they always been in a juvelcase?
They've always been in the jewel case, but why should that matter?

Subject: Angry Eelectric Rebuttal
I've finally had a chance to re-join the world at large after a very busy period, and as a result have only just read the Brainwashed reviews of the Angry Eelectric Finger series. There seems to be an all-pervasive misunderstanding about how the project came about - maybe because of the jumble caused by Serpent's collapse into ruin and the transfer of the series to BLRR. When I was invited to participate, Steve told me he had a record that he felt *could* be finished, but perhaps had room for a little more input; he asked me if I wanted to add some touches to it, and (being no fool (at least that particular day)) I said yes. He mentioned that he was also going to send it to some other people to see what they would come up with, with the idea that he might still release it unchanged, or perhaps assemble the best bits of the other versions into a single record (as it turned out, of course, he liked all the versions enough to release them separately and intact). When I received a copy of the record, I understood immediately why he thought it might be best to release it unaltered: to me it sounded great just as it was. My approach, then - in accordance with what Steve had asked me to do - was simply to add little details here are there, and not to interrupt or obstruct the original album.
- Matt Waldron
Jim Siegel replies: Thanks for setting the record straight, Matt. As a great admirer of your work, I hope my comments made it clear that I was unsure as to the reason why you had not altered the original source material much. If Cyclobe's version was closer to the original as well, I may have guessed that the nature of the project was not properly explained. Perhaps blrr should try to write press releases that are informative, rather than series of cliches and catch-phrases strung together. Thanks again.

Subject: Solex eye
any idea why the solex video interview stops after a minute or two? or am I missing something?
Hmm. That shouldn't be like that. Need to investigate...

Subject: brainwashed radio
hey. i just discovered you last night ....james plotkin ...good background music for painting....
You should try his Atomsmasher record!

Subject: brainwashed radio
Organum again!
I've listned your radio this 3 hours, and then fell in love with. The selection is so great.
Thank you and go on ,please.
Organum's site isn't hosted at brainwashed any longer so the tracks you're hearing are most likely the tiny amount of releases from United Dairies. Sorry. But thanks for the compliments!

Subject: [no subject]
We are coming from Belgium ...
I would like to invite you to see our website
Don't you know our band yet ! check up our links
We have a lot of demo so if you are interested , let's try to make it better .. Hello to coïl , let's get dress in velvet underwear....
Sure!
GET INVOLVED
sponsor, donate, or buy from brainwashed
Click here to find out how you can help keep The Brain going. Every penny helps.
become a contributor
We're always looking for more writers and are welcoming applicants who meet the criteria. Have a look at our new section, Write for The Brain and don't be shy.
submit a crossword
Go here, fill out some answers and clues! Don't forget to send us the links to the puzzles and solutions and tell us who you are and where you're from. Come up with clever titles or themes. It could be fun!
let us know what you think
Communicate with us, tell us what's in your player, tell us what you want more/less of, send recipes.
WHAT'S IN YOUR PLAYER?
15 titles for the sexually frustrated or confused
-Throbbing Gristle: Goldilocks and The Three Fingers
-Outkast: Spread
-Coil: The Anal Staircase
-Vagina Dentata Organ: Cold Meat / Eros & Thanatos (Sex Star)
-The Hafler Trio: Masturbatorium
-Venetian Snares and Hecate: Nymphomatriarch
-Nurse With Wound: Glory Hole
-Khia: My Neck, My Back (Lick It)
-Schloss Tegal: Coital Affirmation
-Whitehouse: Erector
-Coh: Fffetish
-Tricky: Suffocated Love
-Robert Ashley: Purposeful Lady Slow Afternoon
-Merzbow: Music for Bondage Performance
-Matmos (Vague Terrain Recordings): A Viable Alternative To Actual Sexual Contact

Brian Conniffe, Dublin, Ireland.