SIX ORGANS OF ADMITTANCE, "SCHOOL OF THE FLOWER"
Drag City


Ben Chasny's debut album for Drag City is the culmination of all of his work as Six Organs of Admittance up to this point. I first saw Chasny perform as Six Organs at 2002's Terrastock festival, and heard his album Dark Noontide soon after. I was struck at that time by his intuitive technique on the acoustic guitar, and the fuzzy blanket of drones that rippled underneath his extended instrumental excursions. Each release since has been stronger than the last, but every one of them seemed oddly transitional, as if Chasny hadn't yet settled on a comfortable repertoire of techniques. While 2003's Compathia introduced Chasny's vocals and more approachably melodic pop songs, last year's expansion of The Manifestation contained two sidelong experiments in seething psychedelia and avant-folk noise. For School of the Flower, Six Organs synthesize all of these approaches into a varied and rewarding album that contains gentle folk songs, droning instrumentals, extended psychouts and unique combinations thereof. The opener "Eighth Cognition/All You've Left" begins with a noisy improvisation between Chasny's electric organ and Chris Corsano's drums, but abruptly shifts into a sweetly melancholic folk song with hazily distant vocals. Chasny's fingerpicking skills have improved by leaps and bounds since his early albums, and he now sounds as adept at composing and performing complex guitar figures as his obvious influences like John Fahey, Robbie Basho or Sandy Bull. The superlative "Saint Cloud" pits expertly picked acoustic guitar against soft, nonverbal chanting and layers of encroaching noise. "Procession of the Cherry Blossom Spirits" and "Home" are a pair of outstanding tracks that repeat this formula. Here, the stellar studio production lend a tangible presence to Chasny's guitar and the undulating textures of drone. The title track is a 13-minute bohemoth based around a hypnotic, cyclical melody that is played with trancelike repetition as Corsano reappears for an extended improvisation on percussion. The song reaches a crescendo at about the eight-minute mark, as Chasny overlays a mindbending solo on electric fuzz guitar that wouldn't sound out of place coming from space rockers Comets on Fire, of which Chasny is also a member. Six Organs pay tribute to one of its heroes, the criminally unsung Gary Higgins, with a cover of his song "Thicker Than a Smokey," which was the lead track from the singer-songwriter's 1973 Red Hash LP (unfortunately yet to be released on CD). It's a lovely song, and though no one could top Higgins' haunting rendition, Chasny captures the song brilliantly. School of the Flower is truly a great album and shows solid proof of exponential artistic growth. - Jonathan Dean
samples:
"What's Your Function? - A tribute to franco battiato"
Sillyboy


Franco Battiato is one of the most unfairly underrated and habitually ignored composer/musicians of the last few decades. The strength of his material plus the careful selection of bands on What's Your Function easily rank this in my mental 'top list' of all time favorite tribute albums despite being one of the worst cover/packaging/font jobs ever. Battiato's career spans from the 1960s through the present but the output in the 1970s is arguably the most influential. 1970s Battiato music ranged from short pop tunes to drawn-out pre-prog primitive synth melodies, and from minimal soundtracks to cut-up mayhems that obviously had a strong influence on some of the best early Nurse With Wound material. It's strangely appropriate, for me at least, that Volcano the Bear both opens and closes the album, as it was at Aaron Moore's house that I first heard, and was completely hooked on the Italian great Franco Battiato. Since then, I've had Moore buy many Battiato CDs for me—since they're next to completely unavailable and undistributed in the USA—and I have not been disappointed one bit. Moore eagerly tackles the task of singing in Italian on "Da Oriente a Occidente," originally released on the 1973 masterpiece Sulle Corde di Aries as the pulsing vibrophone provides both the beat and main melody. It should come as no surprise that modern psych-rockers Kinski, Cul de Sac, and Acid Mothers Temple can all be found on the collection, eagerly trying their hand at other Battiato tunes, yet rarely do they wander far off-course from the original tunes. Multi-instrumentalist, musical genius, close friend, and unashamed showoff Keith Fullerton Whitman, arguably mis-represented by his Hrvatski alias, fearlessly takes on the Italian vocals with his rendition of "Plancton," complete with flawless acoustic guitar and nasty analogue synth playing, but even he keeps things relatively conservative. It's not until fellow Italians Zu vs. Okapi and Jennifer Gentle that the musicians actually take a bit of liberty with the music, each taking a more aggressive percussive approach, and it's probably because these people most likely know the original music more inside and out than anybody else. (I'm going to say it also helps to fluently understand language the words are in too!) Staying relatively conservative is not a bad thing in this case, as, with any luck, a collection like this could open up some new ears to the genius of Franco Battiato. Well, we can hope anyway. - Jon Whitney
samples:
März, "Wir Sind Hier"
Karaoke Kalk


März is part of the legacy nurtured by the likes of Phil Spector, Brian Wilson, Brian Eno, and Cornelius; they are bedroom savants and esoteric enthusiasts, studio hermits shyly convinced of their place among the ranks of pop royalty. But while for Eno the pop format served as the schizophrenic outro to his feather boa phase and the harbinger of things ambient and self-contained, März instead chooses the opposite path. The band is Albrecht Kunze and Ekkehard Ehlers, who should be immediately recognized as having one of the more idiosyncratic bodies of work within experimental and electronic fields, combining everything from laptop-cut classical compositions to sampledelic drone-outs, to the occasional micro-house cut. The diversity of Ehlers' previous output anticipates März's music not only in the colorful and cross-pollinated nature of the songs but in the playful postmodern way the duo borrows from its most potent pop predecessors. Few people didn't recognize the Nick Drake sample that opened their 2002 debut Love Streams, or the Nico samples that formed the cleverly-named "Chelsea Boys." As on Ehlers' gorgeous reworking of the Beatles' "Good Night" from Plays John Cassavetes, März samples become more than simple allusions. Their immediacy works within the musicians' patient and minimal mood-building to become a kind of dreamwalk through hand-picked pop history. The mood of März (German: March) is a bitter psychedelic breath, a walk in the park as winter is starting, carried through a synthetic orchestra of lapsteel, trombone and double bass. Ehlers' superb tech-house beats guide a vocal of frosty feel-goodisms, drifting into the stylized kitsch lyrics of Love Streams, but remaining triumphant and genuinely comforting. Wir Sind Hier is März at the height of their pop enthusiasm, though stripped of Love Streams' clever appeals to pop mythology. There's even one here called "The Pop Song," a perfect un-ironic crack at that golden ideal, as concise and brilliantly catchy as anything on the band's debut, without giving up the air of mystery surrounding them. Extroverted though it may seem, Wir Sind Hier strives for obscurity as well, its increased production levels working as if in spite of themselves to blend anti-pop elements like the incidental sound clatter and pastoral field recordings that characterize Ehlers' solo work. His tech-house tendencies take over on a few tracks, notably "Blaue Faden," though length and repetition do not harm the album's flow or its pop sensibility. Instead these extended reveries show Ehlers' and Kunze's talent for making simple melody sound instantly anthemic, and the duo's willingness to exploit this becomes part of their unique appeal. Lazy folks will call März 'folk-tronica', but the group means so much more to me. Their two albums are some of the most essential listening from recent memory, progressive music deeply rooted in the pop tradition yet exploding helplessly outward toward a loosely-defined, though definite future. - Andrew Culler
samples:
Mirror, "Nightwalkers"
Robot


This CD is a welcome reissue of one of Mirror's most diverse sets, which was originally issued on vinyl in 2000. The remastering process has aided this set immensely, as its often quiet atmospheric worlds can now be heard clearly, without the interference of crackling and popping. Although I usually prefer vinyl, this is one case where a digital transfer has actually greatly improved the listening experience, as even the most pristine vinyl copy will ultimately have some surface noise. This is music that is best heard with eyes closed or lights out, allowing one to get lost in the environment evoked by the sounds. The nature of the music of the core Mirror duo of Christoph Heemann and Andrew Chalk (here joined by Andreas Martin) requires full immersion in the landscapes they create, and audible sounds made by the tangible object itself only serve to bring the listener back into reality. Drawn out passages of long shimmering tones are a backdrop for searing bowed metal groans on the first of five untitled pieces. The element which sets this album apart from the many solely drone-based Mirror projects is the unexpected use of rhythms during tracks two and four. Track Two introduces these shifting, clicking rhythms and lets them pitter-patter back and forth without adornment for close to three minutes. These slightly out-of-sync patterns sound more akin to the ticking of a clock than any familiar percussion instrument. After the six minutes of low rumbling and high moaning pitches that make up Track Three the same rhythms return and are combined with shimmering, tremolo-inflected guitar playing during Track Four. This recurring use of rhythm gives the album a sense of balance. The final piece is a trademark 25 minute drone-scape, with all manner of long tones reverberating around what sounds like a cavernous space. Hopefully this reasonably priced reissue will serve as a model on which future reissues will be based. Much of Mirror's discography is made up of hard-to-find releases which are only available as expensive, small-run art editions. While the existence of these objects is certainly justified by the nature of the music they contain, it would be nice if easily obtainable counterparts were offered as well. This music is simply too beautiful to remain unheard by most of the people who would enjoy it. - Jim Siegel
samples:
Bird Show, "Green Inferno"
Kranky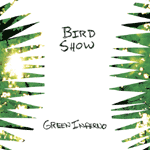 Ben Vida is best known for his work in Town & Country, but his new project is both different from and more alluring than his work in that band. Without completely removing any sense of song structure or identifiable melody, Vida has assimilated nine tracks of tumult, clatter, and lamentation built out of edited guitars, toy percussion, jazz influences, and secretive tones. Along with Liz Payne (part of both Pillow and Town & Country), he has succeeded in shaping a strange hybrid of awkward noise and creeping drone work that sometimes borders on sounding improvised and sometimes speaks of careful consideration. "All Afternoon Part #1" begins the record like a wake-up call, sirens buzzing and wailing along with a playful melody that chimes away underneath the cacophony. What immediately follows is "Kind Light," an aptly titled symphony of bell hums marked by Vida's light vocalizations and a soothing bass accompaniment. From this point forward all the music takes on a shadowy form, moving between nocturnal insects, clouded moons, and uneasy consideration. Vida highlights his pieces with the sounds of natural events, faded laughter, instrumental noodling, and quiet transformations. It isn't always clear when one track begins or the next ends; once "Green Inferno" buzzes into its slow churning of tribal percussion, the album condenses, expands, and flutters as if it had a mind of its own. "Always/Never Sleep Part #1" and "Part #2" fall out of "Green Inferno" as though they were the natural evolution of the themes introduced by their predecessor. The organ sound on "Part #1" is blissfully relaxing and stretches through time like some dense fog of jazz and free association, while "Part #2" prepares the way for the next songs via its near-silent cascade of reversed effects and lullaby melodies. The whole album, even with its suddenly jarring moments, feels like one thinking mass of sound evolving before my ears. Vida does limit his sound palette just slightly, preferring to arrange some of the album via reoccurring samples. Instead of returning to already covered ground, he could have taken Green Inferno a bit further into the netherworld of hovering music introduced on the first half of the record. "Morning/Evening" and "Landlovers" are exquisite pieces, however, the former having an enchanting vocal part that is secreted away beneath the movement and buzz of violins that compose most of its body. The album ends suddenly and makes me wish its middle portion lasted longer, but it keeps calling my name and surprising me with new sounds every time I listen to it. - Lucas Schleicher
samples:
JEFF PARKER, "THE RELATIVES"
Thrill Jockey


For his second disc as a bandleader, Chicago-based guitarist Jeff Parker (Tortoise, Isotope 217) has expanded his solo project from the standard jazz trio format, accompanied by upright bass and drums, to a quartet with the addition of Sam Barsheshet on Fender Rhodes and Wurlitzer electric keys. With Parker and company presenting more jazz/rock fusion-styled compositions on The Relatives in comparison to his first outing, Like-Coping, the electric keyboard quickly becomes an integral part of the group's sound. That, and a slightly gritty guitar tone reminiscent of a younger John McLaughlin. Having used the "f" word earlier on to describe an element of this disc's style, it's not a great surprise that comparisons to the dormant Isotope 217 come to mind, seeing as how both Parker-lead projects present fusion in its earliest, rawest and perhaps best form: before the soprano saxophone and crazy-assed time signatures became the norm. "Mannerisms" chugs along to double-time rhythms of unison, quirky guitar/bass/keyboard melodies that crash with tense chords on the cyclical breaks throughout Parker's exploratory soloing. Bassist Chris Lopes' catchy "Sea Change" spirals with ostinatos against drummer Chad Taylor's tasteful polyrhythms, providing a steady foundation for the tune to switch back and forth with a half-time vamp. The wonderfully slick treatment of Marvin Gaye's "When Did You Stop Loving Me, When Did I Stop Loving You" stands out on the disc not only for its jazz interpretation, but also for the group's solid and comfortable performance in the more traditional idiom that conveys a great sense of buoyancy. There are certain elements in Parker's compositional style and musicianship, highlighted on The Relatives, that indicate just how much his contributions with Tortoise's have shaped their sound over the past few years. By the same token, there are moments on this disc where it sounds like he may have worked some slightly angular arrangements in their spirit. Not to be mistaken for a jazzy Tortoise disc, The Relatives is the outlet for Parker's playful, free jazz spirit to stretch beyond the collective's boundaries with tasteful results. - Gord Fynes
samples:
THOMAS WYDLER & TOBY DAMMIT, "MORPHOSA HARMONIA"
Hit Thing


Toby Dammit has played drums for Iggy Pop, Swans, The Residents and Mark Eitzel, to name a few. He is also the creator of 2001's Top Dollar, a solo percussion album that took Hal Blaine's Psychedelic Percussion to its logical (and utterly absurd) extreme. Thomas Wydler is the drummer for The Bad Seeds and formerly of Die Haut. For the meeting of these two master percussionists, one could be forgiven for expecting an album composed equally of competitive drum solos or hippie rhythm circle music. What Wydler and Dammit do instead is create a varied album of exotic pop instrumentals that neatly defies any easy categorization. While Morphosa Harmonia is undoubtedly and unashamedly heavy on the percussive side of things, Thomas and Toby also tackle Buchla synthesizers, vibraphones, electric piano and bass. Contributions from guest players Jochen Arbeit (of Einsturzende Neubauten), Chris Hahn (of Angels of Light, Martin Peter (of Die Haut) and Beate Bartel (of Liaisons Dangereuses) add further layers of compositional complexity to the album. The album's title gives a substantial clue as to the sort of sound Wydler and Dammit are aiming for; the krautrock of Musik Von Harmonia and the Cluster & Eno albums is clearly evoked in the album's floating, psychedelic atmospheres. In fact, the pair even recruited Ingo Krauss, the engineer from Conny Plank's legendary studio, to mix this album. Perhaps because drummers are often the most maligned member of any given band and frequently the most ignored element of rock music, Toby Dammit opts to place the percussion of utmost primacy in his music, forcing the rest of the elements to follow the lead of the drums, cymbals, gongs and bells. As a listener, I was placed right next to the drum set, a unique perspective from which to experience this collection of chugging psychedelic pop songs. Most of the tracks on the album are eclectic and whimsical, combining Martin Denny's high-fidelity exotica with Ennio Morricone's kitchen sink compositional style. Each track is built from the rhythm down, with eerie birdcalls, chants and synthesized choirs weaving in and out of the beats. Canny use of echo, reverb and phasing keep the album in a constant state of dreamy psychedelia, adding bong hits to bongos, as it were. The packaging is an intriguing mystery, filled with watercolors of cats and nude females. (Kitties and titties? Pussies and pussycats?) Whatever the intention was, its a suitably odd juxtaposition for a fun and goofy little album that quietly pushes the boundaries of percussion-based music. - Jonathan Dean
samples:
Savath & Savalas, "Manana"
Warp


This companion EP to last year's Apropa't LP finds Scott Herren and since-departed collaborator Eva Puyelo Muns in a less organic mode. Many of the eight short tracks included on Manana feel less like songs than the pieces on the full length album did. Eva's vocals are still present, but feel more like an instrument that Herren has manipulated in various ways. On the opener "Interludio Inconcreto" the vocals are used as one element in a cut-up collage, a similar technique Herren often uses with the voices of hip hop MCs in his Prefuse 73 project. With Apropa't he seemed to be consciously carving out a unique space for the Savath & Savalas project. Perhaps now that he has shown that this project is a separate entity from Prefuse 73 he feels it is more acceptable to blur the lines a bit. It's almost as if his Prefuse persona had access to some of the material on Apropa't, and thus there are aspects of both projects here. The jagged, abstract feel of closer "Equipatge De Flors Seques" mixes lush strings and keyboard swells with cut-up snippets of Eva's vocals. During "No Puedo De Cidir" a recurring guitar pattern alternates with a drums and bass motif. Although these are acoustic instruments, the way they have been treated is as a part of a larger sample-based work and thus they don't lend a live feel to the proceedings. Although she is credited as co-writer and performer, it is uncertain whether Eva willingly participated in the deconstruction of her vocal tracks, or whether Herren simply finished the work after her departure from the project. Even in abstract, fragmented form her voice sets this project apart from any of Herren's other endeavors. Texturally, this material is often as gorgeous as the previous album, but by taking a different approach with the composition of the tracks Herren has created a companion piece that is not merely a remix project. It's ironic that touring in support of Apropa't with a live band prompted Herren to deconstruct the material rather than produce a work that reflected the live experience. - Jim Siegel
samples:
KALIMA, "NIGHT TIME SHADOWS"
LTM


Kalima used to be Swamp Children, a Mancunian post-punk funk ensemble signed to Factory Records. A few of the band members did double duty as part of A Certain Ratio. Despite releasing two well-received singles and an LP, the Swamp Children could not rise above the C-list of Factory artists, perhaps because there was nothing particularly groundbreaking or unique about their sound. In 1983, Swamp Children decided to re-brand themselves Kalima, and proffer up a new sound heavily informed by Latino jazz and pop. Lead singer Ann Quigley fancied herself the reincarnation of Yma Sumac (or Carmen Miranda?), and with an expanded seven-piece backup band (containing all of A Certain Ratio except for Donald Johnson), she attempted to out-Babalu the best and brightest of the Latino scene. God only knows why a group of painfully white English people from gloomy, overcast, industrial Manchester would try to reinvent themselves as a tropical-flavored big band, but in retrospect it seems an unnatural and ill-advised move, especially for a Factory label band. I suspect Kalima were trying to stake out their own unique territory, and kick-start the Latino jazz revival they were sure was about to sweep Europe. Unfortunately, their music won't make much sense to those looking for something similar to A Certain Ratio, or any of the rest of the Factory roster, for that matter. It is competent, smoothly rendered tropical vocal jazz that wouldn't sound out of place in an elevator, at a dentist's office, or at a local old farts jazz room near you. It infuses the Latino idiom with some of the "cool jazz" and bebop style that I associate with Mingus and early Miles Davis: smooth muted trumpets and horns imparting an urban feel to the music. Quigley's vocals are also polished, growling and cooing in the style of the aforementioned Sumac or Sara Vaughn. Night Time Shadows was the first full-length LP release by Kalima, and LTM has done their usual meticulous job of remastering and packaging the album with bonus tracks and biographical information. I suspect this album would appeal to easy-listening fans, or those who really like predominantly Caucasian, post-rockish jazz ensembles like HIM or Tortoise. I find it all a bit bland and faceless, and all I can think while listening to this album is what a bizarre and unfortunate career move this was for a Mancunian post-punk band. - Jonathan Dean
samples:
Black Mountain, "Black Mountain"
Jagjaguwar


Starting with the Lou Reed influenced "Modern Music," Black Mountain begins its trek through the first of many musical allusions. The song begins with a flatulent saxophone squawk. Then the rock music enters. Drums sticks count off and the guitars ring in while Stephen McBean's reedy vocals count off "One two three another pop explosion; four five six another hit recording." Ostensibly, the critique is the Sesame Street simplicity with which pop hits are made. But the song sounds like a remix of Jonathan Richman's "Roadrunner" with Albert Ayler laying down some free-spirited saxophone in the background. So the question becomes whether the modern music abhorrent to McBean and his Black Mountain is the pop stuff or the other stuff. Neither we nor the band ruminates very long on that question before "Don't Run Our Hearts Around" wanders off in a direction hinted at at the end of "Modern Music." The song resonates with the contusive sound of Black Sabbath and Blue Cheer: deep sludgy metal guitars with psychedelic overtones enough to leave one bruised. The guitars on this song and throughout the album have a wonderfully primitive growl and aggressiveness. It is an altogether different blackness than the first song, but perhaps one intentionally conjured by the band's name. The song's dynamics are effective and ecstatic. It oscillates from jam session to quiet campfire sing-along to serenade to a final intense and fiery tornado of sound and metal. There is no sense of balance in "Don't Run Our Hearts Around" but the instability is invigorating. After the misty dreariness of "Druganaut" (inspired song title; less inspiring music and perplexingly released as a 12"), the playful romp of the minilithic "No Satisfaction" pays the Rolling Stones some proper homage. McBean's vocals are not overly deep but still soulful; most of the songs employ background vocals (his own, plus other band members). The female backing vocals are especially remarkable for extracting the more elusive tones and textures in Black Mountain's songs. "No Hits" offers a forceful drumbeat and rollicking tempo combined with electronic sound samples, chanted vocals (chanted to the point of ceremonial incantation), and that same squawky saxophone, admittedly a pastiche of stuff you might dredge up in the East River. In fact, the whole album is a pastiche of styles. Even within the songs there are frequent and sometimes halting transitions between parts. A consistent tone is enough to bind a Black Mountain song together and sometimes the tone is all that does. "Heart of Snow" begins as a gentle guitar and voice dirge (this is the first time that Amber Webber's vocals are the unquestionably lead) and is then bridged by a dual guitar and piano part, expanding into a freedom rock interlude, back to dirge, until finally dirge and freedom rock combine to create something almost triumphant. All the while, the tone is the glue and the cohesion for the song. The album's closer, "Faulty Times," has some indulgent keyboard segments which nauseatingly recall The Doors, but some more thoughtful parts of the 8-minute song are able to rescue Black Mountain from one ill-advised allusion and perilous misstep on the band's playful ascent. - Joshua David Mann
samples:
We know that our music picks may be somewhat challenging to find, which is why we have a community section which can be used to obtain nearly everything available on this site.