four tet, "everything ecstatic"
Domino


The heartbeat rhythm that opened "Hands" on Four Tet's 2003 release Rounds is nowhere to be found here. Instead, Everything Ecstatic opens with a skuzzy bass loop, and soon launches into the polyrhythmic workout of "A Joy." For me, it makes for a far more enthralling introduction. Kieran Hebden has varied his technique here; on previous albums, he allowed his samples to stretch out and meander a bit, while here he makes use of smaller phrases and layers them far more effectively. "Smile Around the Face" is the album's most upbeat song, featuring a buzzing melody, handclaps, and small fragmentary samples. The first three tracks here (not counting a 23 second clip of a live sound check) are arguably the strongest. On the album highlight "Sun Drums and Soil," percussion builds to a throbbing din, while samples gradually flow in and out of the composition. As Hebden tastefully layers more and more samples and drums, the song slowly builds to a crescendo that is put over the top by his relentless keyboard samples, free-jazz horn, and heavily treated vocals. The second half of the album, though not as strong as the first, is still consistent. On "High Fives," a vibraphone sample is repeated throughout the song on top of a hip-hop beat while other samples, such as turntable scratches and electronic chirps fade in and out. The closer, "You Were There With Me," is a piece featuring wind chimes, xylophone, and gong samples slowly ringing, providing a meditative end to what may be Four Tet's most intense and challenging offering. - Nick Feeley
samples:
Aranos, "Throat Clearance"
Pieros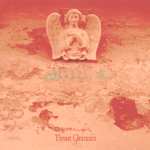 Considering the lyrics on the No Religion 7", I was surprised by some of the music and the packaging on the latest full-length from Ireland's most whimsical gypsy. The music sounds and feels entirely religious through the first four tracks and, to a great degree, recalls the gothic architecture and monolithic scope of the more astounding and awe-inspiring cathedrals of the world. The album was, in part, recorded live in St. Augustine Church, Galway and the cover art reflects the religious content, not just with the angel on the cover, but in the slip the package is housed in. It immediately reminded me of many of the Virgin Mary shrines I've seen and it made me wonder: what is Aranos up to? The first four tracks have all the beautiful echo and warmth a cathedral can possibly provide, but for the most part these songs are composed of drums, bass, organs, and violin played at very subdued levels. When "Yevka Sings" hits, it's quite a shock because the choral chanting is so utterly sublime and powerful above the instrumentation that its emotional and physical impact can only be compared to being smacked gently by a massive diesel engine. The music caught me so off guard that I felt my stomach drop and I immediately began the song over just so I could prepare myself for it and feel the vocal bliss about to come. I'm not sure if this quartet of religiously soaked music is supposed to share or counterpoint any feelings raised by No Religion (though "Breath of Unknowing" comes awfully close to sharing a name with the mystical text The Could of Unknowing), but what is obvious is that Aranos is capable of bringing out the more omni benevolent emotions tied with good mystical or "religious" music. The final six tracks employ varied methods of making music to create a carnival-like atmosphere, a whirlwind of musical ideas that, as far as I can tell, share little to no relation with the first part of the album. The atmosphere is almost always soft and careful, as though it were made to procure images of prowlers or ghosts shifting through the trees and tall grass at night, but in other places Aranos comes right out of hiding to paint slightly more vivid sound pictures housed in spastic movements and rock n' roll attitude. "Crab Life" sounds exactly like its title; small sounds jumping and skipping about, recalling the shuffled steps of crab on the ocean floor. "Silver Goat," on the other hand, is fronted by Aranos' unmistakable and piercing voice, the music a galloping mix of staccato violins and racing rhythms propelled by a final, violent movement. This is perhaps Aranos' most varied album, but also one of his most consistently enjoyable. Other albums by him may only be appropriate for certain moods, but I keep coming back to this album and finding that it adheres to almost any of my capricious listening needs. - Lucas Schleicher
samples:
EDWARD KA-SPEL, "O DARKNESS! O DARKNESS!"
Beta-Lactam Ring


The last few solo albums by Edward Ka-Spel have clearly shown that the Legendary Pink Dots' cofounder and frontman isn't afraid to steer his music in new and ever more idiosyncratic directions, but O Darkness! O Darkness! takes things several steps further out. This handsomely packaged slab of vinyl contains nearly 40 minutes of enticingly obscure, cinematic ear candy, and is as experimental an album as EKS has ever recorded, with the possible exception of Textures of Illumina. Simultaneously harking back to the earliest of early LPD and EKS cassette experiments, and looking forward towards new and tantalizingly esoteric future trajectories, this LP moves through a sequence of nightmarish sound dramas with a puzzling but eerily familiar dream-logic that sounds like the product of pure Surrealist automatism. The album's black-and-white, Max Ernst-style sleeve graphic depicts a craggy tree populated with unblinking human eyes instead of leaves, with three eye-shaped diecuts revealing three bluegreen eyes peeking out from the inner sleeve. Just as in symbolist paintings, the ocular imagery here seem to instruct the listener to look within, and to think of the sounds within as primarily visual rather than strictly aural phenomena. Everywhere on O Darkness, EKS seems to be taking upon himself the misery of the world, evoking current events in his morbid, pessimistic opening monologue: "When the bell tolls at twelve, my thoughts will go towards those who were simply at the wrong place at the wrong time. I will concentrate, focus, mourn in my own peculiar way. And I honestly think I can keep it up." With this simultaneously funny and depressing soliloquy, EKS kicks off the record's first side ("The Rim of the Pit"), which introduces a vivid urban soundscape bustling with noisy streetcars, the distant tinkling of soft piano jazz from an open apartment window, hurried footsteps accompanied by a series of booming bass throbs that seem to prophesy a vague and gloomy future full of dread and anxiety. It's hard to tell if ole Ed has gathered these sounds from period films or radio broadcasts or if these are field recordings he has gathered and spliced together; it's equally difficult to discern if the incidental, maudlin Hollywood soundtrack music heard throughout the album is sampled or created in the studio by EKS and Silverman. Either way, it's a real head-trip, palpably real and hauntingly nostalgic, vintage sounds that Boards of Canada would give their two left testicles to be able to make. One of the movements involves a fractured, programmed beat assembled from cut-up female voices, resonant church bells ringing, a lonesome foghorn, a fascinatingly unorthodox use of sequencers that recalls Nurse With Wound's "Yagga Blues," among other things. EKS continues his paranoid interior monologues over a series of shrill, jarring car alarm bleats: "I was stuck between the 15th and 16th floors when it happened. It sounded bad out there. Whatever the damn thing was it behaved methodically. One room at a time." The last time I'd heard such a terrifying horror story masquerading as experimental music was Current 93 and Thomas Ligotti's I Have a Special Plan For This World. Side two ("Wings Trapped in Amber") involves a further descent into the maelstrom, with anonymous passengers boarding a train to who knows where, varispeed bouncing ball rhythms juxtaposed with ocean sounds, laughing children, a street musician and encroaching drones that give Alan Splet's subterranean Eraserhead sound environments a run for their money. Unexpectedly out of the din comes a clattery, ramshackle group tribal improvisation placed amidst a jungle full of squawking birds. By the end of this tangibly real dream-space, it took me some time to touch down and reconnect with my "real" time and place. O Darkness! O Darkness! is a conduit into EKS' nightmares, which depending on your sensibilities, could be either a gift or a curse. - Jonathan Dean
samples:
Fenin, "Grounded"
Shitkatapult


Unlike most of the "digital" dub that continues to flood the market, the latest release from T. Raumschmiere's eclectic (read: incredibly spotty) Shitkatapult imprint is actually surprising with its apparently sincere recognition of the real, although commonly overlooked, historical connection between dub reggae and techno. With an overwhelming anglo-dominance in the techno scene, it is perhaps all-too easy to be ignorant or forget that even the genre's most obvious roots are black in origin and, I assume, Lars Fenin is hoping to somewhat rectify that injustice. Though not at the level of Rhythm & Sound's near-impeccable, devotional aesthetic, Fenin's debut album evokes a respect for this heritage and lineage with an accessible aural lesson where the barriers between the two genres are regularly crossed without hesitation or explanation. Deep dancy cuts like "Aware" and the bass heavy "Konstrukt" may seem like familiar territory (or even old hat) to informed clubgoers and home listeners who have embraced these types of sounds, but they will likely be impressed by the heavier portions of more traditional reggae thrust into the mix on the opening title track, moreso particularly with its unabashed reverence to the stickiest of the icky. Here, vocalist Gorbi, who contributes his rootsy Wailers-inspired voice to the album's finest tracks, adds a truly vital edge to Fenin's work that sets it apart from many of his peers. "Thrills," the album's lead single, bounces with a bumping downtempo beat, springy synth bass, and just enough vocal to make this a potential breakout summer jam. In that same vein, "No C.I.A." recalls the political and social passion of the finest Jamaican toasters, with Gorbi riffing fantastically over Fenin's sparse three note melody and clicky percussion. The fusion of the genre's fits together rather well on the dub-tech groover "None Of Them," where Gorbi drops in on the first hard 4/4 kick and rarely ceases for most of its duration. Grounded closes out with the subtler shuffling rhythm of "South," where the studio aceticism of masters like King Tubby and Lee Perry is paid well-deserved homage, making for a fiiting end to this reverent debut from a producer I hope to hear much more from in the future. - Gary Suarez
samples:
Okkervil River, "Black Sheep Boy"
Jagjaguwar

With Black Sheep Boy, Okkervil River offer their first consistently brilliant album resounding with themes and cascading with conceits. Neutral Milk Hotel seem to be an oft-repeated and more often misapplied reference presently, but the structure of Okkervil's latest album unmistakably mimics In the Aeroplane Over the Sea. This is not to say that it is a facsimile. Rather, it is a flirtation with the structures and tropes put forth by Jeff Mangum and company. Consider the evidence: the quiescent initial invocations of each band's protagonist (for NMH, the Two-Headed Boy; for Okkervil, the Black Sheep Boy) occur in the first song and then roar grandiosely into attention-grabbing second songs. The protagonists both rear their (abhorrent) heads throughout the songs on their respective albums, causing listeners to shudder and rejoice at the same time. Songs are all similarly connected by common threads and themes, be they musical or lyrical. The communion between NMH and Okkervil goes beyond simply the brash employment of brass instruments in certain songs, such as in the waltz-like "A King and a Queen." Songs on both albums gracefully flow into one another, perhaps taking Okkervil's aquatic moniker too literally on one side. Okkervil River's meditation for this album is the Black Sheep Boy's (it's unclear whether it is a proper name and should be capitalized, or rather an archetype and thus lower-case; excuse my presumption but I am going with the proper name and upper-case solution) modern-day ostracism and rejection. He seems to be some modern hybrid of the ancient figures of Anubis, Dionysus, and the Cretan Minotaur. If the artwork on the album is any indication, he is a grotesque abomination yet is as undeniably fascinating as a savage automobile accident. The album begins with the eponymous "Black Sheep Boy," a proper intro of one minute and eighteen seconds which elegiacally introduces the main character with a light collection of guitars, strings, keyboards, and brushed percussion. The intro seamlessly elides into the first real track, the name of which fittingly is "For Real." Even at a first cursory listen, the song will transfix you. It enters methodically with repetitive and monotone pluckings only to have the guitars and drums crash in unexpectedly and unannounced without breaking stride. Will Sheff's voice is occasionally strained to its upper reaches, on the precipice of cracking for the more sonorous parts of the song. The effect is startling without being grating or abrasive. By the end of the song, Sheff's vocals are shattering delicately all over the place and the raw energy released by this is pleasing and welcome. The song's energy then decays into the dulcet lethargy of "In a Radio Song" which meditates wistfully for over five minutes. It is the gentle eddies of placid waters to the class 5 rapids of "For Real." Lyrically, Okkervil River are formidable storytellers. Their narratives sing of imperfect lives, unrequited loves, and the darkness of forced hermitage. The ponderous "A Stone" decries the injustice of a girl who chooses to love the callous and unadoring rather than the dedicated and true. Towards the end, there is a remarkable moment when the instruments drop into the background and the vocals emerge to narrate this allegorical and modernized fairy tale about stones and queens and flowers. Sheff starts to insert more and more syllables into each line (more than would normally be seemly) in order to economize and fit the story into just one or two verses. The result is a two-tiered narrative which weaves itself elegantly into the structure of the song's large ensemble/instrumentation. Like In the Aeroplane Over the Sea, there is a satisfying alternation of rockers with ballads. Energy is expended and recouped throughout the album and requires interceding songs of quietude to buffer the harsher numbers. "So Come Back, I am Waiting," the penultimate song, captures both of these loud and soft extremes in its pure majesty and does a fine job of condensing and summarizing the themes from the album. In past efforts, Okkervil River have hit on a mixture of successes and, well, non-successes on their albums. Black Sheep Boy is the full realization of the band's success into a musical suite of eleven well-formed songs, bearing none of the ugly horns or murderous tendencies of the album's title character. - Joshua David Mann
samples:
esmerine, "aurora"
madrona records


Esmerine are an outfit for the end of the world: their songs are powerful meditations on loss, pain, and dread. At their core are Beckie Foon (A Silver Mt. Zion) and Bruce Cawdron (Godspeed You Black Emperor! and Set Fire to Flames). Their second album, Aurora, is the black smoke that arises from the rubble. Here, bleak orchestral movements slowly build to breathtaking conclusions, such as on the opener "Quelques Mots Pleins D'Ombre," where pulsating cellos gather force and speed, culminating in a few brief moments of controlled fury on top of a barrage of drums, bass, and piano. The nearly 17 minute "Histories Repeating as One Thousand Hearts Mend" marches along slowly to a steady swell of hubcaps, marimba, and cello. "Why She Swallows Bullets and Stones" is a beautiful piano piece that breaks up the dark overtones of the previous three pieces and provides much needed breathing room from the often dark and melancholic tone that abounds here. This is perhaps Esmerine's greatest liability. While they are masterful in their ability to evoke a nefarious atmosphere from their songs, all the melancholy and anxiety can become a little suffocating, but I give credit where credit is due. Esmerine are capable of inducing a range of clear, striking images: barren landscapes, war-torn cities, and quiet desperation. As the final bent notes on "Le Rire de L'Ange" fade away, I can almost see the mushroom cloud from my bedroom window. - Nick Feeley
samples:
Stephan Mathieu, "The Sad Mac"
Headz


Perhaps overwork has made Mathieu's Macintosh unhappy. He is conscious of the computer's painting-out on this release more than ever, The Sad Mac becoming a symbol of the plateau at which digital reconstruction has to be re-suggested. This isn't the first time Mathieu has taken up the recordings of others for his own revision, but it feels now like a total revisioning, something with legs. What might seem like a fairly straight-up digital drone recording up front reveals later to be a cavernous amalgam of disparate sources and foreign intents feeding two softwares' insatiable and somehow melancholy blanket constructions by deep and luscious weaves of histrionic and celestial noise. The artist's own intent is either invisible or secondary to a gigantic primary. After a long list of Matheiu's sound-sourcing "collaborators" on the back of another beautiful Headz package job, each track features the artist's poetic descriptions and instruments used. Three of the longer tracks are Mathieu's commissioned sound portion for a German da Vinci exhibit. Another is a dance piece soundtrack featuring viola drones run through "the Death Chimes of a Macintosh Classic II computer." The digitally homogenized strains of a classical vocal quartet, stewing with hammered dulcimer, harpsichord, and Handel sonata fragments precedes a fascinating track where the sounds of Mathieu's daughter "cooking sticks-and-stones soup" combine with Derek Holzer's Starfield Recordings for a Latvian Spacelab project. On "Smile," Mathieu's pump organ, "playing a motor's endless drone" finds the sad passing of time in an Italian waiter reciting Luigi Pulci. When everything is not a quaking, sumptuous mess of drone, the artist backs up to let the machine assert more than its own making. Track one, "Anakrousis," styled as an ancient Greek overture, is all log-in squelches and the humming click of start-up. Later appeals to the Apple IIe and a primitive digitizing of a 1909 phonograph recording point to Mathieu's interest in engaging his computer with a huge history of recorded and un-recorded sound-making. The great, droning melancholy alive in all of these tracks takes the artist's gesture far from common ironic or self-referential goals. His title exploits the mystery of now-commonplace items and methods being filtered through time and assigned personality, while at the same time introducing non-intellectual music perfect for sleepy drift-off. My best comparison is the work of Akira Rabelais (whose software Mathieu uses), whose Benediction, Draw was a favorite laptop release in past years as The Sad Mac could be this year. - Andrew Culler
samples:
KEMIALLISET YSTAVAT, "KELLARI JUNIVERSUMI"
Beta-Lactam Ring


Kemialliset Ystavat is the most consistently rewarding artist currently grouped under the "Finnish Underground" free-folk banner. Kemialliset Ystavat ("Chemical Friends") is primarily the work of Jan Anderzen, who shares with his fellow compatriots (Es, Avarus and Islaja, among others) a taste for loose, deconstructed acid folk, turning deceptively simple acoustic arrangements into fractured, kaleidescopic miniature symphonies that are richly evocative of the psychic geography of Finland's subarctic forests. Kellari Juniversumi was originally issued on a Fonal CD back in 1999, but in light of the Finnish scene's newfound notoriety, it has been re-released in a vinyl collector's edition on Beta-Lactam Ring Records, who also include a bonus 7" Saija with every mailorder purchase. Recently, on efforts such as Alkuharka, almost as a reaction to being pidgeonholed by the "freak-folk" happy music press, Anderzen has increased the presence of samples and electronics in the music. On Kellari, however, any electronic elements are purely analog, and are hidden so as to be almost entirely unnoticeable. This lends the album an organic, improvisatory looseness, the multilayered composting of amateurishly played percussion, strings, horns, toy piano, ghostly vocal choruses and undercurrents of atmospheric drone. Some of the songs sound as if they were recorded in and among Finland's flora and fauna, as the sounds of birds chirping and twigs snapping can clearly be heard. It is tempting to file away KY's music as light, pastoral, hippie fare, but deep listening evokes many a chill wind, Anderzen revealing dark, anxious atmospheres recalling Comus' First Utterance or the Incredible String Band's Be Glad soundtrack. Perhaps it is merely the suggestive power of the mandala-like folk-art sleeve, but the music also seems to operate on the level of pagan invocation, as the tribalistic, ritualized group improvisations seem to play upon a hidden timbre of forest magic. Because of the multiple-tracking method that Anderzen applies to recording, the various instrumental elements of each song often threaten to derail from each other and create a senseless cacophony, but there is a consistent method to the madness. The more you listen to Kellari Juniversumi, the more complex it seems, the more the disparate elements align and realign into coherent compositional patterns that may be intentional, or a product of synchronicity, it doesn't matter which. Songs generally don't last longer than a few minutes, as Anderzen prefers to build up his songs vertically, rather than horizontally. The music on the bonus 7" is a more recent incarnation of KY, with a decidedly noisier, lower-fidelity atmosphere marked by an almost accidental convocation of percussive elements, metallic scrapes and tortured samples. The sleeve for the bonus single shows a patchwork of Spare-like sigils, with the back cover a photography of a man's bare back covered with red welts perfectly aligned to form the Qabalistic tree of life. This willful esotericism is somewhat pricklier and less beguiling than Kellari Juniversumi, but no less fascinating. - Jonathan Dean
samples:
oneida, "the wedding"
Jagjaguwar


Oneida's gaze is fixed firmly on the 1970s, but rather then being all awash in overblown solos and misguided mythology, theirs is an all-encompassing view, surveying both the well known and the obscure. "Lavender," with its insistent kick-drum and anthemic guitar heroics, is Oneida's call to arms with Kid Millions spouting off nonsense about lavender on winter days and braiding pubic hairs. Elsewhere, the slow rumbling of "Spirits," "The Heavenly Choir," and "The Beginning is Nigh" engulf the listener gradually, ebbing and flowing on their atmospheric guitar playing and throbbing percussion. While Oneida spend a good deal of time exploring the bong-water stained terrain of psychedelic hard rock on The Wedding, they devote just as much time to genteel folk on songs like "Know" and "Run Through My Hair," the latter of which features delicate finger picking interspersed with stabs of acid-drenched electric guitar. Elsewhere, songs like "Charlemagne" and "You're Drifting" sound like early slices of electronic pop. That Oneida are often lumped as psych-rock fetishists is a shame, as The Wedding proves that although they make good use of the sounds and ideas of this style, it is hardly a crutch. In fact, when they want to, Oneida are just as capable of writing a concise pop song as a lengthy stoner anthem, such as on "High Life," the best synth-pop song I've heard in a long time. A few songs here sound like stylistic reaches, most notably "Leaves," but in truth it is hard to fault Oneida, as The Wedding is consistently excellent. - Nick Feeley
samples:
THE FRIDAY GROUP
Beta-Lactam Ring


The Friday Group play meta-country and western music, mapping out those dusty, hard-bitten spaces in the American West that only persist in the abstract world of forms. Theirs is an existential sound awash with harsh, unrelenting sunlight and parched desert aridness. They are the pale riders and frontier opportunists of a vast dream of untamed expanses, deserted gold rush towns that coughed their last dying breath years ago, unincorporated areas of land not under the jurisdiction of any government, and thus subject to the brutal justice of itinerant lawmen and unscrupulous gangs. This sort of thing shouldn't surprise anyone familiar with Tom Carter from his long-time membership in Texas underground mainstays Charalambides, long reliable purveyors of a particularly unique evocation of revenant country and blues spirits, but Friday Group takes things to a new level of purity, intensity and hypnotic perfection. The only possible reference points for this fantastic debut would be Bruce Langhorne's psychedelic soundtrack for Peter Fonda's minimalist B-Western The Hired Hand, Neil Young's Dead Man soundtrack, or Zoviet France's "Something Spooked the Horses." Tom Carter and a group of improvisers that also includes Shawn McMillan, B.C. Smith and Blake Carlisle hit a chord that is long and lonesome, and succeed in making one of the most richly suggestive works of post-Americana that I've yet heard from the extended Wholly Other family. The LP is packaged in a plain, "none more black" sleeve, but it's hard to work out if this is The Friday Group's idea or a design strategy by Beta-Lactam Ring, as this LP is the first volume in their new Records Are Not For Baking subscriber series. Those who subscribe to all six volumes (other artists include irr.app.(ext.), La STPO, Nurse With Wound and Aranos), receive all six LPs as well as six bonus picture disc 12"s by each artist. I'm not sure that The Friday Group's bonus 12" could be considered a "picture disc" in any sense, unless you consider a few sleeve notes and the color gray to be a "picture." I find the packaging of these two records bland and uninspiring, but it's the only thing that's bland about The Friday Group, whose music is filled with dense textures and hypnotic atmospheres that belie the drab artwork. The LP is made up of two sidelong tracks of solid improvisation, Carter playing the holy fuck out of his beloved lap steel guitar, pulling out beautifully bending, curling wisps of opium smoke or gritty, sunbaked electric death rattles, sending up a spray of clay dust or a spattering of saliva with each sudden turn of his wrist. Filling out the sound are the thick, pregnant drones of McMillan's harmonium, and the vintage organs and electronic guitar runoff of Smith and Carlisle, with the odd smattering of windchimes and tumbleweed. The group doesn't meander long before locating a blasted-out, sunbleached skeletal blues in the midst of their stunningly evocative improvs, with the group carving out plenty of space for Carter's possessed solos. The LP is definitely where it's at, but the shorter bonus pieces on the bonus disc, which highlight the group's gift for complex, shifting harmonic drone, aren't too shabby either. - Jonathan Dean
samples:
Lali Puna, "I Thought I Was Over That: Rare, Remixed and B-Sides"
Morr Music


After a string of critically acclaimed full-lengths, Lali Puna mark 2005 with their very first compilation release, which raises the question: what makes a compilation worthwhile, if not essential? Some artists use these kind of releases as throwaways, to keep an audience's appetite whetted during studio time, or simply loaded up with filler and other fluff to move units in times of need. Not so with Valerie Trebeljahr & Co.: I Thought I Was Over That not only comes off the heels of a successful LP and tour, but the tracks included are of a varied enough nature to please devoted fans who missed a single here or there and curious newbies alike. First of all, there's a ton of material: nearly 80 minutes is enough to fill two pieces of vinyl. Secondly, it's of a varied enough nature—remixes of Lali standards, remixes of other artists' work by Lali, duos, throwaways and a jam (if that's the term in electro-pop) or two—to truly merit the release as more than a convenient collection for those who couldn't track down all the singles. Happily, the remixes are worthwhile, too—rather than superficial changes, they truly add something new to the source material—like putting an addition onto the house rather than just a new coat of paint, or in some cases, like going from a duplex to a lighthouse. Some of Trebeljahr's choices for remixes will turn some heads, too. They're able to "poppify" a track from left-field hip hop outfit Boom Bap, ably adding a verse-chorus-verse setup to an otherwise freewheeling instrumental; Lali Puna even takes a stab at a Giorgio Moroder (he of synthesizers and Scarface fame) composition. The collection is by no means flawless: the Dntl version of "Faking the Books" loses most of the subtle majesty of the original, and some of the new work will be too glitch-pop for the established audience. It's also a little heavy on later material: nearly half the tracks come from 2002 and later. And remixed or no, some of the instrumental tracks seem to wander, and suffer greatly in comparison to those graced by Trebeljahr's simply lovely singing voice. Alternately haunting, soothing and even salacious, any remix or rarity, no matter how adroit or precious, is vying for second place without the presence of her pipes. Not a hackneyed retrospective or throwaway "greatest hits" collection by any means, I Thought I Was Over That seems tailor-made for Lali Puna's loyal listeners: they'll get to see whole new sides of the group's lyrical and compositional abilities (especially if they missed the 2004 Mirconomic EP), and get to be spared the bother of tracking down all the singles. New listeners, though, won't be nearly as rewarded, and would be best advised to pick up Faking the Books or Scary World Theory before moving on to this smorgasbord. - Chris Roberts
samples:
Elliott Sharp/Merzbow "Tranz"
Caminate


Elliott Sharp may be a very unlikely collaborator for Merzbow's Masami Akita, but that's part of this CD's interest... and ultimately its failure, though the meeting is intriguing, even when it falls on its face. Tranz is structured in a way similar to many of Merzbow's other collaborative albums: two tracks are composed by Merzbow using Sharp's sounds as source material, and two by Sharp using Merzbow's sounds. The tracks alternate, though the package design is so obscure that the only way to tell which tracks appear in which order is to match the times of each to a title and time listed on one of four different cards inserted in the front pocket of the digipack. The first piece is terrific: Merzbow's "Esrma 1" is based on a pattern of alternating notes which twist subtly as layers of grainy synth-like sounds are added one at a time. It's a very linear and musical piece, with a straightforward upward spiral abruptly ending with what must be... a guitar through a flanger. (Uh-oh.) Here's where Tranz starts to falter. Even without the knowledge of specific guitar effects' sounds, an obvious sound is recognizable, and Elliott Sharp seems incapable of providing much more than off-the-shelf guitar and effect sounds for the remaining 3/4 of this album. Sharp's first turn at the wheel, "Mares 1," begins with a burbling, flatly-tense background bed of grainy noise, but gracelessly throws in such chestnuts as: the outer-space phaser sound!; The guitar-shop finger-tapping shred solo (these are cringe-inducing without David Lee Roth in the vicinity)!; The twisting the delay-knob up and down sound!; and so on,.... Sharp marches so blithely over the pleasingly crunchy backdrop that I tried to listen to his piece as if I was hearing two radio stations at once, absorbing one while information from another was irritatingly bleeding through. On track 3, Merzbow tries again, but he does not match the focus he started out with, and the final track is little more than a Max/MSP effect doing its thing uneventfully for a few minutes. If a person was involved in its composition, he appears to have removed himself before the disc went to press. The as aforementioned intriguing appeal is rather like rubbernecking: people were maimed in this car crash, but it's tough not to keep looking at them. I have returned to this album four times since I first heard it. It's maybe a good textbook about how two very disparate artists might force themselves to work together across styles and methods. It might even have worked, had the artists not both phoned in their music. If they'd arrived at a solid idea and explored it, maybe this could have been surprising music instead of merely an exercise. Still: ever heard a Merzbow album with finger-tapping on it? - Howard Stelzer
samples:
LA SOCIETE DES TIMIDES A LA PARADE DES OISEAUX, "LE COMBAT OCCULTE"
Beta-Lactam Ring


This is the second La STPO release to surface on Portland's Beta-Lactam Ring Records, the new home for this strangest of French prog-rock ensembles. La STPO, whose name translates literally as "Shy Society at the Bird Parade," were discovered by legendary French experimentalists DDAA (Defecit Des Annees Anterieurs—"The Deficit of Former Years"), who released the band's first EP on their own Illusion Productions back in 1986. With a name only slightly less stupid than German contemporaries HNAS (Hirsche Nichts Aufs Sofa—"Moose Without A Sofa"), and an eclectic sensibility only slightly less whacked-out and surrealistic, La STPO have trudged on in near-total obscurity for two decades, with a revolving door membership that has included more than 30 musicians over the years. BLR's '86-'90 reissued the hard to find Illusion EP, together with an equally impossible-to-find LP from 1990. Le Combat Occulte doesn't reissue anything, but instead collects a generous amount of unreleased, alternate, rare and live tracks drawn from the band's entire history. La STPO records are always scattershot, rapidly changing, almost pathologically eclectic affairs, and this one even more so, as most of these tracks were not even conceived in each other's presence. In a strange way, this increased randomness contributes to the kind of Dada pranksterism that the band appear to be aiming for, the majority of their songs senselessly shifting musical gears in ways that only make sense within the post-RIO experimental prog milieu in which they are generally considered. For all of their deliberate goofiness, however, there is very competent musicianship at the heart of La STPO, and only a talented band could pull off these breathlessly dynamic rock gymnastics, switching from histrionic stop-start prog-rock virtuosity to Neanderthal free jazz skronk, to Spike Jones-style cartoon wackiness, to percussive breakdowns on mallets and sheet metal, to tuneful psychedelic ballads and austere chamber music, often within the span of a few minutes. The silliness can be downright exhausting at times, but it certainly keeps things moving; I challenge anyone to be bored by the music found on this disc. With their opaque lyrical aesthetic and sleeve designs, the band clearly align themselves with a long tradition of European avant-gardism of the kind exemplified by Marcel Duchamp and Max Ernst, but they also invoke Russian Suprematism in tracks like "Techniques Explositionnistes," giving shoutouts to Malevich and Kandinsky. Unlike other bands such as Nurse With Wound or HNAS that traffic in these kinds of kitchen-sink compositions, La STPO actually have the musical chops to pull off these death defying leaps of musical illogic without resorting to tape-splicing or plunderphonia. There is a lot more that could be said about music as chock full of complexity, eccentricity and obscurity as that made by La STPO, but it's best to just be jerked along by these intelligently insane and spectacularly talented musicians, and just see where the journey leads. - Jonathan Dean
samples:
The Rita, "Bodies Bear Traces of Carnal Violence"
Troniks/PACrec


Noise, even more so than metal, shares a strange relation with violence, death, sex, drugs, and any combination thereof. In fact it seems as though bands like Merzbow, Masonna, Whitehouse, et al. represent the extreme edge of violence and sexuality in their artwork, titles, influences, and lyrical output. I sometimes question just how much this fact determines the popularity of such acts seeing how many of their releases just don't impress me. The Rita, it would seem, follow in the footsteps of these vulgar giants. Two tracks make up this 60+ minute record of almost pure white noise, feedback, suffocated screams, and unrelenting brutality. The first and most obvious facet of such an approach to noise is obvious: there isn't much variation and on most releases that makes it too easy for me to get bored. The second and maybe most ear-catching facet is that when The Rita decide to allow vocal samples and odd sounds bleed through their curtain of damaged equipment, they sound exciting and fresh. I think the image must be holding these fellows down. I'll be the last to say there's an image to uphold here, but when one song is titled "Naked Girl Found Dead in the Park" and the artwork depicts what must be a rather brutal rape, the music inside is likely to exaggerate its real intensity for the sake of consistency. It's a shame, too, because while violence can be an attractive and creative event, it seems like most eyes are focused on the less perverse and more boring, pornographic stuff that shows no signs of creativity or understanding, whatsoever. At one point on "Vice Wears Black Hose," the noise congeals for a moment into the sounds of what might be a sample from a Dario Argento film soundtrack, but instead of letting such an unsettling transition play its role, The Rita shot things back into a confused and overdriven death fest. Extremes can be interesting at times, but this is one that has been played out one too many times. There are far better explorations of sex and violence out there if that sort of thing seems evenly remotely interesting, but the disappointing part is that The Rita show a lot of promise on this record and then let me down by trying to drown their work in the sort of noise that eventually comes to sound tame and silly because of its nonstop intensity. In the end it sounds normal and not at all threatening, almost as though it's become its opposite and obtained a trance-like, subdued state in the pursuit of nonstop, attention-grabbing assault. - Lucas Schleicher
samples:
Laurent Garnier, "The Cloud Making Machine"
Mute / F-Communications


Just when techno so desperately needs a good shot in the arm (or perhaps, the mouth or ass) from one of its biggest and most respected stars, it is instead subjected to another installment of "When Good Artists Go Crap." The Cloud Making Machine is the musical equivalent of an American liberal arts student dicking around Europe for a semester, largely meandering without so much as a speck of the intended or desired resulting enlightenment. Lacking even the occasional sonic spasm evocative of Garnier's true worth or talent, these ten truly dreadful pseudo-cinematic tracks are as mind-numbingly boring as 99% of the pretentious scores to even more pretentious dramatic films. It embodies everything that I didn't like from 2000's critically acclaimed Unreasonable Behavior packed into one outrageously unfocused crapfest, dipping into too many genres for its own good. Between the fluttery yet dull flamenco flourishes on "Huis Clos" to the falls-flat-on-its-face IDM meets neo-classical fusion of "Act 1 Minotaure Ex," I am almost tempted to believe that this album was intended as a goof, a tongue-in-cheek snipe at the self-indulgent compositions and obligatory radio-singles comprising movie soundtracks (not to mention an unusually cruel joke on Garnier's worldwide fanbase). The hallucinatory dreamstate spoken and shouted word of "First Reaction (v2)" attempts to make some kind of bold political statement amidst Garnier's cacophonous free jazz fuckery, yet ultimately says surprisingly little. The lowest point of the album arguably comes when Garnier foolishly fumbles with rock n roll on "(I Wanna Be) Waiting for my Plane" with its bland looped guitar riff and lazy mindess lyrics. The AFX-esque "9.01-9:06" and the DJ friendly tribal house cut "Controlling the House Pt. 2" would potentially salvage this album if the rest of the material here wasn't so awful, but even these two are marred by unoriginality and lukewarm tedium. Am I being unnecessarily harsh? Am I perhaps too immature to understand the intricate complexities of The Cloud Making Machine? Am I so stubbornly unwilling to excuse this radical departure that I'm unable to offer a fair, evenhanded analysis of the album? No. It's a boring piece of shit that is, at times, excruciating to sit through and thoroughly impossible to stomach. Avoid as if Vincent Gallo himself had recorded it. - Gary Suarez
samples:
We know that our music picks may be somewhat challenging to find, which is why we have a community section which can be used to obtain nearly everything available on this site.