ARTICLES about Andrew Chalk and Christoph Heemann, sharing their thoughts and ideas about their music and inspiration.
---
ARTICLES AND INTERVIEWS
Streamline Test Pattern
(WZBC 90.3 FM, July 18, 2003)
Transcript of a radio show hosted by Jon Whitney, also downloadable from the Test Pattern Archive.

Christoph Heemann began his musical career in the 1980s as half of the creative duo of Hirsche Nicht Aufs Sofa (HNAS) along with Achim P. Li Khan. After numerous releases on their own DOM label, the two split. Heemann began the Streamline label in 1993. In the ten years since the launch of Streamline, there have been only 22 releases. Heemann continues to make music on his own and with Andrew Chalk as Mirror, with frequent work with brother Andreas Martin and Jim O'Rourke. The Streamline label has been manufactured and distributed through arrangements with the Cortical Foundation, Robot Records, Staalplaat, and Anomalous and is currently manufactured and distributed by Drag City.
Mimir / Mimyriad (CD and LP, 1001) The Mimyriad CD first surfaced in 1993. This was the second collaboration released from the group Mimir. For this release, Mimir consisted of Edward and Elke Ka-Spel and Phil Knight (aka The Silverman) from the Legendary Pink Dots, Christoph Heemann, Andreas Martin, and Jim O'Rourke. The CD was one 42-minute long track and the album cover artwork was done by Heemann, himself. The LP of Mimyriad was released six years later through arrangement with Anomalous in Seattle. The limited pressing on vinyl featured a completely remixed version of the CD, with tracks broken up - six on one side, two on the other.
Keji Haino / Beginning and End Interwoven (CD, 1002) Haino has been releasing solo albums and albums with Fushitsusha since the early 1980s. Haino performed and improvised all music and singing on this album, recorded by Christoph Heemann. The recordings of this album took place in June of 1993 in Heemann's hometown of Aachen, Germany. The CD was released in 1994 with assistance from the Los Angeles-based Cortical Foundation. Lyrics appear in the CD booklet both in Japanese and English.
Merzbow and Christoph Heemann / Sleeper Awakes on the Edge of the Abyss (CD, 1003) Masami Akita made the original recordings for this back in 1987 and sent a cassette to Christoph Heemann in Germany. The remixing, reprocessing, and recording of additional sounds from Christoph took place between 1988 and 1993. Originally released in 1993, the popularity of this disc warranted a second release in 1997. Cover artwork was provided by Jim O'Rourke.
Limpe Fuchs / Muusiccia (Metal/Stones) (CD, 1004) The duo of Paul and Limpe Fuchs emerged onto the experimental/free improv scene in Munich in the late 1960s as Anima. Both worked with a number of both conventional and homemade instruments. "Muusiccia" was produced by Limpe and Christoph and released in 1993.
John Duncan / Incoming (CD, 1005) John Duncan is both a painter and musician but is known for some unusual and provocative art installations. His 1979 piece for the Connecting Myths event series in Los Angeles, "For Women Only," is one example. An audience of women were shown a collage of pornographic films, then invited to enter a back room and abuse Duncan sexually. Incoming was recorded in Amsterdam, Utrecht, Aachen, and Mei Tam Village between 1993 and 1994 and features contributions by Christoph Heemann. It was released in 1995 in collaboration with the Cortical Foundation in Los Angeles.
Morphogenesis / Solarisation (CD, 1006) Roger Sutherland formed Morphogenesis in 1984. Sutherland had been a member of Cornelius Cardew's Scratch Orchestra and has since appeared on Organum recordings. Sutherland was teaching a music course at City College in London and Morphogenesis began when a number of his students took his class a second time and began to meet with Sutherland to perform various works by John Cage and Christian Wolff. Other members which appear on Solarisation include Adam Bohman, Ron Briefel, Andy Courdry, Clive Graham, Clive Hall, and Michael Prime. Solarisation was released in 1994 in collaboration with the Cortical Foundation.
Intersystems / Free Psychedelic Poster Inside (CD, 1007) The Canadian ensemble Intersystems privately issued this as an LP in 1968. The recordings consist of primitive electronics (by John Mills-Cockell, Michael Hayden, and Dik Zander) while narrator Blake Parker tells a surrealistic story of a little plastic boy & girl as they experience the modern psychedelic life.. These restored original recordings were released in 1994 in collaboration with the Cortical Foundation.
RLW / When Freezing Air Stings Like Ice I Shall Breathe Again (CD, 1008) Ralf Wehowsky, AKA RLW, was born in Mainz, Germany in 1959. His first group was Permutative Distortion (later called P.D. and finally recording as P16.D4 ), and in 1981, Wehowsky and his colleagues formed the collective Selektion. The culmination of P16.D4 's recording career was issued as a double LP, entitled Nichts Niemand Nirgends Nie!, released in 1986. "When Freezing Air Stings" was recorded between 1993 and 1994 and features Bernhard Günter on two tracks, cover design by Jim O'Rourke, and text by David Grubbs. It was released by Streamline in 1995.
Edward Ka-Spel / Khataklimici China Doll (CD, 1009) Edward Ka-Spel is most known for his role as lead singer of the Legendary Pink Dots. Originally released on LP in 1988 on the DOM label, this disc had a bonus song added, "Tszrnikowskiyarrh, The Baptist," recorded in 1994 and remixed by Christoph Heemann. The Streamline CD edition was released in 1995 in collaboration with Staalplaat in the Netherlands.
Intersystems / Peachy (CD, 1010) This second LP by Intersystems was originally released in 1967. This recording, along with the Nihilist Spasm Band's first LP, is considered by some to be one of the cornerstones of experimental electronic music in Canada during the 1960s. Intersystems includes narration by Blake Parker and the electronics by John Mills-Cockell. The CD was released in 1995 in collaboration with the Cortical Foundation.
Ragnar Grippe / Sand (CD, 1011) Born in 1951 to a singing mother and a radio producer father, Ragnar Grippe released Sand originally in 1977 on the Shandar label. The original cover says: "The music was inspired by the sand paintings of Viswanadhan." Instruments used are organ, recorder, harmonica, electric guitar, bells, voice, thumb organ, maracas. Originally recorded at A.L.M. Studio, Paris, this was created using consecutive overdubbing and delay. The 1996 CD release was a collaborative release by Robot Records in Austin, the Cortical Foundation and Streamline.
Mimir / third (LP and CD, 1012) The third (and untitled) release from Mimir was a collaborative recording between Edward Ka-Spel, Phil Knight, Christoph Heemann, Jim O'Rourke, and Andreas Martin. The LP first surfaced in 2000 in a limited pressing through the collaboration with Anomalous Records in Seattle, Washington. The CD was issued in March of 2002, manufactured and distributed by Drag City in Chicago.
H.N.A.S. / Im Schatten der Möhre (CD, 1013) In the Shadow of the Carrot was the fourth full-length, and most critically acclaimed full length release from Hirsche Nicht Aufs Sofa, released originally in 1987 on the DOM label. This CD reissue was manufactured and distributed by Drag City in March of 2002. Achim, Heemann's old bandmate, recently revived the DOM label and issued his own CD edition of this disc almost immediately after the Streamline edition, with numerous bonus tracks. Heemann claims that the Streamline edition is the only one mastered from the original recordings. The Streamline edition has both sides of the LP on one track each while the DOM CD edition has each song indexed with their own track number.
Mimir / Mimir (LP and CD, 1014) This is a forthcoming reissue of the deleted, much sought after first Mimir LP and CD, originally recorded in 1989 and released by Flabbergast in Germany. The lineup on this recording does not include Jim O'Rourke, as the others do.
Andrew Chalk / Over the Edges (LP and CD, 1015) Andrew Chalk's first musical recordings date back to 1985 as Ferial Confine. Since then, he has worked with David Jackman as Organum, Vortex Campaign, The New Blockaders, Darren Tate as Ora, Giancarlo Toniutti, Jonathan Coleclough, and Christoph Heemann as Mirror. Over the Edges was issued on LP in 1999 through Anomalous in a numbered edition of 545 clear vinyl records and released on CD in 2003 through Drag City. The CD is one long track and Heemann states that the original LP was mastered poorly.
Limpe Fuchs / Nur Mar Mus (CD, 1016) This is the second full-length Streamline release from Limpe Fuchs. It was recorded with Thomas Korpin and Georg Karger; manufactured and distributed by Anomalous in 1999.
Mirror / Eye of the Storm (LP and CD, 1017) This was the first full-length release by Mirror, the ongoing collaborative project between Christoph Heemann and Andrew Chalk. The LP was released in an edition of 165 copies, each with individual artwork by Heemann and Chalk, themselves. The CD edition was released through Drag City in 2003.
Pantaleimon / Trees Hold Time (LP, 1018) Christoph met Andria Degens through Current 93's David Tibet and produced this album in Aachen, Germany between March and August of 1999. The CD was released on Tibet's Durtro label while the LP was released on Streamline through Anomalous.
Ora / Aureum (2LP, 1019) Ora is a project led by Darren Tate, who also records as Monos with Colin Potter. Aureum collects works which appeared on various other releases. The LP was manufactured and distributed by Anomalous in October of 2000.
Nurse with Wound / Thunder Perfect Mind (2LP, 1020) Originally released by United Dairies in 1993, this vinyl-only release coincides with the United Dairies CD reissue in 2001. Along with the reissue CD, it contains one bonus remix, "Cold (Miss Ticker mix)" not on the original CD. This was manufactured and distributed by Drag City.
Little Annie / Diamonds Made of Glass (CD and 12", 1021) Annie Bandez (a.k.a. Annie Anxiety) began recording with Crass in the late 1970s and early 1980s. She had three solo albums in the 1980s produced by On-U patriarch Adrian Sherwood and has made guest appearances with Nurse With Wound, Current 93, Missing Brazilians, Coil, The Wolfgang Press, Finitribe, Paul Oakenfold, COH, Kid Congo Powers, and Antony and the Johnsons. The title cut of this release was the B-side to the 1990 12" and 7" single "Sugarbowl." The re-recorded version here is coupled with a remix by Christoph Heemann and a new song, "Lullaby," written and produced with Joe Budenholzer of Backworld. This was released through Drag City in 2001.
Xhol Caravan / Motherfuckers Live + Hot Buttered Xhol (2LP+12", 1022) Formed in Germany in the late 1960s, this rock band went through a number of membership and name changes. Albums and appearances were made as Soul Caravan, Xhol Caravan, and Xhol. Motherfuckers Live & Hot Buttered Xhol is a reissue of two live recordings and is coupled with a bonus release with remixes/reinterpretations by Current 93, Nurse with Wound, and Christoph Heemann. The Streamline release is a truncated vinyl-only version of the double CD release by United Durtro. It was manufactured and distributed by Drag City in 2002.
---
The Nocturnal Hallelujah
(G-Modern, Vol. 23, 2002)
Article by Takuya Sakaguchi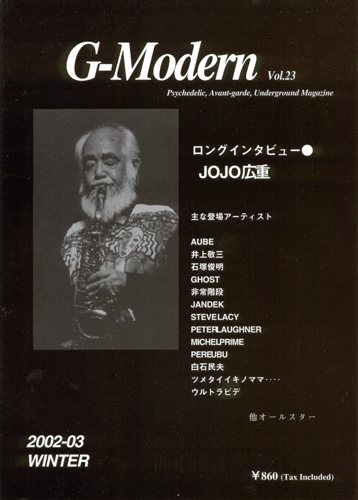 A 3-page publication produced by Neurobeat and given away at the Mirror performances in Japan in 2002. The same article was reproduced in G-Modern Vol. 23. The article presents the solo work of Andrew Chalk as well as his projects with Darren Tate (Ora) and Christoph Heemann (Mirror).
The Neurobeat version can be downloaded by right-clicking on the following links: [page 1], [page 2], [page 3].









---
Cooler Than You: Hirsche Nicht Aufs Sofa
(fakejazz.com, 2002)
Article by gil gershman

(Extract) Hirsche Nicht Aufs Sofa. A misunderstood proposition beginning with the name, variously translated as "No deer on the sofa" and "deer not on the sofa," and wide open to interpretation. Is that a command? A rule of the house? An observation? Or just a kooky turn of Teutonic phrase adopted by two teens for their Surrealist rock n' rumblings? Call it what you will, the spirit of lo-fi adventure that Christoph Heemann and Achim "Dr. P.Li Khan" Flaam invoked in their Aachen, Germany studio and dubbed HNAS has undeniably infused and influenced a worldwide network of underground artists. Willful obscurity and no small amount of infighting made the bulk of the HNAS catalog a cult curiosity, kept well within a very elitist circle of covetous collectors. [...]
The remaining of this article can be found on the fakejazz.com website.
---
Christoph Heemann - Sound Stalker
(The Wire, Issue 162, 1997)
Interview by David Keenan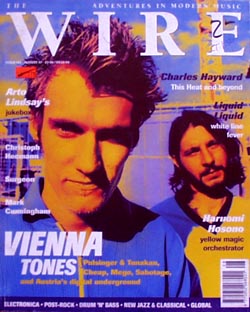 Christoph Heemann has long been the name to tussle with when debating the existence of Krautrock's avant rock legacy in Germany. His solo work has all the magical and evocative quality of the best imaginary soundtracks. Indeed, his album Aftersolstice was inspired by the films of Alain Resnais and Louis Malle, and the recent Days of the Eclipse by the late, great Andrei Tarkovski.
"Just like individual scenes create the whole of a film, I structure my releases as groupings of sounds which aim to form a thematic entity," explains Heemann. "Once I've conceived a project I select and process sound material to match the atmosphere and emotional qualities required by the "script". Like music, film is one of my constant obsessions, so it seemed natural to work from filmic ideas and transfer them into the sound medium."
His is a music you can really get lost in. "A central focus of my "ear-films" is to provoke the immersion into a sequence of events/emotions through sounds. As I would like to challenge the listener's imagination, I try to avoid the use of obvious narrative elements such as titles or liner notes."
In 1983, at the age of 18, Heemann co-founded one of the most mysterious and consistent post-Faust sound units, Hirsche Nicht Aus Sofa (literally Moose Without a Sofa). They first grabbed the attention of the underground via the release of the Steven Stapleton produced album Melchior on United Dairies. Heavily influenced by contemporaries like Nurse With Wound and Throbbing Gristle, plus dumb Stooge-punk, Terry Riley, UK Improv and classic Kosmische (Guru Guru, Kluster), HNAS constructed electroacoustic collages from found sounds, tape-loops, reverb and rock dynamics.
"Both Achim Flaam (aka Achim P. Li Khan, HNAS's other half) and myself had refused any musical education our upbringing had offered us," recalls Heemann. "Our interest in music was generated by the records we were listening to and the idea of using instruments in unconventional ways." Their skewed, non-musicianly approach took them down in the German sewers, where they recorded their debut album Abwassermusik (Psychout). Heemann and Flaam went on to launch their own Dom label, dedicated to the documentation of uncategorisable sound. A string of increasingly "out there" albums followed, culminating in the peaked broadcasts of Im Schatten Der Möhre (1987). "At this point," stated Heemann, "we were starting to collaborate with other artists like Steve Stapleton. This definitely triggered new inspirations and opened up a wider range of technical knowledge and possibilities. Around 1989 Achim and myself slowly became aware that we were trying to establish different aesthetic ideas through our efforts, and the initial excitement of discovering what we could realise together became diluted by the strain of living up to the absurdist expectation we had created for ourselves." HNAS always laced their experimentation with a sharp dose of humour, evident in their name and Heemann's eerily evocative cover art, populated with contorted beaky gulls, carrot heads and surreal, abstract caricatures. "There was certainly a predominant element of humour in HNAS," he confesses. "It was really just a way of coping with the embarrassment over our musical naivety and our general feeling of not fitting into the world around us."
In 1988, Heemann began a collaboration with Merzbow, called Sleeper Awakes On The Edge Of The Abyss, for Heemann's newly formed Streamline label. The experience had profound effect. "I had started to work with recordings that Masami Akita had sent to me for a collaborative project, and for the first time I really enjoyed the freedom of making my own compositional choices. Using the private studio we had founded in 1990 I was able to take the time which a piece or project really required."
With HNAS no longer being a full-time concern, Heemann went on to form Mimir, a heavyweight electroacoustic symposium featuring the likes of Jim O'Rourke, Edward Ka-Spel and Andreas Martin. Then he launched his solo career with the release of a 10", Über Den Umgang Mit Umgebung und Andere Versuche, on Kevin Spencer's Robot label. "The idea of spontaneous creation was an important aspect of the HNAS working process: we would try to find a new approach for every musical situation, and therefore improvisation was one of the many facets we relied upon. In my own music, however, improvisation plays little importance. My solo compositions stem from personal processes and experiences."
Upcoming projects include a new Mimir album, a collaboration with Chicago drone/improv Illusion Of Safety and the new Current 93/Thomas Ligetti LP In a Foreign Land, In a Foreign Town, which sees him reunited with Steven Stapleton and Current 93's David Tibet. "Now's the time to rethink and re-evaluate," he affirms, "find new directions to explore."
---
Interview with Andrew Chalk
(ND 20, 1997)
Interview by Daisuke Suzuki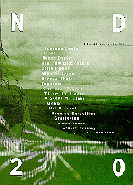 I first became aware of Andrew Chalk as a member of Organum on the Submission LP (United Dairies) from the mid 1980's. Many collaborators that worked with David Jackman's Organum project now work within their own groups and are also quite active as solo musicians. All of these collaborators (Steven Stapleton, Eddie Prévost, Christoph Heemann - just to name a few) produce high-quality sounds and Andrew Chalk is no exception. However, information and releases of Andrew Chalk's activities have remained scarce

Andrew Chalk has also released a full-length cassette East of the Sun (ORA). ORA is a project which consists of Andrew Chalk, Darren Tate, Jonathan Coleclough, and now Daisuke Suzuki. The stunning ORA Rosea release on Hic Sunt Leones also features Lol Coxhill and Colin Potter.
How did you become interested in sound construction? Describe the evolution of your music from your early tapes to your current project ORA.
I became interested in recording sounds like a lot of people did I suppose - that is by getting a cheap microphone and using a cassette player to record different sounds, collaging them in different ways and trying unusual effects as time progressed. I've always been interested in tape machines and what they can do, so it was really quite natural to record sounds. The spontaneous and often unexpected result of improvised music can be very rewarding.
The first "serious" recordings, of Ferial Confine, appeared in late 1984 on cassettes I made at home, and as far as I can remember I gave most of them away to friends. The style took shape and I released two cassettes after that, one for Broken Flag, and one myself called The Full Use of Nothing. Especially on the former release, the music was quite harsh, all acoustic sounds, but built up in layers and layers to create what I wanted. After doing that project, I decided to finish Ferial Confine in early 1986 and concentrate on some ideas that were entirely different, with environmental sounds, melody, discord etc. ICR eventually released 2 cassettes of some of theses tracks in 1988. After quite a break from music, a few more projects were released: Accoy a three-way collaboration with Darren Tate and A.P. Lyon. Also, prior to this period I had completed Tahta Tarla with Giancarlo Toniutti, an LP that didn't get released until 1993. It dealt with environmental sand accidental sounds and music played by wires.
The ORA project started in 1991, and five cassettes have been released so far on the ORA label. To start, it was a two-way input of ideas between Darren Tate and myself. The music itself is often very simple, recorded at home or outside and assembled and mixed at ICR Studio in York. To me, the ORA sound has evolved quite a lot since we started and is hopefully still interesting. The newest ORA has five contributors, so it should be quite varied in content.
Here in Japan, Ferial Confine was rumoured as a very mysterious group along with other noise groups on the Broken Flag label. Maybe you could talk a little about the activities of Ferial Confine?
I suppose Ferial Confine is regarded as "mysterious" because I never bothered to project any image or philosophy for the music. To me, lots of "noise" groups around that time were obsessed by death camps and torture, which could be quite distressing to lots of people who had lived through such things. Ferial Confine was just concerned with recorded sound and developing ideas in music. The last recordings I did were done on homemade instruments and crudely made flutes, which would still like to make available at some point.
What are you thoughts on noise music in the early 1980's? Was there a community of Broken Flag artists at that time?
I don't know if there was a community of Broken Flag artists at that time as I've never lived in London and only communicated by letter or telephone. There were some great artists around like The New Blockaders and M.B., but lots of poor material was inevitably released by noise groups everywhere, something I'm probably guilty of too!
What inspires you to create music?
For my own more recent recordings, like East of the Sun, I'm inspired by harmonious sounds built up as an overall texture, which is both simple and complex to the listener. I also enjoy creating a mood in music that is quite dreamy and relaxing with repeating moments used as part of the music.
I think that you have a very original musical style. In particular, the ORA cassette album Approach to Zero has a three-dimensional and organics sounds. There is really no music comparable to that of ORA. However, do you have any favorite musician in this field?
I appreciate the works of all the people I have collaborated with in the past: Organum, The New Blockaders, Giancarlo Toniutti and Alio Die, as well as other people I could mention like Robert Rich, Vidna Obmana. I also enjoy ethnic folk music from different parts of the world.
I know that many collaborative works in this musical field are done through the mail. Maybe it is not always possible for you to do the "final mix". Are there any unsatisfactory works among your past collaborative releases?
I don't feel as the music is so spontaneous, it's hard to make any "mistakes". Further, I always appreciate the music more when I haven't heard it for some time, as it can be hard to make clear judgments about your own music at the time you make it.
How about the Mixed Band Philanthropists project?
This was made by Richard Rupenus and some others. I really enjoy the music they produced and find it very humorous. The Impossible Human was long in the making as it eventually included so many contributors, but it suited perfectly the Mixed Band Philanthropists style.
I think that the music by ORA is very well produced in spite of using spontaneous natural sound as sources. When you enter the studio, do you always have the final image of the sound in your head? Or do you improvise the sound in the studio room?
The ORA sound is partly improvised, but as a mostly two-way input of ideas we have a basic image of the finished music. Quite often it is entirely different from how you've imagined. Perhaps it is pointless to visualize too much and to rely on chance.
Where does the interest come from in using environmental and natural sources?
This goes back to the mid-eighties after Ferial Confine, when I recorded lots of environmental sounds, weather, wild life, etc. I find the sound patterns very interesting and comfortable to listen to. Approach to Zero uses almost entirely environmental sound sources that are augmented by a drone played on an acoustic guitar that I feel works well.
Do you ever feel like you want to do live performances?
Yes, of course, but I am not optimistic that many people in England would enjoy it. I see my own music as a sound texture that can be listened to or not, so maybe it is best heard on cassette or CD.
Please compare the upcoming ORA release Rosea with your past works. And could you tell me about the direction that this release might be taking you?
Rosea features five musicians: Lol Coxhill, Darren Tate, Jonathan Coleclough, Colin Potter, and myself. There are some tracks on it that are quite dreamy and ambient, but also ones that are more upfront. The fact that three of us mixed different pieces contributes to quite varied sounds, and is perhaps more polished than the previous material. Working with three other people on this release was very nice as sometimes your own ideas seem very dull, or at least you feel you've done them before.
For myself, the next project should be an hour of shifting static sound sources. Jonathan Coleclough and Giancarlo Toniutti have contributed to this project, which will probably appear as Pegeten - and not ORA - as it is quite a different project. ORA shall be recording some new material soon for the next release, but with my involvement in the Pegeten project it will mean, my contributions will be small. It will probably also feature new musicians as this is the way ORA works best for us, constantly evolving and changing.
Your solo work and most of all ORA works are very timeless and dreamy works. I sometimes enjoy listening to them as a "soundtrack for an imaginary film". What do you think about this idea?
Yes, I agree. I would like to produce some music especially for film. In 1989, I made a short film that featured the four Accoy tracks from the cassette releases, using a large flame in a darkened room to make light patterns. It suited the music very well.
Any closing comments?
I would like to thank all the people over the years who have heard our or my music and have shown support and interest in it. More than anything else people's responses and encouragement are the best inspiration.
---
H.N.A.S. entry in "The Crack in the Cosmic Egg" compendium
(Audion Publications, 1996)
by Steven and Alan Freeman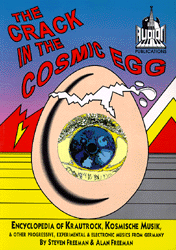 Hirsche Nicht Aufs Sofa (in English "Moose Without a Sofa", aka H.N.A.S. for short) have proved to be amongst the most radical of the 80's post industrial/new-wave bands to emerge in Germany. Most notably inspired by Nurse With Wound, Faust and the Krautrock scene, the duo of Christoph Heemann and Achim P. Li Khan (aka Achim Flaam) have made some remarkable music. The history of H.N.A.S. seems to have been deliberately kept obscure, so possibly some early casette releases may exist. Their first record was made together with Mieses Gegonge, and was heavily industrial and a mite chaotic. To gain the independence to do exactly what they wanted, H.N.A.S. established their own DOM Records after this. But, before releasing an album of their own, they tested the water with some international samplers. As with Nurse With Wound albums, much of the Hirsche Nicht Aufs Sofa sound is created by studio trickery and effects, yet there is much more rock structure in their albums, especially so the later ones. Much of their products is limited or at least extremely obscure, naturally due to being so bizarre!
At the turn of the 90's H.N.A.S. fragmented and became just an occasional project. Christoph Heemann has done much solo work and collaboration with other musicians and friends since, and with other H.N.A.S. cohorts he formed the Mimir project together with Legendary Pink Dots musicians. He also runs the Streamline label. Achim P. Li Khan established his own label DOM Elchklang, and set up many bogus groups and offbeat projects, especially good being the psychedelic "Damenbart", and the weird industrial art-rock of "Brigitte".
---
Interview with Christoph Heemann
(ND 19, 1995)
Introduction and mail interview by Kevin Spencer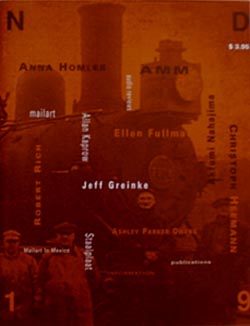 As co-founder of the now defunct German experimental group H.N.A.S., Christoph Heemann has recently entered a new realm of fascinating musical endeavors with an adventurous solo career and new Streamline music label.

After numerous albums and cassettes with H.N.A.S. and friends, many self-produced and released through his own label Dom Productions, Heemann's recent output is fairly extensive. Thus far he has two solo releases. He has collaborated with Silverman, Andreas Martin, Jim O'Rourke, and Edward Ka-Spel in the on-going Mimir projects. The long awaited mail collaboration with Masami Akita (Merzbow) has now been made available. And there is a project with David Jackman (Organum) aptly called "A Mouse Orchestra".

Heemann's third entirely solo piece, Aftersolstice, has now been released by the Dutch label Barooni.
Please describe your new material as compared to the early LP's with H.N.A.S.. Has your approach toward composing changed?
The music of H.N.A.S. has always been the result of two or three people trying to be democratic. But, around the time of the fourth LP, Im Schatten Der Möhre, our individual interest started to drift apart. On this album we were able to use that fact to our advantage in a somewhat positive way. However, after this album, I felt that more and more I had to deal with unwanted compromises. I became more interested in taking certain ideas to further depths rather than moving on contentiously. It became important to me to treat music as a medium that is not just sound, but also as a medium that carries meaning and information. I simply felt the need to work on more developed and cohesive musical structures. And, I wanted to show a more complete version of my musical ideas.
Within "Sleeper Awakes...", it would seem that the amalgamation of your and Masami's materials really offered something a bit different from your individual styles. Could you offer some background as to how the Merzbow collaborations came about?
In 1987, Masami Akita suggested musical collaborations through the mail to several people. He sent a cassette of about 40 minutes of Merzbow sound (the same material he also sent to P16.D4, S.B.O.T.H.I....) and suggested that I should process the material or add to his whichever way I wanted. The sound on the tape seemed like a complete improvisation piece, sort of saturated. So, I found it necessary to do drastic processing and filtering in order to achieve more defined textures. I ended up with groups of sounds which I then arranged into pieces along with the sounds I had selected to match the processed Merzbow material.
What are your thoughts on the ongoing Japanese "noise" scene? With the likes of Masonna, Hanatarash, Gerogerigegege - noise for the sake of noise?
My impression is that the Japanese "noise" scene falls into several groups and individuals who are doing their work for very different reasons. Japanese "noise" artists are driven by a wide range of different motives and inspirations... from social comment, parody, and conceptual art in-between. Whether it has anything to do with music or not depends on your perception of that term. Perhaps the interest in Japanese "noise" music is based on the consequence with which these people pursue their interest and obsession. This consequence seems characterized by a two-dimensional quality that appears incomprehensive to the Western mind.
How about the Mimir projects?
The music of Mimir was never really discussed amongst its members. This project started out of natural interest. We were basically interested in creating a certain atmosphere. For some time we were looking for that on records and cassettes we were exchanging. So, we then decided to try and see if we could create that for ourselves.
There was a growing interest in analog electronics, as well as a change in our focuses toward textural work. I guess as we had similar ideas and expectations for this project, working together continues to be relaxed and feels natural.
There is a third Mimir album almost completed. I think it is going to be an improvement over the previous releases. It follows the direction of the first and second albums, but, there are new and probably unexpected elements as well.
There are numerous curiosities as to what has happened to your Dom Productions label and its divisions (Dom Bartwuchs, Dom America, Dom Elchklang). So, what's the real story concerning the fate of it all?
Dom was always run by Achim and myself. At the beginning we could agree on what to release without problems. After a while, that began to change. The Bartwuchs and Elchklang divisions were set-up to release the music that could not happen on the Dom label due to the reasons mentioned above.
Dom America is the label of our friend Jon Carlson who decided to use the Dom name for his label as he shared a similar interest. However, whatever happens on Dom America is completely his decision. Dragnet for a while became involved as a distributor and also set-up a joint label with Achim's Dom Elchklang label.
As there were too many releases I did not care for that were produced under the Dom label name, I decided to terminate Dom and Dom Bartwuchs. So, Streamline was initiated to concentrate on a program of my own choice.
With three excellent releases so far, what are your plans with Streamline? What bands and artists can we expect for release on the upcoming roster? Also, is Streamline attempting to showcase a genre?
Forthcoming releases include CD's by Keiji Haino, John Duncan, AMM, Morphogenesis, John Oswald, and Edward Ka-Spel. There are several others I would like to releases, but it's a bit too early to mention. Perhaps I could hint at the possibility of a CD re-release of a long lost gem from the late-Sixties, Canadian underground ... Intersystems (now released).
Looking at the names mentioned above, it becomes obvious that there cannot be the idea of a genre in the Streamline "philosophy". Really, I'm more interested in pointing at the fact that the genre is not important. These different music "genre" are connected by qualities and characteristics that matter far more than a concept like genre.
Your collaborations are many. Is there anyone in particular you would also like to work with given the chance?
At this point, I have some collaboration work planned for the near future. Steven Stapleton and I wanted to work together again for several years, and now we are going to do it. There are other people, of course, who I'd be interested in collaborating with in some form. But now, I think that collaborative work is only possible in certain ways: like splitting parts of the work to be done between the collaborators. I'm more and more questioning the idea of collaborative composition.
Anyway, it is most interesting for me to deal with my own ideas mainly, for the moment. There is a lot I'd like to find out about, thus most of my musical plans are for my solo work now.
At the moment, which bands, individuals, or artists do you derive inspiration from in the electronic or tape-music medium?
I don't really listen to much electronic or tape-music these days. I'm really impressed with the work of John Oswald. His Plunderphonic work is, in my mind, one of the most important developments of the last years. But most of his other work is really outstanding as well.
Although there are preferred sounds and styles, at this point I'm finding interesting ideas and enjoyment in music from many different periods; a lot of it inspires me indirectly. I listen to Guillaume De Machaut, Stravinsky, Eric Dolphy, Royal Trux, or my favorite, Van Dyke Parks. It's always a similar thing that interests me. It seems that the composers in different times, and under different circumstances, had similar aims essentially. I'm really not interested in any period or style, to me it matters as to what the composer and musician communicates in the medium he chooses and how he communicates what he has to express.
Within he framework of the 10" and the Invisible Barrier CD, the general feel of your pieces have a very cinematic quality: even suggesting landscapes in many ways. All of this occasionally interrupted by almost jocular snippets of 70's styles, Could you offer some insight as to your approach with this and its significance to you?
I did what I did hoping that the listener would think about why things are in the order they are and draw conclusions from this about the music. Both of these records have a narrative structure. Quotations of certain atmospheres are really my first solo works. It just happens that what I was trying to communicate I expressed in an extremely personal way. A fact that I now think about with different feelings.
I believe the interruptions you mention are the result of a sound language that's not homogenous yet. A sound language that is caught up in too many idiosyncrasies.
Do you have a favorite H.N.A.S. recording?
In the whole, I think I like Im Schatten Der Möhre the best for several reasons. When we started to record that LP I had just began to think about the possibilities of editing, pacing, structuring, and falling into the trap of forced cohesion. Also, I became interested in looking at an album as a complete unit and statement.
At the point it seemed that Achim and myself could compromise for the most part in order to get a balance we were both satisfied with. To me, this record represents what H.N.A.S. could do: it seems to sum what this project was about. The albums before that were the result of just trying. On Im Schatten Der Möhre, we used these first experiences. After this album came out, the situation changed.
Time and time again, H.N.A.S. is compared to the likes of Faust and Witthuser & Westrupp among other 70's Krautrock legends. Do you find this to be a fair and accurate comparison? Otherwise, what is the closest thing H.N.A.S. could have been compared to?
I don't think this comparison makes much sense as I really don't see the connection. Perhaps Faust and H.N.A.S. had similar approaches in a few respects; however, on the whole, H.N.A.S. was about something completely different from early 70's German bands. Maybe these comparisons are the result of a misunderstanding of the quotations made by us in order to comment: not to connect with something. David Tibet's description was a joke largely misunderstood I guess.
I really am the wrong person to answer the last part of this question. I really don't know anything I would call "close" to H.N.A.S.
With the release of "Bitte Werfen...", it seems that H.N.A.S. were leaning toward a more accessible sound. Was there more an emphasis on creating "tunes" at this point?
Within the group there were different opinions about this record. We were not concerned with an idea like accessible sound. We had different plans as to where this record should go. As I could not finish the tracks I started the way I had intended (and did not agree with the way they were completed), these pieces to me are failed experiments. On the other hands, Achim found my ideas too "extreme", so he was trying to change them according to his conceptions with more success at satisfying himself.
How do you look back on the experience as well as output of H.N.A.S.?
Looking back is not so much a concern for me now. It's a finished process and was a period of learning. I still like some of the sounds and ideas, but I don't really spend too much time thinking about H.N.A.S. recordings.
The two CD's that came out at the end really showed why it was time to stop.
---
Interview with Christoph Heemann
(Revue & Corrigé, Printemps 1991)
H.N.A.S. est un groupe phare. Apparu en 85 avec un album " Abwassermusik " résolument expérimental, il apportait à ce genre musical une dimension imaginaire jusqu'alors peu répandue. Ensuite, au fil des disques qui suivirent, Christoph HEEMANN et Achim P. LI KHAN entraînèrent leurs acolytes dans des expériences musicales inouïes et enthousiasmantes où rigueur et divagation allaient se côtoyer allègrement. Par la subtilité du violoncelle, la naïvetté d'une chanson ou d'une comptine, la densité du magma sonore, le verdict implacable de la guitare électrique, l'élan positif général, la musique d'H.N.A.S. c'est le plaisir, la fraîcheur. Quel bonheur que ces sensations printanières dans un courant musical où évoluent des musiciens souvent bien pâlots, au bord de l'anémie d'avoir trop abusé de manipulations électroniques. Les compositions du groupe de Aachen, sous formes de collages (l'école Stapleton), de ballades ou de traitements faisant appel aux outils modernes, nous sont livrées brutes; les harmonies ou les sons manipulés paraissant évoluer en toute liberté. Bref, comme le fait remarquer Laurent Perrier dans sa présentations de " Im Tal der Möhre ": " on est dans le cadre d'une musique qui vit ".

Aujourd'hui, les membres de H.N.A.S. ont décidés de se séparer. Mais l'empreinte est là. Pour Christoph HEEMANN, les années H.N.A.S. peuvent être considérées comme une période d'apprentissage tant est grand son désir d'aller vers une musique plus contrôlée, plus parfaite encore.

Depuis 1986, il n'avait plus accordé d'interview, il nous livre ici quelques impressions.
D'où vient ce nom H.N.A.S.?
H.N.A.S. (qui se traduit approximativement par: les cerfs ne sont pas autorisés sur le sofa) vient des paroles d'une pièce chantée qui date de 84. À cette époque, Achim, Flaam et moi, nous tentions diverses expériences sonores tout en changeant de nom pour chacune de ces différentes approches musicales. Lorsqu'est apparue cette pièce particulière avec son nom, nous avons décidé de nous concentrer sur ce seul projet pour une période plus longue.
De quel horizon musical venez-vous?
En tant que musiciens, nous n'avions que très peu de pratique, nous avons donc dû apprendre la musique; principalement en l'écoutant, en l'écoutant attentivement, à la fois volontairement par les disques, les concerts... et involontairement par l'attention portée aux sons nous entourant partout et tout le temps. Nos sources d'inspiration sont innombrables et les goûts musicaux de chacun radicalement différents. Plus généralement, nous sommes attirés par le son étrange et magnifique qui dépasse toutes classifications.
Comment définiriez-vous votre musique?
En considérant les musiques d'H.N.A.S. dans leur ensemble, j'appellerais cela une expérience totale dans différentes directions. À chaque fois, nous avons changé notre méthode de travail, notre organisation, tout en essayant de suivre nos instincts musicaux aussi fidèlement que possible. Lorsque nous entrons en studio, nous avons en général une idée plus ou moins vague de ce qui va se passer pendant la séance d'enregistrement. Les idées viennent spontanément tandis que nous travaillons. Nous en discutons et les réalisons immédiatement. Les résultats vont ainsi dans de telles directions différentes qu'ils repoussent toute définition.
Que devient votre musique en concert?
Durant le seul et unique concert qu'H.N.A.S. ait jamais donné, nous avons dû faire face à de nombreux problèmes techniques. Notre musique ne semble pas convenir à la scène dans la mesure où elle exige de trop nombreuses et différentes sources sonores ainsi que des traitements particuliers qui ne pourraient pas être diffusés convenablement en direct.
Quelles sont les musiques qui vous passionnent le plus?
C'est difficile de considérer l'énorme quantité de musiques intéressantes produites ces 40 dernières années. J'adore découvrir des musiques stimulantes, qu'elles soient récentes ou anciennes. Parmi beaucoup d'autres, j'ai été très impressionné par celle des années 70, par Toru Takemitsu, Igor Wakhevich, Xhol/Xhol Caravan.
Quels sont vos projets?
Tout d'abord, la réalisation d'un coffret de trois disques comprenant un album composé de matériaux sonores datant de 84 et retravailés, un album de nouveaux enregistrement d'H.N.A.S. et enfin un album surprise. Cela est prévu pour 91 et constituera la dernière réalisation d'H.N.A.S. car nous avons tous d'autres projets. Le premier, c'est le nouveau groupe MIMIR composé de Silverman, Edward Ka-Spel (des Legendary Pink Dots), Andreas et Christoph Heemann (d'H.N.A.S.). Un double LP/CD vient juste de sortir. La musique de MIMIR comprend beaucoup d'improvisations, dorénavant il nous sera possible de jouer en concert avec une telle formation. Ensuite, avec David Jackman, j'ai formé A MOUSE ORCHESTRA et un mini CD est actuellement en préparation. Je travaille également avec Axel Kyrou sur une série de morceaux intitulée " The Mandala Class ". Tous ces nouveaux projets dans lesquels je m'implique se distinguent par des sonorités et des atmosphères bien spécifiques mais néanmoins toujours aussi difficilement qualifiables.
---
Liner note about Hirsche Nicht Aufs Sofa
(Odd Size, 1989)
From "Face to Face Vol. 2" split LP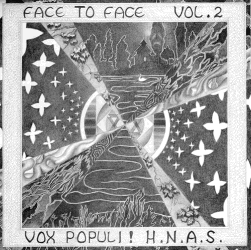 Ce groupe originaire de Aachen, en RFA, est sans doute ce qui est arrivé de mieux à la musique expérimentale depuis 5 ans et l'envie de collaborer avec eux nous tenait depuis longtemps (un morceau figure d'ailleurs sur "Ciguri"). Mais une collaboration d'un morceau, ce n'était pas assez. Avec 20 minutes ils peuvent donner une idée beaucoup plus précise de leur recherche, de leur réel talent, et surtout de leur esprit de synthèse mariant avec bonheur; rock, psychédélisme, musique progressive, électro-acoustique et même chanson.
Un nouvel album d'H.N.A.S. c'est d'ores et déjà une bonne journée en perspective. Parce qu'à la fin de celle-ci, on aura l'impression d'avoir écouté quelque chose de profondément inventif à la fois sérieux et drôle, à la fois physique et onirique, une musique jamais ennuyeuse et toujours riche en évènements. H.N.A.S. a un des plus gros son de toute la musique expérimentale actuelle et cette face le prouve à nouveau amplement.
Le mot fabuleux s'explique par le fait qu'H.N.A.S. utilise la technologie moderne comme il se doit (puisqu'elle existe, pourquoi ne pas en profiter?) tout en se gardant bien des facilités d'usage dont les abus dans la variété internationale actuelle donne des nausées. [...] H.N.A.S. a un son d'une pureté rare, les aigus vrillent dans l'air, les fréquences se percutent... bref, on (entre?) dans le cadre d'une musique qui vit. [...]
---
HNAS - Mutter, von kunst versteh ich einen dreck
(Bad Alchemy, Nr.6, 1986)
An article on Hirsche Nicht Aufs Sofa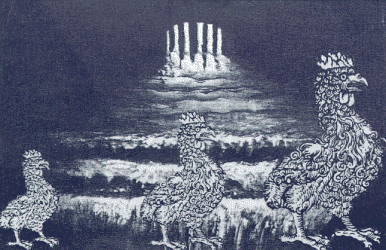 Eine Band, die sich Hirsche Nicht Aufs Sofa nennt und auch sonst einen Hang zu Pennäleralbernheiten hat, kann nur sehr jung, sehr deutsch, sehr gut oder alles drei zusammen sein. "Mastvieh ohne Socken", "Tonnenschwer im Abendkleid", das klingt bestenfalls nach Carlo Manzoni-Krimis, hauptsächlich aber nach "lachen auf Kommando". Ihre 1 studio-LP (nach der Jugendsünde "Abwassermusik", einem gemeinsamen Projekt mit Mieses Gegonge - Psypro 005) ist immerhin bei United Dairies erschienen, abeer dir Engländer hatten immer schon eine Schwäche für teuronische Waldschrätel, und Steven Stapleton ist ja als passionierter Krautrocksammler bekannt. Er und Diana Rogerson hatten ihre Finger und einiges mehr im Spiel bei "Melchior (Aufmarsch der Schlampen)" (UD 018), aber die volle Last der Verantwortung trifft doch die Haupttäter Christoph Heemann und Achim P. Li Khan Flaam, zwei bereits durch ihre DOM Productions in Insiderkreisen nicht ganz unbekannte Übelmänner, oh Gott, schon wieder aus Aachen. DOM fristete bereits seit 1983 als eine Art Kassettenlabel ein eher bescheidenes Dasein. Ihren zweifelhaften Ruf begründete anno 1985 die Veröffentlichung des berünchtigten "Ohrenschrauben"-samplers (DOM V 77-01) mit einschlägigen Elaboraten von Whitehouse ("My Cock's on Fire"), Vagina Dentata Organ ("Kill Baby, Kill"), New Blockaders/Organum ("----"), Toll, P16.D4., den Haters und 2 KillerHits von Current 93 ("I'm the One") und Nurse With Wound ("The Poo Poo Song") und der Whitehouse-Monstrosität "Live Action 1" (DOM V 77-02), beide Platten sind gnädigerweise vergriffen. Weil's so schön war, ließ DOM heur eine weitere Compilation folgen - "Ohrensausen" (DOM V 77-03) - wieder mit einem schröcklichen Babs Santini-Cover und Gruselklängen von Diana Chrystal belle Scrodd Rogerson, Smegma & Coil ("His body was a playground for the Nazi elite"), einen göttlichen Ohrwurm von Sema, "bitterböser" Blasmusik von Duka Bass Band und giftigen Späßchen von Asmus Tietchens, NWW, Mieses Gegonge und P16.D4.. Die Beiträge von HNAS, "Christoph yööl a", ein böses Buben-Stück in der neo-gothischen Schauertradition, sowie "Speck des Jahres", ein grotesker, rhythmischer Fetzer mit Gesang von Lorelei N. Schmidt, geben einen verkürzten Vorgeschmack auf ihren "Melchior" und ihr neuestes Opus "Küttel Im Frost" (DOM V 77-04).
Das neue Design mit Lächelnden Schnabelviechern, grinsenden Mondmäulern, rüsselligen Aliens, freakischschweinsköpfiger Selbstportraitsülze (Zeichnungen und Colagen von Heemann & Co.) bringt die gemütliche Surrealität, die gut geblödelte Hobbitverquertheit der HNAS-Musik recht zutreffend zum Ausdruck. Statt der spätindustriellen Sado-Maso-Dekadenz und den okkult-perversen Gewaltphantasien vieler ihrer "Kollegen", die sie nicht einmal in der Spielart des schwarzen Humors teilen, spürt man bei HNAS eine ungetrübte Achim-und-Christoph-im-Wunderland-Mentalität, ein ungebrochenes Verhältnis zur Albernheit und eine Verliebtheit in den absurden Nonsense der nur durch Witz "Zivilisierbaren""rohen" Wirklichkeit. Verwandtschaften spürt man außer zu Stapleton's leichtsinnigeren NWW-Projekten..hm, schwer sagen, sowohl zu Leuten wie Negativland als auch zu P16.D4., DDAA oder Un drame musical instantané.
Der irritierende Zwiespalt zwischen ihren grausam haebüchenen Texten und ihren blitzgescheiten Sound-arrangements ist für deutsche Gruppen leider fast schon obligatorisch - dasliegt vielleicht auch nur daran, daß man die Sprache versteht. Ihre Musik jedenfalls ist ein polymorpher Hörgenuß, liebevoll zusammengetüftelt aus stilistischen Eklektizismen und ungenierten Griffen in den Fundus seltsamer und ausgewählter Klänge von barokker Musique concrète bis delirischer Psychedelic, von Faust bis Residents. Entgegen dem äußeren Anschein sind sie gegenüber der "Konkurrenz" um ebensovieles "erwachsener" wie 15 jährige Mädchen im Vergleich zu gleichaltrigen Bübchen. "Küttel Im Frost" ist mühelos des "widerliche Mittelpunkt der Abendgesellschaft", allein schon der Gesang von Fraulein Lorelei wird Ursache "ewiger Verwirrung" (meinerseits). Die Musik ist fast zu vollgepackt mit Einfällen, lebt auch noch etwas zu sehr von Tricks, Effeften, "interessanten" Tonquellen. Der große Bogen von der "Ouvertüre" bis zur "Entwirrung" zeigt allerdings einen symphonischen Gestaltungswillen, der aus den Schlagschatten der Aachener Kirchtürme und gutbürgerlichen Stuben ansteckend lustvoll ins Freie strebt.
---
Interview with Hirsche Nicht Aufs Sofa
(The Feverish, Nr.4, 1985)
Interview by St. Degeneratus
Where did you meet for the first time?
PLK: At a performance of german popular singer Peter Orloff.
LNS: No, I think it was a Bern Clüver gig.
NOTE: At this point the members of H.N.A.S. have an argument about the singer and the concert, 10 min. later...
Do you have plans for live performances or did you ever play live gigs?
LNS: No, it was Peter Orloff!!
CH: Yes and no, we once did performances with MIESES GEGONGE. It was a series of live recordings in the sewage system for our first album "Abwasser Musik" for the swedish label "Psychout productions". To be honest, we have to admit that we are not really satisfied with this album. This was done in MIESES GEGONGE's style, whereas we like to work much more elaborate in the studio. Something like this will never happen again with us. It is just a documentation of how instruments can sound in a place like a sewage system, and how you can work with it. This is only one aspect and of course there are other ways to handle these accoustic circumstances.
PLK: A H.N.A.S live performance might look like this: A huge stage with 7 mooses with contact microphones installed at their throats: Lorelei would play Gongs & Gelaäte, Christoph would play prepared violins and cellos and I would play the autoharp through a double echo. All the sounds would be processes in a special mixing-desk, built by Martin B. Klaeren - a technical genius, who sometimes works with us.
Oh, you sometimes collaborate with other musicians? Who else do you work with?
LNS: Yes, Görrhaan and Klaus of MIESES GEGONGE; Andreas Franteck, who plays a very excentric guitar. We once did a session with NURSE WITH WOUND and Asmus Tietchens.
Can you tell us more about your collaboration with this bizarre german band MIESES GEGONGE? I think it will interest many readers what instruments you used and how you got the idea to carry all the equipment down into the sewage system.
CH: In principle it was Gegonge's idea to do this unusual thing. He contacted us, because he liked the track we did for the dutch compilation LP Contactdisc 3. He thought that his and our musical ideas might correspond. He had the idea of playing music in a sewage system since some years, but as you can imagine, it was very tough for him to find the right place to do this.
So where did you finally record the album?
PLK: It was a small place, close to the tourist-center Monschau. This place was ideal for our purpose, as you could walk down to a kind of subterranean hall. We took down lots of wind- amd string instuments, some gongs, bells and other mainly accoustic instruments. Görrhaan and Klaus (MIESES GEGONGE) brought down some of their own, self-built equipment, which we cannot talk about...it's kind of secret.
Looking at the record cover (personnel) I can't find Lorelei. Didn't you take part in the project, Lorelei?
LNS: To be honest, I have to admit that I hated the thought of going down into this dark, wet and stinking hole. I refused to play.
PLK: ...And she was right, of you stay down there for more than 20 minutes a strong feeling of fear starts to grow inside of you. The situation was even worse, as we had to do it at night. The countryside population doesn't like people to go down into these canals, even if they are artists. They are very superstitious...
To go back to the musical ideas of H.N.A.S. When did you play for the first time?
CH: The group was founded by Khan, Martin B. Klaeren and myself. This was the original line-up of the band. After a year Martin had to leave, because of personal problems. The new H.N.A.S. was created, when Khan and I met Lorelei at this concert, was it a Howard Carpendale gig (?). With Martin, who still sometimes collaborates with us, we produced 4 cassettes, which were only released in Italy, in a very small edition of 50 copies each. They may soon be rereleased as a 3 or 4 LP box set. He also did the tracks for "Contactdisc 3", "Ohrenschrauben" and the "Placebo Sampler" compilation LPs with us. He supported us with his technical knowledge for "Abwasser Musik". We also did some material for tape comps but, I guess we won't do things for tapes in the future, as you don't get the superb soundquality of an LP. The fist thing, we ever did is documented on the track "Ich + die Neger7", it was done in a very small studio.
CH: Before that time Khan and I had done musical experiments for several years. We still like to use stuff we did years ago for our current work. For example, on "Ich + die Neger7" you can hear extracts from one of the first things Khan and I ever did. I guess it was back in 1977.
PLK: 1977 we played with the "7 ELCHE", a group which had a very strange set up: bass, drums, phased vocals and jewsharp. Maybe there'll be a memorial LP on Laylah records...
And how did they got you to play with them, Lorelei?
LNS: Well...
CH: After we met her, we played the "Zweistein" 3LP box to her several times and after 2 weeks of torture, she turned from hate to love towards it.
LNS: That's not really true. I've always loved good music and so I have to hate the "Zweistein" set to get some anti-inspirations to do things a lot better. Also I love singing and playing Geläte.
PLK: One of our main inspiration is to listen to real bad and amateurish produced music. On the other hand we love bands like Nurse With Wound, who did the best things of modern times (beneath Okko Bekker).
What do you think of other post-industrial music?
CH: Achim Flaam (co-founder of DOM!) and I still like Whitehouse. That's really why we published their powerful first performance on LP.
What would you mention as your main musical influences?
LNS: Wagner, Ligeti, Eddie Prevost, Hastings of Malawi, Exmagma. My favorite album of all times is SALLY SMMITT AND HER MUSICIANS - "Soundtracks of the film Hangarhar".
PLK: Anima, Liliental, Exmagma, Fote and Okko Bekker who did that album-for-the-ages "Sitar & Electronics".
CH: Harry Partch, AMM, Limbus 4, Exmagma, 7 Elche. Some of my favorite records are: Comus - "First Utterance", Kiss - "Alive 2" which I love for the elaborate drum sounds and Z'YE YE YE.
Is there a certain philosophy behind your lyrics?
PLK: Mooses only.
Really?
CH: No!
LNS: Gleichberechtigung und Anerkennung der Frau ist keine Einbahnstraße. Wir Frauen, wir wissen wie wichtig es ist, daß unsere Persönlichkeit auch über menschlilches Format une Charakter verfügt. Wir wollen, daß die Opfer möglichst gleichmäßig verteilt werden, soweit dies überhaupt mit irdischen Mitteln, natürlich möglich ist. Der boden ist in seinen Kern gesund...
I can't follow you, sorry. Any other comments on this question?
CH: Yes, our lyrics are influenced by south german countryside, Triple and the Netherlands with its wonderful sewage systems.
PLK: I am deeply impressed by Okko's trip to India and it's results that can be heard on his beautiful and fantastic album for BASF "Sitar & Electronics", produced by Les Humphries.
You seem to be very busy at the moment. Which things are you working on?
LNS: We are presently recording our 2nd album for United Dairies and are also finishing some compilation tracks.
PLK: Oh sorry, we must be off now to feed the mooses.
One last question, friends. Could you provide some information on the releases of your record label DOM, Chris?
CH: So far we released WHITEHOUSE: Live Action 1 and the compilation LP Ohrenschrauben (both deleted) and when people read this, our 3rd LP, a new compilation (Coil, NWW, HNAS, Sema, A. Tietchens...) will be out. In the near future we'll release an HNAS LP and perhaps stuff by NWW and Asmus Tietchens/Okko Bekker.
Thanks for this exciting interview...
---