a weekly digest from the staff and contributors of brainwashed
V06I22 - 06082003
Click here for other issues
SITE

out hud & !!! shows start this week
!!! play two mega gigs in London this week and join Out Hud on Saturday for a North American sweep starting in South Carolina. They will be together pretty much through the end of June. In July, !!! drop back as the Hud continue on their own for a short while. New recordings are in the plans after the tour's over. Check their sites for the dates and locations.
LPD's Traumstadt One announced
A co-release from Terminal Kaleidoscope and Beta-Lactam Rings is scheduled for September. Traumstadt One was a cassette compilation of the two cassettes Apparition and Atomic Roses. The tracklist is as follows:
Atomic Roses: Of All The Girls... / What's Next? / Playschool / Sex / Closet Kings / Spiritus / Hauptbahnhof / The Wrong Impedence / Passing Thought / Atomic Roses #1 / Ideal Home / Atomic Roses #2
Apparition: God Speed / Pay To Be Alone / Spontaneous Human Combustion / The Blessing / I'm In The Drill / Powder Crowd / Strychnene Chaser / Alive! / Believe! / The Plague / Premonition 3
Bonus Track: No Bell No Prize (Version Ridiculous)
Coil announces latest in live series and new thighpaulsandra
Threshold House announces the release of Live One from Coil. The two-CD set includes the April 2000 performance at the Royal Festival Hall in London. This was part of Julian Cope's Cornucopea festival and was included as the bonus CD for the first release of Musick to Play in the Dark, volume 1. Tracks for this release are "Everything Keeps Dissolving," "Circulating," and "Chasms." CD two was recorded in June of 2000 in Barcelona at the Sonar festival. Along with the tracklisting, Coil performed "Amethyst Deceivers," "The Universe is a Haunted House," and "Elves." Coil were John Balance, Ossian Brown, Peter Christopherson, and Thighpaulsandra. In Barcelona, they were joined by Bill Breeze on viola. Double Vulgar by Thighpaulsandra has been completed and pressed and is also ready to be released. Both releases should be out this month.
new H3O email list
The Hafler Trio list that Andrew McKenzie was running is killed. A case could be made that he and those interested need a forum now more than ever. A new list is now up and running at Hollyfeld.org. For more information, please see http://www.hollyfeld.org/mailman/listinfo/h3o-o3h/.
Tino live on friday the 13th
TINO CORP will perform live this coming Friday, the 13th in San Francisco. The lineup is of Jack Dangers (Meat Beat Manifesto & Ben Stokes (D.H.S). The show will be an audio-video collage live and direct with special guest, C.O.D. Also on the bill are DJ Tomas (XLR8R/KUSF), DJ Cool Chris, and DJ Tom Thump. The event will be held at the Minna St. Gallery at 111 Minna St @ 2nd St in San Francisco from 9pm -2am. (Sorry kids, it's a 21+ event.) Free CDs upon entry include DJ Spinna, Bobby Hughes, King Britt, Funky Lowlives, Roni Size, Phil Asher, and Derrick Carter.
THE EYE

michael gira & devandra banhart: darkness into light


The latest Angels of Light tour finds the group pared down to only four members. One of the four includes Devandra Banhart, whose solo album released on Michael Gira's Young God Records has been one of the most warmly received debut albums this year. We were lucky to catch an interview with both Gira and Banhart and some of each performance in March of 2003 at the Jorge Hernandez Cultural Center in Boston.
Interview by Hannah Nolan-Spohn, camera and editing by Jon Whitney
28 Minutes, Quicktime Streaming Video
TECH SPECS
Necessary:
A current web browser
A modern computer
The latest quicktime plugin for streaming media
Recommended:
A fast connection
A willingness to learn
Unnecessary:
If you see a blank window without anything streaming, don't complain to us. You don't have the latest version of Quicktime for streaming media. Go download it. It's free.
MUSIC IN REVIEW
ulrich schnauss, "a strangely isolated place"
City Centre Offices


The second full length album from Mr. Schnauss acts as an amazing springtime soundtrack, as all the trees are budding and the grass is turning a vivid green (with the exception of "Blumenthal," which can easily be music for an ice skating couple illuminated by Christmas lights). "A Letter From Home" and the opener, "Gone Forever" almost act like bridges between the similar thoughts and sounds from the last album, with guitar work heavily influenced by Cocteau Twins and shuffling hip hop-inspired beats. Other songs like "On My Own," "Clear Day," and "In All the Wrong Places" are considerably faster paced than most of the existing Schnauss repertoire, and the results are warmly welcomed. Those familiar with the two tracks on Blue Skied an' Clear shouldn't be surprised that Judith Beck has donated her vocals to a number of songs this time around. Adding vocals is a perfectly natural progressive move that a number of instrumental artists find themselves doing, but there are times when the voice seems like a crutch when there's a lack of a strong enough lead instrument or sound. Fortunately, Schnauss's drum programming skills and arsenal of sound effects are far more advanced here than on the stunning 2001 release, Far Away Trains Passing By, but on the vocal tracks I often feel there is a sort of an emptiness where a lead instrument could or should sometimes be. Loops and side melodies may act as nice decorations but push the parsley aside, I want some meat. Lucky sods in the UK have the opportunity to have Mr. Schnauss play (or even stay) with them. Check the CCO website for venues and dates. - Jon Whitney
samples:
A GRAPE DOPE, "MISSING DRAGONS"
Galaxia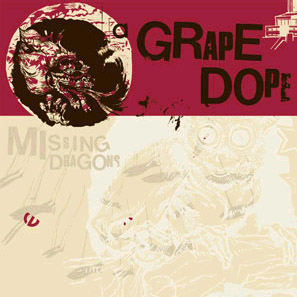 Showcasing his repertoire on the keyboard, sampler and mixing console under the alias of A Grape Dope, Chicago-based drummer John Herndon (Tortoise, Isotope 217) presents six new varying tracks that make up his latest EP. No stranger to the producer's chair, in recent years Herndon has provided re-mixes for other artists, while also releasing a few of his own dub-influenced compositions via the Hefty Records Immediate Action series. "Action: Showered Us" leads off the disc with its infectious live samba school-styled rhythms and muted basslines that kick the track into high gear, complete with handclaps. From the Hip Hop collective Anitcon, Dose One lends his distinct, multi-layered vocals to the bouncy "Red Hat Attack" over busy programmed machine beats, staccato low-end and near dissonant organ drones. The compositional sounds and juxtaposition of car crashes and toddlers-in-the-park themes make for an odd yet very interesting track. The disc's biggest surprise and definite highlight is the soulful ballad "I'll Spread It" which features Herndon's emotional vocoder stylings along with some tender bass and chord progressions that lilt and sway just beautifully. The underlying purr of additional electronic elements round out the composition nicely. Herndon's interesting compositional style and shifting rhythms draw from several different influences, yet still come across as distinct in their own setting. The strong, at times angular compositions on Missing Dragons should dispel the myth that drummers are only capable of counting and hitting stuff. - Gord Fynes
samples:
ikebana: merzbow's amlux rebuilt, reused and recycled
Important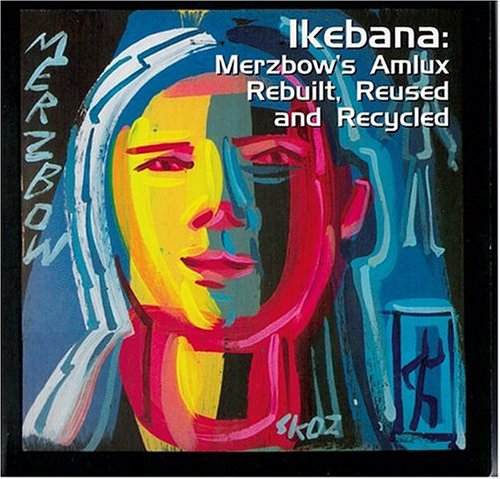 There are certain things we encounter, as humans, that are completely out of our control. It's like when the cat pukes on the carpet and the cleanup time causes a tardy departure for work and every traffic light on the way seems to turn red right before you get to it, only to get to work to be subjected for hours of douchebag clients who treat you like ass and equally frustrated co-workers who also didn't pay tens of thousands of dollars on education only to end up working brainless jobs for shit pay. Noise provides a multilateral theraputic escape. Ikebana isn't about high-brow high-gloss music periodicals spin doctoring the art value of Japanese perverts, it's about that certain release that parents accuse teenagers of by listening to loud rock music. This truly is noise, and, thankfully to light-hearted masters, it's as enjoyable as it is regenerating. With all due respect to Will Rogers, I never met a Merzbow remix record I didn't like. It's no surprise that Masami Akita's noise works well when in the hands of competant and relatively interesting audioheads. 29 tracks is a lot to digest, but the collection does have its golden moments. Pluderphonic commanders Negativland offer a humorous re-take on a 1950s radio warning with "An Actual Attack," (mucous is certainly a word which is never used enough), Alec Empire returns to his big beat armed assault roots with "Digital Hardcore," and Bola both mimic the painful sounds of tinnitus and provide belly shaking beats of "Klunk" from Bola. I'm also partial to the jiggy Atari 2600-drum 'n bass of The Drummer as "Luxus," the symphonic studio storm of Jack Dangers' "Available Memory," and Hrvatski's thumpy humpy bumpy ride, "Toru Pup." Lowlights are few but they do include AMT's Kawabata Makoto's seemingly endless loops of feedback hiss "Revolved Jane" and DJ Porky that Subliminal Pig's cliche hip hop scratch opener "Takemitsu." Whether it's enjoyed in the car at high velocities or at loud volumes at stoplights while the chump in the Volvo in the next lane is confused, noise presented like this—in a variety of relatively small spurts in alternating styles—is an aural massage. It helps to put the chaotic mess of a life aside for a certain moment, leaving behind the frustration of feverishly digging through a drugstore for a goddamned antacid while Diana Ross/Lionel Richie duets play and welcomes warm comedic memories of filling up at a gas station with young college boys staring at the engine of a VW Jetta (see link of the week) like monkeys at a Rubik's Cube while only the girl in the car is the one who can both check and change the oil. By the time I get home, I have left my work at work. I feel jubilant and renewed and ready to do an 8-ball off a squeaky clean pair of large boobies and have sex with somebody who thinks I'm ten years younger. - Jon Whitney
samples:
Coil, "The Restitution of Decayed Intelligence"
Beta-Lactam Ring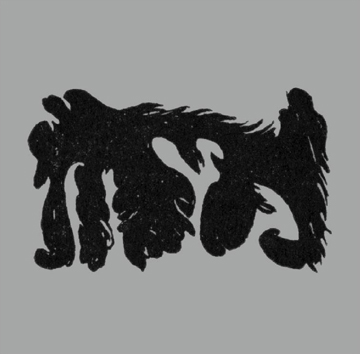 If anyone could make something as dry and academic as Musique Concrête into intense, ferociously sexy ear candy, it would have to be Peter Cristopherson and John Balance. This release is the duo's contribution to Beta-Lactam Ring Records' terrific Lactamase series: a subscription series of twelve 10" vinyl records by some of today's best and brightest underground, avant-garde and esoteric musical projects. The series has included some amazing releases from Edward Ka-Spel, Volcano the Bear and Tony Conrad, but the most highly anticipated release is certainly Coil's masterful grand finale to the series. Coil's two-sided 10" occupies a unique place in their discography. It is a truly awe-inspiring tangent into the rarefied realm of musique concrête abstractionists such as Iannis Xenakis, Tod Dockstader and Luc Ferrari. There has always been an element of these musical progenitors in Coil's musick, but their penchant for structured, vocal-driven "songs" have prevented them from ever fully engaging their abstruse tendencies. Both sides of the 10" use the same basic sounds and techniques, but the sculpturing takes different forms on either side. Side A, or "The Restitution of Decayed Intelligence I," introduces the sound palette: a chorus of digital buzzes, stutters and skips that occupy the soundfield at different pitches and volumes. This music is very dimensional, seeming to fly into one's ears at a myriad of different angles. Soon, the high-end stutters are joined by a series of quasi-rhythmic metallic throbs, like the alternating whirr of a flying saucer engine. These elements are then edited, overdubbed and sculpted into dramatic convergences of sound that alternately pierce, arouse and frighten. So many faintly recognizable sounds can be heard in this midst of these abstractions, but the listener cannot discern which are placed there intentionally and which are an accident of subjectivity. A chorus of bone saws, a squeaking hinge, high-pitched shrieking, a mutated voice, swooping metallic shards, granular static: all of these sounds sneak out of the noise over the course of the piece. Side B, or "The Restitution of Decayed Intelligence II," uses the same set of aural phenomena, but this time snatches of recognizable melody become obvious as the piece unfolds. Jhon Balance's warped vocal hiccups from track two of The Remote Viewer are re-used, albeit in a completely inscrutable form, sounding like a swarm of bees frantically trying to communicate with the human race. Halfway through, there is a shocking increase in volume and intensity as the piece gains momentum. It is here that we see Coil's personality come through; this piece, however chaotic, has the same epic sweep as their Love's Secret Domain-era acid house excercises, and all of the dark, hedonistic atmosphere. This 10" manages to be both a brilliantly mature dip into abstract electronic music, and twisted, uber-Pagan ritual musick. After more than 20 years, Coil is still perfectly balancing this strange dichotomy and creating something wholly unexpected and wonderful with each new release. - Jonathan Dean
samples:
Mouse on Mars, "Glam"
Thrill Jockey


This is a record imbued with a kind of subtle beauty that I've simply not heard in a long time. I've never paid much attention to Mouse on Mars and my experience with this album was akin to my first experience with Sonic Youth; multiple listens reveal multiple dimesions of sound and with each listen the music becomes more and more enjoyable. Glam was originally released as a limited edition vinyl in 1998 and was intended to the be the soundtrack to a movie about love and drugs; appropriately the music is claustraphobic, hazy, and joyous. Dense layers of amorphous sound creep about the air like a fine mist; this is music that can be breathed in, it leaves a shiny dew on my skin after I've listened to it. "Port Dusk" starts things off on an almost beatless level and weaves a blanket with warm peals of sound and unwavering showers of heavy drones. There are beats throughout most of the album and many of them force my foot to tap and my head to back and forth, but the rhythms are almost subliminal. They more or less form a perfect seam with the short stabs of melody and robust undercurrents that run beside them. "Flim" and "Tiplet Metal Plate" are two noticeable and exceptional anomalies. "Flim" is a plain of rhythm-driven butterflies that meander about carelessly while "Tiplet Metal Plate" is more akin to a hammer falling on and through my skull; it's a punchy, schizophrenic, and completely ecstatic kick to the face. The bonus tracks included are completely hit and miss. "Snap Bar" is a worm-filled endurance test that simply goes nowhere while "Pool, Smooth and Hidder" is a rolling sonic highway and "Heizchase Nailway" feels like an undulating mass consuming everything in its path. The last two aren't bad, but when they're taken out of the mix and Glam is listened to in its original form, the album seems to have a more fluid continuity that makes it more enjoyable. These are minor complaints, however. - Lucas Schleicher
samples:
love and rockets, "Sorted" CD & DVD
Beggars Banquet


I'll never forget the first time I saw Love and Rockets live. I was a teenager and the clash of psychedelia, black leather, loud guitars and pumping beats was as sexy as it was cool. I'll also never forget the last time I saw Love and Rockets live. A new album was out but the feverish energy seemed such a thing of the past. They felt like they were reluctantly performing their older songs. The closing remark will always stick in my mind: "Buy our albums so we can keep doing this." Maybe the band thinks that Lift was some of their best material, but they haven't convinced me yet. Moving to Los Angeles often results in the band turning into crap (see: Skinny Puppy, Duran Duran, Sebadoh, etc,...) Compromising big hits like "All In My Mind" and "Motorcycle" or singles like "Waiting for the Flood" and "If There's a Heaven Above" for tracks like the boring album cut "Shelf Life" and crappy single "Holy Fool" makes me question the 'Best of' tag attached to the CD release. Best of collections are rarely for fans and often end up in somebody's collection who doesn't buy much music to begin with. "Oh I liked that one hit single they had with the girls with long legs," would probably be the common mentality. Fans already have all of these songs so as a real 'Best of,' I'd have to say it still truly doesn't exist for Love and Rockets (just buy Express. The companion DVD collection, however, is a fantastic archive for fans to finally have in their grubby mitts. Sorted! is (almost) completely sorted with the entirety of the original VHS tape, The Haunted Fishtank and a bubble-load of extra stuff. It's a collection of nearly all of their videos and some audio tracks, including the wicked cool Bubblemen audio material, interviews, solo videos like David J's "I'll Be Your Chauffeur" and four from Daniel Ash. The only thing omitted that I can think of is the "If There's a Heaven Above" video but I'll live. I now have "The Bubblemen Rap" and don't have to play my beat up old 12" single any more! - Jon Whitney
samples:
SkÉ, "Life, Death, Happiness and Stuff"
Smekkleysa


Giddy, cute, charming, sexy, and fun songs fill this full-length album. A mishmash of smooth production, traditional instrumentation, electronic flourishes, and about five different vocal styles makes for an afternoon well spent dancing about or doing chores in the house while boogie-ing down. Ské is a group of song-writers and performers from Iceland that know how to write a good hook and keep things interesting. While some of the music with its child-like vocal presentation (see "Julietta 1" or "Julietta 2") is a little too cute or adorable for me, songs like "Stuff" and "Cowboy" are great rock songs full of energy and feeling. The acoustic guitar plays a central role throughout most of the album, but all the little additions sprinkled about the music really make the album that much better. "Stuff" is a vocal- and rhythm-led song, but the symphonic elements that float in the background work subtly to create a completely self-sufficient musical environment that stands extremely well on its own. "Le Tram" is sound as silk. The music is simple, the arrangement gentle and flowing, and the vocals almost story-like. It's as if I'm being lulled to sleep everytime I hear it. The final portion of the album throws a sonic curveball and starts playing things out a bit more heavily. "Leck Meinen Stiefel Ab" is a great mix of heavy, distorted percussion and an accordian that sounds like its about to spasm into a thousand tiny pieces. "Lola" closes things out in a very lurid and dramatic mask. Imagine a beautiful woman in one of those red dresses that flower out at the bottom swirling around in a candle-lit restaurant at night and then associate that picture with a sort of French/Spanish music that makes it easy to move the shoulders and hips about. It even starts out with a rather suggestive sample: "This is called Lola... the naughty Lola." - Lucas Schleicher
samples:
Schneider TM, "6 Peace"
Mute


As an introduction to the music of Dirk Dresselhaus, this EP doesn't work so well. The music is whimsical and entertaining, but out of the six songs that make up 6 Peace, three are remixes and one is the original version of "Reality Check" from the Zoomer album. The two videos that are included on this CD ("Frogtoise" and "Reality Check") can be found online at Schneider TM's website along with two free songs. If it's an introduction that is needed, Schneider TM's website is the place to go. Four of the songs on this EP are excellent, though. "Frogstears" is an acoustic rendition of "Frogtoise" that has a more open and poppy feel than the original. "Chotto Matte" was originally on the Binokular EP and is a dance and chamber music influenced song full of life and flighty melodies. "The Light 3000" is a remake of the The Smith's "There Is A Light That Never Goes Out" that manages to exist as a sullen and uplifting song simultaneously. Dresselhaus' ability as a composer and arranger stands out here; his slightly vocoded voice fits perfectly against the electric background of swirling and reversed melodies that swarm over the rhythm. The last track, a remix of "Reality Check" by Mogwai and David Jack, is a dynamic and more violent mix than the original and features an excellent breakdown at the end full of hullabaloo and chaos. Schneider TM's music is rich, full, and happy and is definitely worth looking into, but I wholeheartedly believe that his website is a better introduction to his music and that the Binokular EP and Frogtoise single are worth seeking out so that they can be heard in full. The music is great and the videos are gorgeously animated and/or refreshingly goofy, but this just seems like a pointless release considering that much of this music is easily available or even free. - Lucas Schleicher
samples:
The Land of Nod, "Inducing the Sleep Sphere"
Ochre


Inducing the Sleep Sphere opens with some warm electronic hums that bend around the ears in a pleasant way, before being joined by gently melodic electric guitar, drums, and a wall of fuzz guitar atmospherics. Sounds nice, doesn't it? Unfortunately, this is well-mined territory. The melodies, the swirling Kevin Shields guitar noise, the atmospheric production: it's been heard all before. It's virtually impossible to discuss The Land of Nod without comparing them to My Bloody Valentine, Slowdive, Spacemen 3 or a gaggle of other atmospheric shoegazer bands that did it first, and did it better. Though they are obviously talented instrumentalists, The Land of Nod simply refuse to reveal any personality or originality that would make this music more than just the sum of its influences. "A Sequence of Speed" is so indebted to the motorik beat and punk-light melodies of krautrock band Neu! that it seems like Michael Rother and Klaus Dinger—and not The Land of Nod—should be credited for the song. "Loose Contact" is a lone bright spot: a cavernous ambient piece that sounds like Jimi Hendrix riffing on "The Star-Spangled Banner" at the bottom of a mine shaft. "Le Sommet a Mont Venoux" is actually nothing more than the tune of "Frere' Jacques" repeated ad nauseum with lots of reverb and French dialogue samples. The rest of the tracks are tepid retreads of Mogwai-esque drone-rock boredom, with some predictably pretty melodies lifted directly from Durutti Column. This music really is capable of inducing sleep, and for all the wrong reasons. - Jonathan Dean
samples:
We know that sometimes these CDs are somewhat challenging to find, which is why we have a community section which can be used to obtain nearly everything available on this site.
NEW RELEASES

WEEK OF JUNE 8 - JUNE 14
Amongst Myselves - Sacred Black CD (indie, Australia)
ARC - Feral CD (Arcolepsy/Worthy, Canada)
Autoform - Dualsystem CD (Fliesskoma, Germany)
The Blameshifter - I Luv On Your Grave CD3" [ltd to 211 copies] (Piehead, Canada)
Blueskins - User Friendly 12"/CDEP (Domino, UK)
Bonobo - Dial M for Monkey CD/2xLP (Ninja Tune, UK)
Cabaret Voltaire - Yashar 12" [new remixes by All Seeing I and Alter Ego] (Novamute, UK)
* Cabaret Voltaire - Methodology: The Attic Tapes 1974-1978 3xCD (Mute, UK)
Clearlake - The Mind is Evil/Come Into the Darkness 12"/CDEP (Domino, UK)
HiM - Many In High Places Are Not Well CD/LP (Fat Cat, UK)
In The Nursery - Praxis CD (ITN, UK)
KRMTX - Ice Hatchets 7" (GSL, US)
Lonesome Organist - Forms & Follies CD/LP (Thrill Jockey, US)
Luma Lane - Nicegirls 12"/CDEP (Twisted Nerve, UK)
Mogwai - Happy Songs for Happy People CD (PIAS, UK)
Ral Partha Vogelbacher - Kite vs Obelisk CD (Monotreme, UK)
The Rip-Off Artist - Little Tiny 1/8" Jack 12" (Vertical Form, UK)
Ulrich Schnauss - A Strangely Isolated Place CD/2xLP (City Centre Offices, Germany/UK)
Smyglyssna - We Can Fix It Remixes CD/LP [remix album with mixes by Fujiya & Miyagi, Sixtoo, Einoma, Boom Bip, Dexter, Nick Rapaccioli, Smyglyssna, Restiform Bodies and Soft Pink Truth] (Vertical Form, UK)
Strand - Messages CD (Delsin, The Netherlands)
Tindersticks - Waiting For The Moon CD/LP (Beggars Banquet, UK)
Various Artists - It's Fan-Dabi-Dozi! 2xCD/2x12" (V/Vm Test, UK)
Planes Overhead - Distant CD3" (Leaftone, US)
Tindersticks - Waiting For The Moon CD/LP (Beggars Banquet, Canada)

This is simply this week's highlights from the NEW RELEASES provided by Greg and Feedback Monitor.
For a more detailed schedule stretching into the future, please check out the site,
since release dates can and will often change.
SUNDAY FILM CLUB
Sweet Sixteen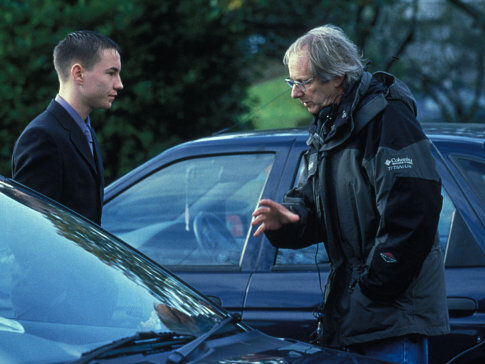 Ken Loach's film is a dark portrait of a boy growing up in Scotland. We meet Liam, the film's protagonist, as he counts down the final weeks of his mom's prison sentence. His mother, who is set to be released on the eve of Liam's 16th birthday, was apparently busted for drugs some time ago. Liam decides to get things together to keep his mom out of "trouble" after her release by arranging a new place to live away from her abusive boyfriend. Not satisfied with the pace of earnings generated by selling stolen cigarettes, Liam decides to steal some Heroin from her mom's boyfriend and sell it with his buddy Pinball. As you can imagine, hilarity ensues. Having watched this film a few days ago I am still uncertain how to react to it. On one hand, it is a wonderful character study and really nails the "teenage boy" mentality. On the other, it seems terribly jaded and has that Dead Zone-esque "I know what's going to happen but I can't do anything to stop it" feel. I really enjoyed the film, but something is nagging at me about it that I can't identify. While I recommend it, I can't promise anything. One final note: the film is subtitled in english for those who have trouble with thick Scottish accents. All slang remains intact, but it is easier to read than listen to. - Sean Graham
Baba Yaga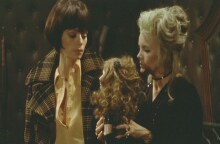 Based on the S&M comics of Guido Crepax, Baba Yaga is a trippy blur between reality and dreamlife set in swingin' Milan. Made in 1973, it was one of only two feature films directed by Corrado Farina, which is a shame given that he is clearly a man with a vision (maybe not a budget, but definitely a vision). Valentina (model and Euro-starlet Isabelle de Funes) is an attractive fashion photographer who bears an uncanny resemblance to Louise Brooks, partying with models, artists and left-wing intellectuals as the film begins. As she stumbles back to her apartment late that night, after stubbornly insisting to her friends that she walk alone, she encounters a mysterious, elegant, older blonde woman (Carroll Baker of Baby Doll infamy) when she nearly hits Valentina with her Rolls Royce. She is clearly smitted by the young woman, and after insisting on giving her a ride home, she introduces herself simply as "Baba Yaga", takes one of Valentina's garters and disappears into the night.
The unusual meeting gives way to some bizarrely erotic dreams for Valentina, and these dreams are wherein lies some of the film's real innovation, and also, some real confusion. Nazis, surreal boxing matches, hippies and bondage dolls that come to life a la Der Golem begin popping up so fast, you'll no doubt have to hit the rewind button more than a few times just to see if you missed something! But ultimately, it's the mood of Baba Yaga that is its strong point. It's not quite a horror film, despite the murders and violence, and it's not quite a sex film, despite the nudity and erotic overtones. Furthermore, it is unclear what exactly what underlying political message that Farina is trying to convey with his unsual, yet striking imagery. Creative cinematography, eye-popping sets and costumes, loads of cheesy dialogue, and a funky score by Piero Umiliani all make for great entertainment, even if the plot is mildly incomprehensible. - Jessica Tibbits
POLL
Results from last poll: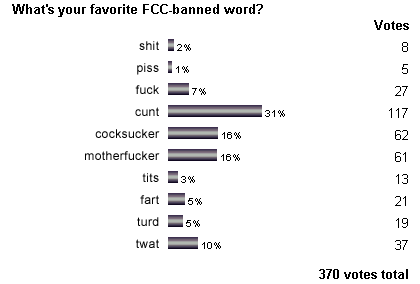 LINKS OF THE WEEK
20 questions
In the tradition of "Dictator or TV Sitcom Character," this little web application tries to get to the object you're thinking of in 20 tries by asking a series of yes/no-ish type questions. Sure, you can beat the computer easily, but usually that's because your answers and the computers answers to the questions will differ slightly. It's fun anyhow. http://y.20q.net:8095/btest
how gay is your car?
Who best to rank the most gay cars than the most gay car show ever! Tom and Ray (a.k.a. Click and Clack, the Tappet Brothers) of Car Talk has pieced together this little ranking list in order from a reaction they had to ranking the top guy and girl cars. It now doesn't surprise me that those two college boys in the Jetta didn't know how to change the oil. http://cartalk.cars.com/About/Gay-Lesbian/gay-guy1.html
FEEDBACK
unloadable

Subject: the brain
I've been having trouble loading the new Brain since Monday. Every time I click on the Brainwashed link it takes me to a blank, black screen at http://brainwashed.com/brain/

I've tried reloading and re-entering the address but nothing works. Do you have any more suggestions for me?

Thanks.
It may have to do with the multiple profanities in the week's poll. Others were having similar problems.

Subject: GTO
Hi!!
I wanna know if you accept Pay Pal. I wanna get the Videos of G.T.O.
So do we!

Subject: FCC
I just wanted to let you know that your pleas for help with the FCC ruling have gone unheard. They just ruled 3-2 in favor of easing the restrictions on media congolomeration.
http://news.com.com/2100-1028_3-1012027.html?tag=fd_top
This really blows...
It really does. There's not enough people pissed off at things like this. There's so many media choices now that people are flooded with so much information, but all of it overlaps! There's less and less alternatives out there and people are simply digesting it as easily as shopping at Wal-Mart and eating at McDonalds.

Who will liberate -US-???

Subject: Bowery Electric
I'm trying to contact to Bowery Electric to be able to get legal permission of using their songs in my short student film in Turkey. Can anyone help me of reaching them?
Contact whichever label released the recordings you wish to use. The labels generally own the recordings.
HELP OUT THE BRAIN
sponsor, donate, or buy from brainwashed
Click here to find out how you can help keep The Brain going. Every penny helps.
WHAT'S IN YOUR PLAYER?
to every table, turn, turn, turn
The Cinematic Orchestra - Man With A Movie Camera
Jeff Parker - Like-Coping
Pink Floyd - Dark Side of the Moon 30th Anniversary
Godflesh - Streetcleaner
Syd Barrett - The Madcap Laughs
Manitoba - Jacknuggeted EP
The Beatles - A Hard Day's Night


Gord Fynes, Ontario, spinning things, preparing for upcoming submissions.