a weekly digest from the staff and contributors of brainwashed
V08I12 - 03272005
Click here for other issues
SPECIAL ANNOUNCEMENT
brainwashed radio off the air
The old machine that hosts Brainwashed Radio is pretty much dead right now, so the stream will be more down than up for the time being. Unfortunately there are no funds for purchasing a new machine so we would like to make a request for generosity of our readers. Funding can come to Brainwashed through a number of means: buying stuff, donating, and sponsorship. We prefer that avid readers buy the stuff at Brainwashed Commerce since we think it's nice to actually get some kind of physical thing for your money. We also encourage record labels who have quoted us in their press releases to consider buying a sponsorship banner for The Brain. (We get more readers than most would expect, we're just rotten salespeople so we don't have the site littered with rotating banners and junk like other places.) Everybody's generosity really helps keep us going. Thank you.
SITE
aranos available from brainwashed
There are a handful of the two latest releases from Aranos now available from Brainwashed Commerce. Tangomango was released last year and comes in a luxurious handmade pouch while Bering Sea comes in a handmade case with a rigid paper and piece of cork! Reviews and sound samples have been collected at the Aranos website and the proceeds go to help brainwashed.
meat beat dancer engages in guerilla art?
A UK-based graffiti artist known as Banksy made the news this week as word got out that he smuggled his own art into the Metroplitan Museum of Art, the Brooklyn Museum, the Museum of Natural History, and the Museum of Modern Art, all earlier in March. For more details on the story, see the CNN coverage, the documentation at the Wooster Collective, or visit his website at banksy.co.uk. While a UK-based dancer named Banksy appeared on multiple Meat Beat Manifesto tours (he can also be seen in the Edge of No Control video) it appears that it's a different Banksy (Richard Banks, not Robert Banks). Regardless, we here at The Brain wholly support the "droplift" (as opposed to shoplift) concept and encourage all bands to sneak their CDs into local music stores.
diamanda schedules a canadian show
Diamanda Galas will perform a new version of Defixiones: Orders from the Dead as part of the Open Ears Festival in Kitchener, Ontario (Canada). More information about the new Defixiones can be found at DiamandaGalas.com in its own section here. In additional Diamanda news, new vocal improvisations have been recorded for the major motion picture "The Ring Two" as well as the new docudrama film "El Inmortal" (The Immortal), directed by Mercedes Moncada Rodriguez.
coil trickle more recordings into download store
This week, Coil have added the Black Light District album, A Thousand Lights in a Darkened Room to the download store at Threshold House. An auction is on the horizon for their musical gear, to be held at a to-be-announced auction house, running for two weeks in April. Details will be posted when they become public.
v/vm launch goodiepal micro-website
V/Vm have launched a micro-website to give away all the music from the Goodiepal and Demonpal picturediscs, issued years ago. (The section even features music that never got released on any of the records!) For more information click here. In other V/Vm news, a 7" is now being planned to commemorate the death of Maggie Thatcher. The record will be released on or around that party day - click here for more information on that.
sounds now available at kranky
Sound samples are in for two new forthcoming releases on Kranky: the much anticipated full-length release from Keith Fullerton Whitman, Multiples, and Cached, the third full-length release (and first for Kranky) from supergroup Nudge. Both albums will be released on May 16th.
three weeks left for otology
Three weeks remain to take advantage of the Otology pre-order special. Otology: The Brainwashed 7" Singles Collected comes free ONLY with the pre-order of all three new limited 7" singles from Brainwashed: BRAIN005 (Sybarite, "Dolorous Echo"/"The Mast"), BRAIN007 (Aranos, "No Religion"/"Spitting Revivalist Dreams of Everlasting Pain"), and BRAIN006 (Jessica Bailiff Live at VPRO Radio). Otology presents on CD for the very first time the music from BRAIN001 (Coil remixes by Thread), BRAIN002 ("Share the Day"/"Dream Stealer" by Edward Ka-Spel) and BRAIN003 ("Bloodstream"/"Airstream" by Greater Than One). Sound samples and the awesome cover artwork images (thanks to Ben Palmer once again and Brain contributor Jim Siegel) are available at Brainwashed Recordings. Copies can be reserved with a purchase at the commerce page at brainwashed.
THE EYE

hood


Hood may have not been the first "rock" band to start incorporating choppy electronic rhythms (or to include Anticon members!) but they've certainly been doing it longer than a number of your favorite bands. Their live show has always been rhythmically more bombastic than their somewhat subtle recordings, accented by a noticably louder setup which includes a more prominent drum arrangement. We caught up with Chris and Steven from Hood on their latest brief US tour for some words outside before they went to pillage Boston's finest record stores.
25 Minutes, Quicktime Streaming Video
TECH SPECS
Necessary:
A current web browser
A modern computer
The latest quicktime plugin for streaming media (hint: use the latest Mozilla if other browsers aren't working)
Recommended:
A fast connection
A willingness to learn
Unnecessary:
If you see a blank window without anything streaming, don't complain to us. You don't have the latest version of Quicktime for streaming media. Go download it. It's free.
MUSIC IN REVIEW
out hud, "let us never speak of it again"
Kranky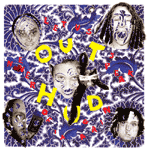 Though they are inevitably described as the weird, Funkadelic-style little sister band to !!!'s Parliament, ever since the release of 2002's Street Dad, Out Hud have always seemed like their own entity. Their peculiar, eclectic recombinations of rock, dub and dance music idioms that seemed at once retrograde and startlingly new was truly something to behold, and Street Dad was one of the most cleverly arranged, performed and mixed albums in recent memory. Their music was buoyant, playful, and experimental; appealing on a cerebral as well as a visceral level: complex, cluttered, effects-heavy arrangements with a solid backbone of rubbery basslines, resounding drums and uncannily clever rhythm programming. The debut album was so perfect that anything Out Hud did for an encore was almost bound to disappoint on some level, though they certainly have every right to grow and change as a band. The big risk that Out Hud take with their sound on Let Us Never Speak Of It Again is obviously the introduction of vocals from Phyllis and Molly. On tracks like "It's For You," the vocals have the effect of introducing far more structure into an Out Hud song than we might have come to expect, and the song is reduced to radio-friendly length. The dual female vocals, liberally dropped into the echo chamber, add a sweet, innocent sexuality to the music, akin to Tom Tom Club or the more recent Chicks on Speed. At first I was disappointed by the vocal tracks, still wistfully recallling the weird, amorphous, kitchen sink instrumental approach on the first album. Much of that anarchic spirit is indeed alive and well on Let Us Never, but the album is unmistakably tighter and more restrained, a strategy that seems to pay off brilliantly, even if it seems alienating at first. Take for the example a track like "Old Nude," with a meaningless vocal refrain that immediately places the listener in seemingly comfortable pop territory. But Out Hud have other things on their mind, placing the vocals into a hall of mirrors and using each cadence as a jumping-off point for their jarring eclecticism: mid-80s Prince-style distorted synths rubbing shoulders with On U-Sound sound dynamics, with lots of little squiggly, digital details buried in the mix. Then Molly's trademark, expressive Arthur Russell cello comes into the mix, introducing the song's haunting coda. All of this in the span of four and a half minutes; I'm impressed. Of course, there are also some instrumentals here that sound like they could have fit in perfectly on the first album. "The Song So Good They Named it Thrice" picks up where "Dad, There's A Little Phrase..." left off: a grandiose, unfolding musical drama that seems to take in the entire history of dance music in its scope, creating an infectious and indescribably funky mix of early house, epic Moroderesque disco, motorik Krautrock and Detroit electro, together with sudden, death-defying plunges into cavernous echo and distortion. The hilariously named "Mr. Bush" is the album's most epic track, and the one that I've found myself returning to most often; an unstoppable leftfield rhythmic structure serves as a foundation for a series of Out Hud-style variations on a theme, undertaken with the same vivacity and spirit of experimentation as early Chicago house, but ending up in an oddly beautiful, neoplastic discotheque of their own totally idiosyncratic creation. Even though the album initially seemed to be an attempt to rope in a wider audience, after a few listens I could clearly see that Out Hud are still flying their freak flag, making gloriously incomprehensible music that is eminently danceable in spite of itself. - Jonathan Dean
samples:
Nick Cave and the Bad Seeds, "B-Sides and Rarities"
Mute

The most notable quality of this Bad Seeds retrospective is how incredibly competent and comprehensive it is: with just a couple exceptions, Cave and company have stuck to including only hard to find, rare, and unreleased material on each disc. A quick glance at the track listing will reveal the obvious; there have been plenty of singles, 7" records, compilation recordings, and soundtrack appearances from Nick Cave and the Bad Seeds since they formed in 1983. Another glance will reveal that there's more to this release than just those b-sides or one-off recordings. The inclusion of radio session tracks, unreleased alternate takes, tribute album songs, and altogether previously unheard pieces have made the near impossible journey of finding all these songs far easier than it would've been previously. Though I love Nick Cave and the Bad Seeds, I own very few singles by them and have been less compelled to go looking for the odd appearances that pop up here and there (a Neil Young tribute album, the X-Files soundtrack, etc.) and so this release makes complete and total sense. The first two discs are especially captivating because they contain roughly 35 tracks of material I've never had the chance to hear before. Not included are solo Cave pieces nor Cave guest appearances with other bands (with the exception of "Time Jesum Transeuntum Et Non Riverentum," which was recorded with The Dirty Three and "hidden" on the X-Files soundtrack), but that only makes sense seeing how this is billed as a Bad Seeds related release. B-Sides from each era of the band's history is represented on all three discs, up to and including material recorded during the Abattoir Blues/The Lyre of Orpheus sessions. There are raw, maniacal, and completely unhinged songs situated next to some of Cave's signature slow and brooding ballads, but the roughly chronological order of the tunes never sounds too uneven or haphazard. Many of the songs sound as though they belong to one another; "Blue Bird" and a cover of Neil Young's "Helpless" sit beautifully beside each other before the rough and rumbling "God's Hotel" annihilates the peace and calm of those performances and the entire "What a Wonderful World" single rolls out gently enough, but is then torn to shreds by an excellent acoustic version of "Jack the Ripper." There is a version of "Where the Wild Roses Grow" with Blixa Bargeld singing Kylie Minogue's part, a version of "What Can I Give You?" with new lyrics, a surprisingly excellent version of "Red Right Hand" with Barry Adamson, new orchestral arrangements, and new lyrics, and many other stand-outs all over each disc. The third CD is divided between outtakes and b-sides from The Boatman's Call, No More Shall We Part, and Abattoir Blues/The Lyre of Orpheus. While this material is less interesting to me than the music on the first and second CDs, it is nice having all the songs from the singles that were released during that time, as well as a couple extras that include the song "I Feel So Good," which was used for Martin Scorsese's documentary about the blues. There is a wealth of material on this triple disc set that will be valuable to all but the most obsessive of collectors. Even those collectors will find plenty to be happy about. For people like me, this is an outstanding collection of songs that I may never have had the chance to hear otherwise. - Lucas Schleicher
samples:
The Angels of Light, "Sing Other People"
Young God Records


Followers of Michael Gira's storied career might have anticipated his latest work with The Angels of Light as a natural reduction of his emotional approach to songwriting to its most basic form. Gone are the instrumental passages and long, orchestrated songs that build and explode and then fade only to build again and pummel the listener. Gone (or at least greatly reduced) are the images of death and blood and fire and the stark, unflinching colors with which Gira has chosen to paint over the years. Instead, this record, which may sound from the title like it should be an album full of cover tunes, is a quiet, acoustic homage to "other people" as disparate as Michael Jackson, Saddam Huessein, and Gira's band mates. The sonic reductionism gives The Angels of Light a chance to strip down to bare banjos and guitars, strings, and a chorus of voices courtesy of the Akron/Family, and lets the words stand at the center of a dark stage under an uncomfortable spotlight. Of course the danger with Gira stripping away the layers of instrumentation and accompaniment is that we are pushed ever closer to the man himself, and towards his dark, creaky voice and all of the terrors it feels compelled to spill. After years of seeing Gira live, listening to his records and reading his books, I'm not sure I want to be this close and that's what makes the record so hard to take. Though this is a very different Angels of Light record, Gira's dark lyrical wit and emotional directness are as in tact as ever. He shifts in and out of different characters, but his voice remains clear and focused with little variation other than extremes of spooky-quiet and spookier-loud. In this new and more intimate setting backed by out-of-tune pianos and folksy vocal chants, Gira's limited vocal range actually becomes a distraction, causing the songs to blend together in a creepy half-sung, half-spoken haze. He channels his best Lou Reed during "The Kid is Already Breaking," and erupts into a rage (well, as raging as the Angels of Light ever get) on "Michael's White Hands," and by the third or fourth time through, the record leaves me feeling claustrophobic and anxious. After a while, it becomes impossible to tell when he's paying homage and when he's vilifying, though perhaps that ambiguity is the result of reading too much into these songs that are as simplified as can be. At this point in his career, Michael Gira is no longer building a fan-base or making friends with his music, and with this album it's clear that he's not simply handing out easy retreads to those who have followed him through the years. Fortunately for him, he's still doing creative work in distilling the essence of his sound and life into a kind of concentrated musical bullion. Unfortunately for me, the result is a little overwhelming making the record one for which I have little taste. - Matthew Jeanes
samples:
JUDEE SILL, "DREAMS COME TRUE"
Water


After the great digital reissues of Judee Sill's legendary pair of 1970s albums on Rhino Handmade last year, and the superb vinyl facsimile editions on 4 Men With Beards, the Water label puts the icing on the cake with this outstanding double-disc set containing, among other things, Judee's never-before-released third album Dreams Come True. Low-fidelity versions of these songs—studio recordings that would have comprised Judee's follow-up to 1973's Heart Food—have been floating around for years on bootleg cassettes and file-sharing services. Water went the extra mile, however, recruiting indie superstar and self-professed Judee Sill fanatic Jim O'Rourke to complete the mix on these eight tracks and make them into a proper album. O'Rourke could not have been a better choice for this task, not only because of his obvious love for Sill's music but also because of his production acumen, and that crisp, high-fidelity 1970s rock sheen that characterizes his production work for Sonic Youth, Wilco and others, which perfectly imitates the Laurel Canyon sound of Judee's first two LPs. Comparing these newly mixed versions with the bootlegs, it is clear that O'Rourke has done an excellent job delineating each instrumental track, deftly underscoring Judee's vocals and the soaring church choir backup. Other than bolstering the fidelity of the songs, O'Rourke seems to have pretty much stayed out of sight, showing the proper respect to his idol's work. These eight songs were composed when Sill was convalescing after a series of drastic back operations, and while they are not nearly as strong as the material on her pair of classic LPs, they are still quite impressive. Mystical Christianity is still her main lyrical obsession, and these songs deal with her physical and spiritual pain through uplifting, hopeful lyrics about transcendence, transfiguration and resurrection. A clear emphasis on eschatological themes—songs like "Apocalypse Express" and "The Good Ship Omega"—make this brief, final album very haunting, especially in light of Judee's tragic and untimely death by accidental or intentional heroin overdose. Despite these dark undercurrents, all the indicators on these songs point to hope and spiritual vivacity, especially the opener "That's the Spirit," a rollicking number on piano in which Judee is joined by churchly voices in a resounding hymn to the ascendancy of the soul. "Til Dreams Come True" is another winning song, this time a slower ballad with cryptically beautiful religious symbolism throughout the lyrics: "Assembling a dream/And in each one a manger is seen/Where the dark by the spark is redeemed/While milk through the firmament streams/Over all we do/'Til dreams come true." In addition to demo versions of a few of the songs on the album, this generous package also contains a second disc which collects rare demos, outtakes and home recordings, including a marvelous solo piano performance by Sill ("Oh Boy the Magician"), combining her love for Bach and Mahler with the light jazz and pop idiom that informed the majority of her songwriting. Also included is a 15-minute Quicktime video of Judee performing a live set of her best songs outdoors at a California university in 1973. It's a real treat to have this rare material collected in one place, even despite the understandable technical limitations of much of it. The packaging is also exemplary, containing a massive 68-page booklet filled with insights and interviews with those closest to Judee, as well as extensive biographical information and rare photographs. Dreams Come True is a lovingly rendered tribute to a marginal but extraordinary artist, and it's the one to beat for makers of deluxe reissues and box sets. - Jonathan Dean
samples:
Organum/Z'ev, "Tocsin -6 Thru +2"
Die stadt


This is the second collaboration between these two iconoclasts, the first being last year's too-short Tinnitus Vu: the duo's hiss-laden meditation on hearing loss and the dynamics of sound after sound stops. Tocsin works within a similar sound palette, becoming a longer group of compositions that are also more minimal. Tinnitus featured conceptually efficient sonic pile-ups: alienating meshes of crisp percussive noodling and phantom piano, reorganized digitally by Z'ev to the level of sonic negation, the music itself slipping behind a veneer of white noise emptiness. Tocsin again finds Jackman behind the piano and Z'ev operating some resonant steel instrument, but the playing, even after the individual artist mixes (Z'ev for the first seven tracks, "-6" through "0," and Jackman for the final "1" and "2"), feels like more of a trade-off: a see-saw between two more distinct voices. An unhurried atmosphere prevails; the musicians content to meander through what feels more like an impromptu jam session than anything else: Z'ev winding out steely, gong-like drones as Jackman lets his chords fall in a determined and mournful slowness. Both the length of these sessions and their haphazard result strike me as very atypical of Organum, but it is admittedly pleasing to hear Jackman in an environment where not every second counts. The recording itself also feels immediately more intimate than the prior collaboration or Jackman's work as a whole. It has been consciously edited with bits of the duo chatting amidst a prevailing amount of tape hiss that sounds at first like the by-product of poor equipment but which evolves into precise and manufactured intervals. Z'ev's tracks especially utilize the tape sound to flesh out an ironic foreign quality in the instrumental dialogue, freeing it from a real time perception. He stretches Jackman's piano into echoed calls and distant moans, entwining along a cascade of scraped, rubbed drones and hollow choruses of soothing feedback. This is the least abrasive music I've heard from Z'ev, lacking any percussive punch or even the textural maneuverability of Tinnitus. Organum's two private mixes are much less complex, the first almost 15 minutes of barren piano sketches with perfectly distant gong-like decays matching the piano's desperate march forward. Jackman's second and final track is almost identical, untreated piano up-front with untreated metal washes this time in slow and gentle crescendo until both drift into silence. If anything here comes closest to replicating the original performances it is Jackman's section, beautifully recorded and a real pleasure despite its one-dimensionality and its relative inconsistency with the artist's successes to date. While not a benchmark in the history of either artist, Tocsin allows a view of both moving in slightly different currents than they are accustomed, and the disc is important despite the lack of a more concise collaborative product. It's nice also to see that Die Stadt is continuing to press reasonably priced Organum CDs; hopefully this will continue. - Andrew Culler
samples:
Szkieve, "Ekranoplanes"
Ant-Zen


This concept mini-CD accurately represents its subject, massive plane/boat hybrids known as ekranoplanes, in sound. Dmitri Della Faille (Szkieve)'s passion for his material is evident on this 22 minute homage to, and study of, these anomalies of Russian scientific technology. The opening "Le Songe de R.E.A." evokes an ominous mood, conjuring up images of the metal beast preparing for take off. Sharp, shrill electronic tones and analog synthesizer miasma cut through the sounds of slowly chiming bells. "Le S.M. 2P" focuses on whirring and chugging sounds that recall those made by an engine working to keep the large entity afloat or aflight. The cycling rhythmic patterns and steady moaning tones of "Le K.M." mimic the steady flight of the vehicle soaring through the air as a plane. "L'Orlyonok" gathers the various strands presented in the shorter tracks into a piece that seems to be a musical response to the other tracks. This is the only track that features beats and a melodic theme running through it. "Le Lun" perfectly captures the feeling of a plane that was once steadily flying at a fixed altitude suddenly dropping as it prepares for landing. For the first three of its four and a half minutes the persistent sound of the vessel sailing through the sky is realized by the sound of one loud, all-encompassing drone. As the sound fades out gradually during the last minute it reveals layers of engine hum and the pitter patter of various working parts. In creating such a vivid aural description of his subject, Della Faille presents a full experience in a short amount of time. Although this is a 3" CD, the tracks don't feel incomplete. Instead, Ekranoplanes is the musical equivalent of a short film, and is successful on several levels. As a tribute, it forms enough of a picture to be directly connected to the subject, yet it allows the listener enough space to place the story in any setting the imagination can invent. - Jim Siegel
samples:
monade, "a few steps more"
Duophonic (UK) / Too Pure (US)


Despite being the first album with a full band lineup, the whimsical, laid-back sound of Stereolab singer Laetitia Sadier's Monade remains intact. No longer recorded in her bedroom, these 12 melodies were recorded on location in France at their Instant Zero studios. The songs do, however, possess the feel of an earlier, almost more optimistic Stereolab, before big budget blowouts and crazy horn sections. It should be noted that it's not an insult to claim these songs are much simpler than the music on the last three Stereolab releases, in fact I think I actually prefer the music on here, which is very straight-forward with the focus being on catchy pop tunes as opposed to attempting songs that get so busy they nearly spin out of control, prone to losing their direction. There's no sense of immediacy here, and it's nice, like sipping a coctail on a lazy afternoon with song like "2 Portes, 7 Fenetres," which opens with a slow instrumental stretch before picking up into a bright Bossa Nova beat, before returning to the slower melody from before. Other songs like "Becoming," "Das Kind," and the opener "Wash and Dance" are equally as relaxing and pleasant, while songs like "Sensible ex Extensible" are springy enough to want to underscore a scenic bicycle ride through the trails in the blossoming season. It might not be heavy handed or slick enough to win any new VW advertisements, but A Few Steps More album will certainly please many Stereolab purists. - Jon Whitney
samples:
Koda, "Movements"
Infraction


M. Derrick's ten compositions on this record easily qualifies as some of the most relaxing music I've ever had the pleasure of hearing. Ten tracks have separate names, but Movements comes together as one cohesive picture built from shining strings and warm, enveloping tones. Everything about this recording is transformative: it eliminates time, balances every aspect of the environment it is played in, and subtly coerces any negative or violent mood into one of contentment and ease. The dynamics on the record are deceptive, changing so softly and slowly so that it is difficult to catch the exact moment that any change actually occurs. Hums modulate, pseudo-melodies pitch and bend, but the aura of each track seems to bleed into the next without fail; Movements is incredibly well-conceived and constructed seamlessly, as though it were imagined as one continuous transformation. As far as actual instrumentation goes, it's difficult to discern whether or not these are over-processed instruments drawn out into oblivion or simply keyboards layered upon more keyboards. Whichever happens to be true is unimportant, part of the miracle of Derrick's work is that the instrumentation never changes but stays consistently inviting, beautiful, and captivating nonetheless. "The Tension Was Beautiful" segues into "Are We Water" in the same way that one movement of symphony might slip into the next. Instead of a whole range of instruments being used, Derrick minimalizes his available sources and bleeds every last ounce of soul out of them. Sometimes, as on "A Waterboat Singing Having Sunk," the instruments sound as if they are singing, harmonizing the way multiple violins or cellos do together, and at other times they are without reference and abstract, but still earthly and familiar. I've never felt quite so wonderful listening to a record—the speakers seem to pour out light when it plays. I have heard only a small handful of records capable of causing physical effects in the listener, but this is one of those records that literally speaks to and alters the body. I've found my skin tingling, butterflies in my stomach, and a steady bliss throughout my bones every time I've put Movements on, and that has been a very good number of times in just the last few days alone... never mind the weeks I've been soaking in its bright ghost and losing myself entirely. - Lucas Schleicher
samples:
"Wasted: 2 Nights of Breakcore in Berlin, Feb 4th and 5th, 2005"
Mirex/Cock Rock Disco


This all-star lineup delivers sensory overload of the most pleasurable variety. Wasted reflects compilers Pure and, especially, Jason Forrest's aesthetic of 200+ BPM breakcore mayhem and silliness. These tracks pack so much audio information into each measure that it's truly overwhelming. Many of these jokesters keep up the breakneck pace for the entirety of their tracks. Terminal 11's "Blow It Out Yer Fuck" deals out drumrolls that connect in the same way as fists repeatedly hitting a punching bag at rapid speed. Duran Duran Duran's "A God Among Men" opts for a more martial arts inspired succession of kick drums, sharp snare blasts and synthesizer gurgles delivered from all directions. This relative newcomer seems to be the only contributor who understands that at twice the speed of most normal "songs" a minute and a half is sufficient time to deliver all the blows necessary to completely tire out anyone listening. By using the same samples over and over amongst splattered drum breaks, "Dyslexic Funky Droid" by Repeater wears out it's welcome at about the two minute half-way point. Pure's own contribution, "Fight 'Em" stands out and warrants its seven and a half minute length by being a potent mixture of his relatively recent foray into abstract analog synthesizer explorations and his beginnings as one of breakcore's originators. He uses extended sections of beatless frayed electronic circuitry to build up tension in between bursts of Amen break trickery. This use of dynamics lends the track a more composed feel, yet it doesn't lack in sheer power. Curtis Chip's "Chainsawpanda" is the most subdued track of the lot, with a steady 4/4 groove providing a solid backdrop for complex drum programming. Jason Forrest's "Sadist Hop" is successful in that he paces himself a bit, starting out the track with a mid-tempo hip hop beat complete with funky piano loop. The former Donna Summer actually waits 25 seconds before attention defecit disorder takes over and causes him to throw drum fills from every imaginable source into the mix. Forrest's skills at chopping samples into tiny crumb-size pieces allows him to get away with using source material such as the guitar riff from The Eagles "Life in the Fast Lane." The juxtaposition of little reminders of the excesses of music's past, rather than the mashing up of entire sections of instantly recognizable songs, with beat manipulation that is unmistakably current is what makes Forrest's work unique and refreshing. Although some of these tracks may be forgotten years from now as genre exercises, in the present they collectively represent the sound of a new wave of skilled producers that don't take themselves too seriously and aren't afraid to make music that is at once incredibly intricate and simply a perfect excuse for jumping up and down. - Jim Siegel
samples:
Marsen Jules, "Herbstlaub"
City Centre Offices


This new effort from Martin Juhls under the name "Marsen Jules" is a pleasant meditation on plant life that easily reflects its intended subject matter without offering much commentary along the way. It's not clear where the digital technology employed in these compositions begins and where the acoustic instrumentation ends, but that kind of deconstruction of method and technique is superfluous when a record is as direct and one-dimensional as this one. While there are six songs listed in the liner notes, the parts play out more like movements or repetitions of a single theme, where ambiguous clouds of melody float in and out of the sunlight, marking the passing of meditative time, choosing not to get in the way. Perhaps the zen quality of music that is this natural and reflective is lost on me in a busy world of technological noises and urban landscapes, but I find it hard to concentrate on Jules' compositions for what they are rather than what they could be. With a simple theme such as "Autumn Leaves," my mind races to imagine the myriad ways the subject could be approached sonically. What Jules provides here is a pretty and warm but ultimately detached look out the window of one of those angular steel and glass homes that I see in design magazines. The leaves outside are calming. They are soaked with a fresh rain on an overcast Sunday morning, and Herbstlaub is playing in the background as I sip espresso in my slippers and it all seems ideal and sanitized and beautiful and vacant, forcing me to listen again to see if I've missed something. In the end, this is inconsequential mood music made deftly and softly by a craftsman with an ear for fragile melodies and an eye for nature, but with a voice that could be saying much more. - Matthew Jeanes
samples:
We know that our music picks may be somewhat challenging to find, which is why we have a community section which can be used to obtain nearly everything available on this site.
NEW RELEASES

WEEK OF MARCH 27 - APRIL 2
Anaphylaxis - Noise For Lovers CD (Parasomnic, US)
Autoaggression - Geräuschinformatik CD (Dependent, Germany)
Balanescu Quartet - Maria T CD (Mute, UK)
Beck - Guero CD [initial copies include bonus disc with remixes by Boards of Canada, Dizzee Rascal, Octet & Royksopp and a DVD with videos & 5.1 versions] (Interscope, US/Canada)
Bug & Tanzmann - Tanzbug 12" (Poker Flat, Germany)
Nick Cave & The Bad Seeds - B-Sides & Rarities 3xCD (Mute, UK)
The Dissociatives - The Dissociatives CD (Astralwerks, US)
* Efterklang - Tripper CD/2xLP [reissue] (Leaf, UK)
Electronic Music Composer - Abandon Music CD (Planet µ, UK)
Electronicat - Voodoo Man CD/2xLP (Disko B, Germany)
A Hawk And A Hacksaw - Darkness At Noon CD/LP (Leaf, UK)
Jorane - The You and the Now CD (Six Degrees, US)
Kammerflimmer Kollektief - Absencen CD/LP (Staubgold, Germany)
Kinky Disco - Flicker 12" (Kinky Disco, UK)
Woody McBride - Pscenario 12" (novamute, UK)
* The Mountain Goats - Nothing for Julia CD [reissue] (3 Beads Of Sweat, US)
* The Mountain Goats - Zopilote Machine CD/LP [reissue] (3 Beads Of Sweat, US)
Mr. Negative - Evacuate 12" (Fine, UK)
New Order - Waiting for the Sirens' Call CD (London/Warner, UK; Warner, Canada)
Pink Grease - Peaches 7"/CDEP (Mute, UK)
Racine - Grease Monkey CDEP (One Little Indian, UK)
The Residents - Animal Lover CD (Mute, UK)
* Roots Manuva - Awfully Deep CD/2xLP [initial CD copies include a bonus CDEP of demos, remixes & live tracks] (Big Dada/Ninja Tune, Canada/US)
Scientific American/Plastiq Phantom - Tubes & Marisa 12" (Imputor?, US)
Shapeshifter - Recticulum Flux CD (Schematic, US)
Silicone Soul - Feeling Blue two 12"s (Soma, Scotland)
Silicone Soul - Staring Into Space CD (Soma, Scotland)
* Simple Minds - New Gold Dream DVD-Audio (Virgin, UK)
* Simple Minds - Once Upon A Time DVD-Audio (Virgin, UK)
SLBC - Plastered CDEP (Un!, UK)
The Snodgrass/Another Electronic Musician - split 7" (Imputor?, US)
Superpitcher - t.b.a. CD (Kompakt, Germany)
Svalastog - Silencer CD (Beatservice, Norway)
Viva las Vegas - 2 CD (Acuarela, Spain)
Otto Von Schirach - Puke 12" (Imputor?, US)

This is simply this week's highlights from the NEW RELEASES provided by Greg and Feedback Monitor. For a more detailed schedule stretching into the future, please check out the page, since release dates can and will often change.
HOME THEATER
"SECTION 25: SO FAR"
LTM


Section 25 were always a difficult proposition, because they were really two bands. First, there was the late-1970s incarnation typified by the debut album Always Now, produced by Martin Hannett. At this phase of the band's career, the group wore the Factory uniform through and through, pumping out bleak, claustrophobic noise-rock owing a tremendous debt to Joy Division. This version of Section 25 has not aged well at all, and only record collectors and Factory fetishists actually like the music. The other Section 25 began around 1983-4, after some personnel shifts and a complete 180-degree change in musical strategies. Instead of sour-faced, doomy boredom, the band embraced keyboard programming, synthesizers and the Roland 303, producing excellent, influential early techno that has held up surprisingly well through the years. For those who enjoy charting the connections between the proto-electro of Detroit/Chicago and the more stiff, angular white-boy dance and funk of the early 1980s Manchester scene, Section 25 are ground zero. This DVD contains both incarnations of the band, but leans heavily on the latter phase of their chronology, which is more than fine by me. The DVD begins with a nine-song set captured at London's ICA in the summer of 1980, and it's predictably faceless and largely uninteresting. Then there is a set of clips from various venues dating from 1981 to 1984, and things start to get interesting. A promotional video for "Looking From A Hilltop" is suitably retro and quite a lot of fun, even though the band is just miming to the recorded version of the song. The best material comes from two shows dating from 1985, one at Chicago's Metro Club and another at Prince's First Avenue club in Minneapolis. Section 25 is at the height of their powers here, unleashing addictively futuristic proto-acid techno with dual live drumming, breathy vocals, dramatic keyboard melodies and a galaxy of weird sound effects. Even at this stage, however, Section 25 were still performing more rock-oriented material, though it has now been retrofitted with banks of synthesizers, Human League-style. The video and sound quality varies wildly across the disc, but most of the best performances are watchable and enjoyable. At over two hours, this is a generous package and a must-have for fans of this nascent period of techno. - Jonathan Dean
"THE WAKE: LIVE AT THE HACIENDA 07.1983+01.1984"
LTM


Another archival DVD package from LTM, unofficial torchbearers for the marginal artists on the Factory Records roster, this one collects two performances by Glawswegians The Wake. The band has not benefited very much from the critical hindsight and revival of interest in early 1980s post-punk, most likely because they were always a pretty dull proposition. It's frankly not surprising that among the band's early lineup was one Bobby Gillespie, later of bandwagon-jumpers Jesus and Mary Chain and Primal Scream, as The Wake seemed similarly derivative, with a sound perfectly pitched dead-center between Joy Division and Durutti Column. Their early stuff was dour, down-key and depressing, and their later stuff was increasingly more lightweight and pleasant, though still quite a trudge. The two Hacienda shows on this DVD finds the band somewhere in between these two phases, playing melancholic, downbeat rock music that is equalized with sparkling, ambient washes of synthesizer and jangling acoustic guitar. If New Order and Vini Reilly hadn't ever existed, The Wake might have seemed a lot more interesting. As it is, even with the benefit of all the borrowed nostalgia from 24 Hour Party People and other documents of the Manchester scene, The Wake seem boring and a bit pretentious. Their stage manner is in the classic mold of moody, listless shoegazing, with backs to the audience and no attempt to engage anyone in their music. The pretension comes from their tiresome references to James Joyce's Finnegan's Wake in songs like "Here Comes Everybody," even though their music shares none of the playfulness, lyricism or ingenuity of Joyce's work. For fans of the band, I can happily report that the digitally remastered video of these two shows is of impressive quality, and the sound is not too bad either. In addition to the two shows, LTM also includes an excruciatingly cheesy, low-rent promo clip for the non-hit single "Talk About the Past." I suppose it is still a bit of a thrill to see these vintage shows at the legendary, now-extinct Hacienda club, I only wish I was watching a better band than The Wake. - Jonathan Dean
POLL
Results from last poll: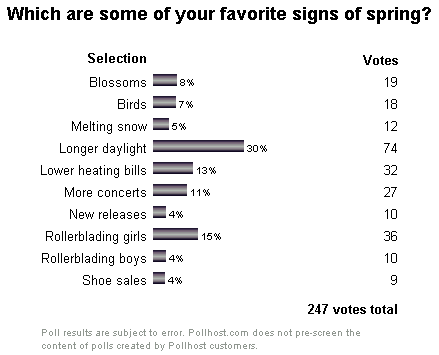 LINK OF THE WEEK
so you wanna be an fmu dj?
The story goes like this: in the mid-1980s a DJ from a failed commercial station found his way to WFMU, however his "professional" commercial radio style sort of stood out from the rest of the DJs at New Jersey's WFMU. So, the leaders got together and gave this DJ a little on-air coaching on how to become a better WFMU DJ. Twenty years later, it's amazing how this generally applies to just about -ALL- college radio DJs in general. Listen to the real audio stream the entire way through:
http://blog.wfmu.org/freeform/2005/03/how_to_be_a_wfm.html
FEEDBACK
stick a cork in it

Subject: Hello people of Ireland.
Cork is the European Capital of Culture. So where are fennesz jim o rourke ryoji ikeda and the boys, I don't know.
There are no good acts coming. None. this whersmeculture-aahajhk. also krev.org-they rejected me. Why-what's their game? And if Christian Fennesz is looking for a good idea. "Tommy Potts"-on the liffey banks. It is similar. "La brea brothalach a bhi ann"-or brothallach. I don't know.
First of all, we have nothing to do with Fennesz, Jim O'Rourke, and don't really have much contact with Ryoji Ikeda. Secondly, as for the "European Capital of Culture," you're probably going to have to fight over that one with just about everywhere else, depending on who you talk to. Other than that, you're on your own, buddy. Sorry.

Subject: the brain
hi, well, I don't have much to say about the bands and labels dealt with here as I love them. Just to give you the link to my band, just in case ...
In case of emergency? In case we run out of things to listen to?

Subject: Bowery Electric
hi there just wanted to ask if the above band were going to come back to England sometime as I would love to see them live here in birmingham. I hope they do. Yours in hope.
Don't count on it.

Subject: !!!
we should marry and have interracial relationship consisting of intercourse and you know. other stuff =) k. cool
See you at the chapel!

Subject: brainwashed radio
Radio is down....this is like my coffee(that I don't drink)....please fix the music
thank you
The machine it's running off is pretty much dead. Unfortunately there's no money in the budget for a new box right now.

Subject: EYE007
there seems to be a glitch on the thighpaulsandra eye, at least on the dvd-r you sent me.
towards the end there is shot from the window of a moving train, and where there should probably be music, the soundtrack is completely silent. silent, that is, until right at the end when suddenly 'hovercraft von dusseldorf' starts up and then abruptly ends. it looks weird, and it seems like a mistake.
do you see this on your end?
This was a problem with the first DVDs of EYE007 that went out but has been subsequently fixed. If there is anybody with this problem who wants a replacement, they're welcome to send their copy back for a free replacement. (And it's "Paralysed," not "Hovercraft von Dusseldorf," by the way.)
GET INVOLVED
sponsor, donate, or buy from brainwashed
Click here to find out how you can help keep The Brain going. Every penny helps.
become a contributor
We're always looking for more writers and are welcoming applicants who meet the criteria. Have a look at our new section, Write for The Brain and don't be shy.
sign up for the announcement list
Do you want to be the first on your block to hear about special limited pressings and happenings of Brainwashed? An announcement list has been set up at www.hollyfeld.org/mailman/listinfo/brainwashed. It's not a forum and subscribers will be the first to hear about new releases on Brainwashed Recordings, a new Brainwashed Handmade imprint, the hopefully soon to launch Brainwashed Archives label, and any music fest(s) to coincide with Brainwashed's 10th Anniversary (which is only a year away). Thanks again for the support, it keeps us going.
join the audioscrobbling community
Share your playlists with other readers/fans at the Brainwashed Group at Audoscrobbler.
let us know what you think
Communicate with us, tell us what's in your player, tell us what you want more/less of, send recipes.
WHAT'S IN YOUR PLAYER?
la isla bonita
Flipper- Generic Album
Francisco López- Buildings NY
Les Rallizes Denudes- Heavier than a Death in the Family
Sulfur- Delirium Tremens
Nurse with Wound- Insect and Individual Silenced
Fushitsusha- Allegorical Misunderstanding
Lonnie Liston Smith- Cosmic Funk
Guapo- Hirohito
Cornucopia (PR)- Sense
Larry Young- Lawrence of Newark

Kenny, la Isla del Espanto.