news || music || biography || YouTube Channel
NEWS - 2003
12.24.03
New links of note
:/Run Recordings has unleased a new promo website for the new MBM release. Real Audio streams of two songs and some images are now available at http://www.lakeshore-records.com/mbm_indub.
To find some background info, bio, and see some photos of the new MBM collaborator DJ Collage, visit www.lasarletter.com/DJCollage.
12.05.03
Meat Beat Manifesto
...In Dub;
...In Dub 5.1 Surround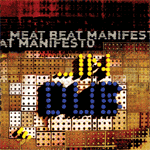 Coming January 27th, the newest production from Meat Beat Manifesto releases on two discrete formats: CD and 5.1. Surround Sound DVD.
Taking the starting point and cues from several of the songs on last year's R.U.O.K? album, ...In Dub re-imagines and reinvents these, emerging well beyond the core ideas and with all the deep grooves, fx and rumbling basslines of the genre and then some! Five songs feature the one-take toasting talents of DJ Collage on the microphone, linking this ultra-modern music back to its Jamaican roots to express a unique continuum. The CD also features four new tracks and two alternate versions for a full dose of shattering electro-dub. The album also includes several completely fresh tracks along with new alternate versions for a double dose of sensory-shattering electro-dub. ...In Dub 5.1 Surround finds Jack Dangers controlling the joystick on six channels of sound to juggle, pitch, and place against the visual backdrop of original motion graphics created by longtime Dangers collaborator and video director, Ben Stokes (DJ Shadow, Meat Beat Manifesto, Public Enemy, De La Soul, The Orb). Jack invokes true sound-clashing sorcery within this wholly new medium and space-busting technology. The end result: sound unleashed and the listener placed at the heart of Meat Beat Manifesto music as never before possible.
...In Dub — CD and 5.1 Surround - DVD releases on Lakeshore/:run recordings in North America.
The ...In Dub CD releases on Quatermass Records in UK, Europe, Australia, Japan, Asia and beyond.
Moog Manifesto
Jack Dangers is one of several artists asked to create original music to the upcoming feature length documentary, MOOG that explores the revolutionary world of electronic musical instrument pioneer Robert Moog by the production team (Frontier Life - 2003) of director Hans Fjellestad and producer Ryan Page. The Meat Beat Manifesto track, "Unavailable Memory" will also accompany the film's trailer. Other artists contributing music to the film's soundtrack include: Stereolab, Devo, Tortoise, DJ Spooky, The Cure, Money Mark, Luke Vibert, The Album Leaf and Charlie Clouser, — all of which were produced on Moog instruments . A theatrical and soundtrack release are planned for Summer 2004. www.moogmovie.com
11.12.03
MERCHANDISE UPDATE
The RUOK shirt has been discounted and the Acid Again shirt is available again! See the Material section for the updates.
07.24.03
STORM THE STUDIO REANIMATED AND REMIXED!
Coming September 23rd, Tino Corp. Records releases Meat Beat Manifesto's, Storm the Studio R.M.X.S. This album includes thirteen exclusive remixes by a diverse group of artists/producers whose creative strokes speaks to the spirit of the original record's core amalgam of hip hop, dub, electronic sounds and hard beats. Also here is a collaborative remix by Jack Dangers and his Tino Corp. partner, Ben Stokes.

Storm the Studio R.M.X.S. features tracks from Antipop Consortium's High Priest, DJ Spooky, Merzbow, Scanner, Twilight Circus Dub Sound System, Komet, The Opus, Jonah Sharp, DJ Swamp, Eight Frozen Modules, Norscq, The Mellowtrons and M.B.M vs. D.H.S.
NEW MBM REISSUES - OUT NOW!
Meat Beat Manifesto's classic first two albums,
Storm the Studio
, originally released in 1989 and
Armed Audio Warfare
(1990) have just been reissued on Lakeshore\:run recordings. Releasing July 22, both albums return with new packaging and newly mastered tracks by Jack Dangers.
TINO CORP. HEADLINES XLR8R'S 10TH ANNIVERSARY CELEBRATION!
Friday, August 8th, Tino Corp. featuring Jack Dangers and Ben Stokes will perform live in 'audio/video collage'  for XLR8R Magazine's 10th Anniversary Party. This event hosted in San Francisco kicks off a three city series for the electronic music and culture magazine. Other featured performers include: Cex [Tigerbeat 6], Broker/Dealer [Asphodel], Blaktroniks [Reflective], Jonah Sharp [Reflective], Star Eyes [XLR8R], Shockman [XLR8R] and Hersk Live Painting.  Venue:  Mezzanine / 444 Jessie St. / San Francisco, CA.
http://xlr8r.com/ten_/
03.08.03
What is The ANIMATRIX?
Fans of THE MATRIX and/or anime:  The upcoming video and DVD release THE ANIMATRIX on June 3rd. The ANIMATRIX features nine original animated shorts conceived by the Wachowski Brothers; the creators of the MATRIX trilogy. The 9-minute short "The Final Flight of Osiris," serves as a prelude to the  release of THE MATRIX RELOADED and  also airs in theaters with DREAMCATCHER, starting March 21st. ANIMATRIX features a soundtrack supervised by Jason Bentley (Metropolis, KROQ After Hours), with artists including MEAT BEAT MANIFESTO ("Martenot Waves") ,  DEATH IN VEGAS, and JUNO REACTOR.
www.theanimatrix.com
MBM Redux. ... APHEX TWIN:
The APHEX TWIN remix album has been cut and is scheduled for release on March 24th 2003. '26 Mixes For Cash' [WARP102] features an extraordinary range of  Aphex reworks for various artists, including David Bowie & Philip Glass, MEAT BEAT MANIFESTO, Curve, Saint Etienne, Jesus Jones, Baby Ford, DMX Krew, Mike Flowers Pops and more plus unreleased mixes of "Windowlicker" and SAW2 CD1 TRK2.
www.warprecords.com
MBM vs...MERZBOW'S AMLUX RECONSTRUCTION
Coming may 6th. MERZBOW IKEBANA  (imprec014) : a collection of Merztrumentals.  Remixers were asked to use Merzbow's Amlux as an instrument in an original composition rather than to simply remix the original tracks. We received stunning  results from JACK DANGERS (Meat Beat Manifesto), Kawabata Makoto (Acid Mothers Temple), Negativland, Nobukazu Takemura, Cornelius, Luke Vibert, DJ Spooky, Mouse on Mars, E.A.R., Bola, Atom tm, Kid 606, DJ Rupture, KK Null, Kim Cascone, John Wiese (Bastard Noise),  Freiband, Lasse Marhaug, Kim Hiorthoy, Custom Drummer, the Staalplaat Soundsystem,  Kurt Weisman, Raub Roy, Nau-Zee-Aun and Abstinence.
www.importantrecords.com
MBM 4 ADBUSTERS!
Look for the upcoming, "Nightmares of Reason" issue of ADBUSTERS on stands late April for the exclusive DJ SPOOKY mix CD as a free insert containing MEAT BEAT MANIFESTO track,  "Dynamite Fresh" plus music cuts by Tino Corp. Records artists,  TINO and D.H.S (Dimensional Holofonic Sound).  Tracking roundup includes:   Coldcut, Saul Williams, E-LP, Public Enemy, J-Live , Sun Ra, Ani DiFranco, DJ Goo,m Asian Dub Foundation, EBN, Mad Professor, Bad Brains, Alter Echo,  Fugazi, King Britt, Michael Franti, International Noise Conspiracy and more!
www.adbusters.org
01.08.03
What does it all mean?
The first single from Meat Beat Manifesto's new album, "R.U.O.K?" is now available as a 12" in specialty retail stores and on online through www.groovetech.com. "What Does It All Mean" includes a remix by Meat Beat Manifesto vs. D.H.S. plus the album version and the track, "Fromage". The full length DLP version of R.U.O.K? is also in shops and available online at www.groovetech.com.
RUOK? IN-STORES NOW
Pick up R.U.O.K? at your local retailer or for a listing of shop locations:
http://www.runrecordings.com/wheretobuy/mbm_rouk_retail.html
MBM NEWS ARCHIVE
2008, 2007, 2006, 2005, 2004, 2003, 2002, 2001, 2000, 1999, 1998, 1997, 1996